Bitcoin rose by some $500 today from a low of $7,300 to a recent high of $7,800, making a new high since May.
Its trading volumes currently stand at $4.6 billion with Bitfinex leading. There, a little premium can be seen of about $20, while BitMex bitcoin futures are tracking spot prices.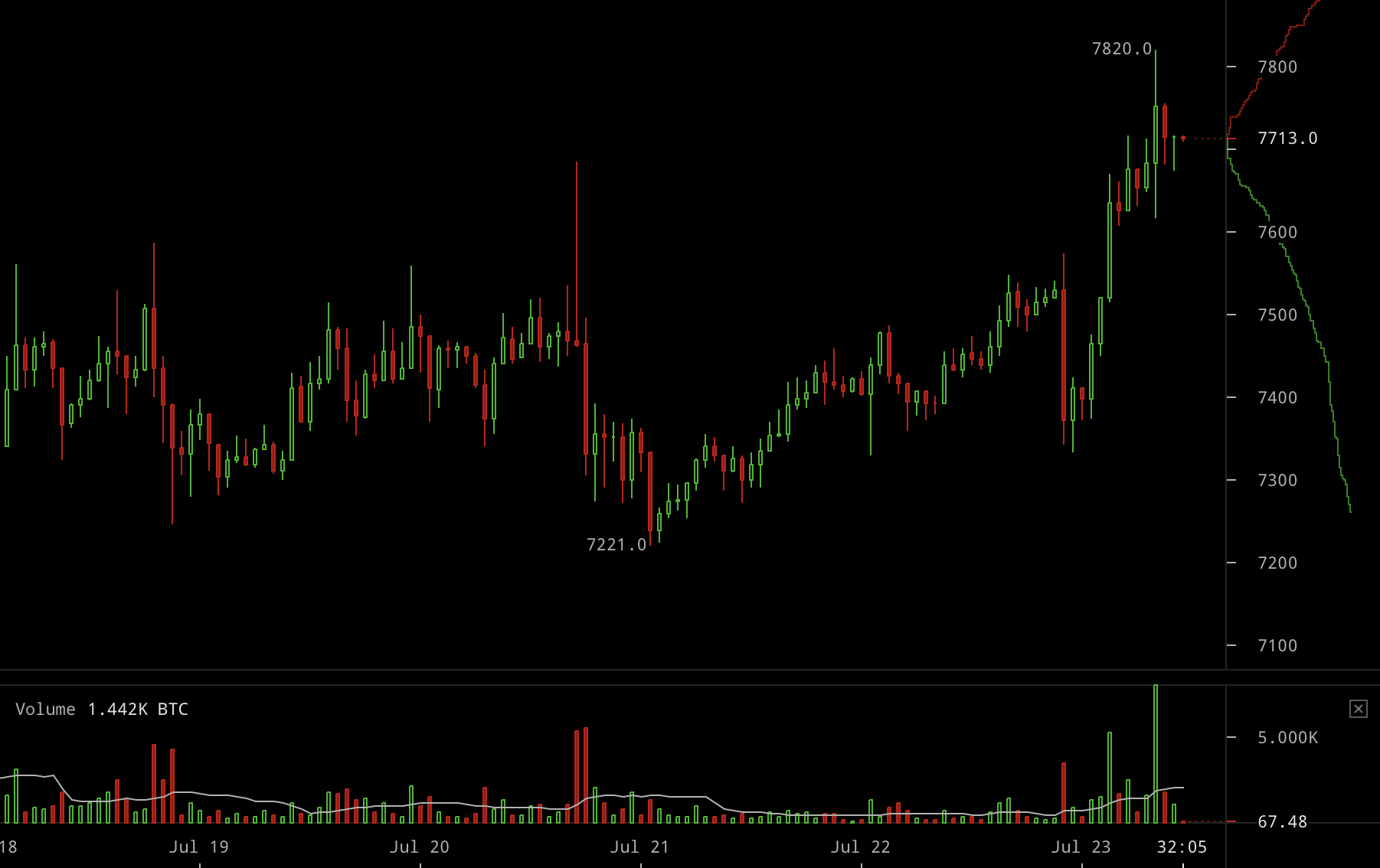 Fiat settled CME futures have also seen increased volumes, making a slight high for this month to 7,500 contracts.
Price there is tracking spot price for the July contract, but August has a slight premium of $20 while the September contract has a premium of $50, suggesting Wall Street is a bit bullish.

Bitcoin's daily comments surprised us this morning for they had reached 500 comments. Usually, they rarely do so even by evening.
Sentiment is mixed. No one really believes this can rise but there is some fomo thanks to our friends, the Securities and Exchanges Commission (SEC).
They've been bombarded with bitcoin ETF applications, tire them until they give in. This time it's CBOE, the Wall Street exchange. SEC's better friends, perhaps.
Such authority, such standing, will SEC dare say njet? And if they say yes, can they really save face when the inevitable questions will be asked as to whether they are playing favorites, as to whether the Winklevoss ETF was rejected only because it was "outsiders" or because it was actual bitcoin based rather than fiat futures?
Their response would probably be some bureaucratic long non statement that might point to all sorts of differences, for the infrastructure has grown and matured since their last slap in the face.
Thus this time we are trying to ignore them as much as we can, for the sun is shining bright and the skies are blue, so we'd rather be happy than risk being angered by SEC again.
Jay Clayton, however, might be skating on thin ice if he keeps rejecting. Trump, afterall, is very good at firing.
Yet is the world ready for an ETF? Should the floodgates open? Should pensions be diversified into cryptos? Should institutional investors?
And since this ETF is based on fiat settled futures, would it actually affect price at all? Is it another trojan horse like the bitcoin futures? A manipulation tool for wall street and by association SEC which rejected the proper actual bitcoin ETF?
Ah the questions are so many, and our answers none, nor dare we finish that rhyme that may with hindsight go like: and the drums are beating, for a…
It is however perhaps worth reminding ourselves what happened last time for crowds do have a tendency to focus on one thing and blame it or praise it for all things.
An ETF is unlikely to explain in full this apparent turn for now about a month. Last year, and even now, bitcoin was and is rising, with the ETF just one thing of much that was and is going on.
Last year SEC rejected the ETF and price fell slightly, to roar back up and then roar very loudly. It is thus SEC or Wall Street that probably needs this ETF more than bitcoiners, not least because SEC rules prohibit institutions from having more than 10% invested in something like bitcoin, where there is no limit in securities investments like ETFs.
Copyrights Trustnodes.com