A scandal has erupted in China over 250,000 faulty vaccines for Children with China's president, Xi Jinping, describing it as "vile and shocking."
The Changchun Changsheng (translating to longevity) Biotechnology, which was previously state owned but was privatized in 2003, saw five of its senior executives taken into custody for questioning with a criminal investigation opened.
As one would expect, all of China is enraged with the matter becoming number one topic of debate, yet the government there has censored an investigative piece on how this pharmaceutical company became "one of China's largest vaccine producer by selling defective products."
With this article – which went viral as one of the first to break the story – quickly disappearing in China, citizens there have turned to the blockchain.
For a gas fee of $3.66, the entire article is now forever available in an immutable form as long as any one man or woman runs an ethereum node.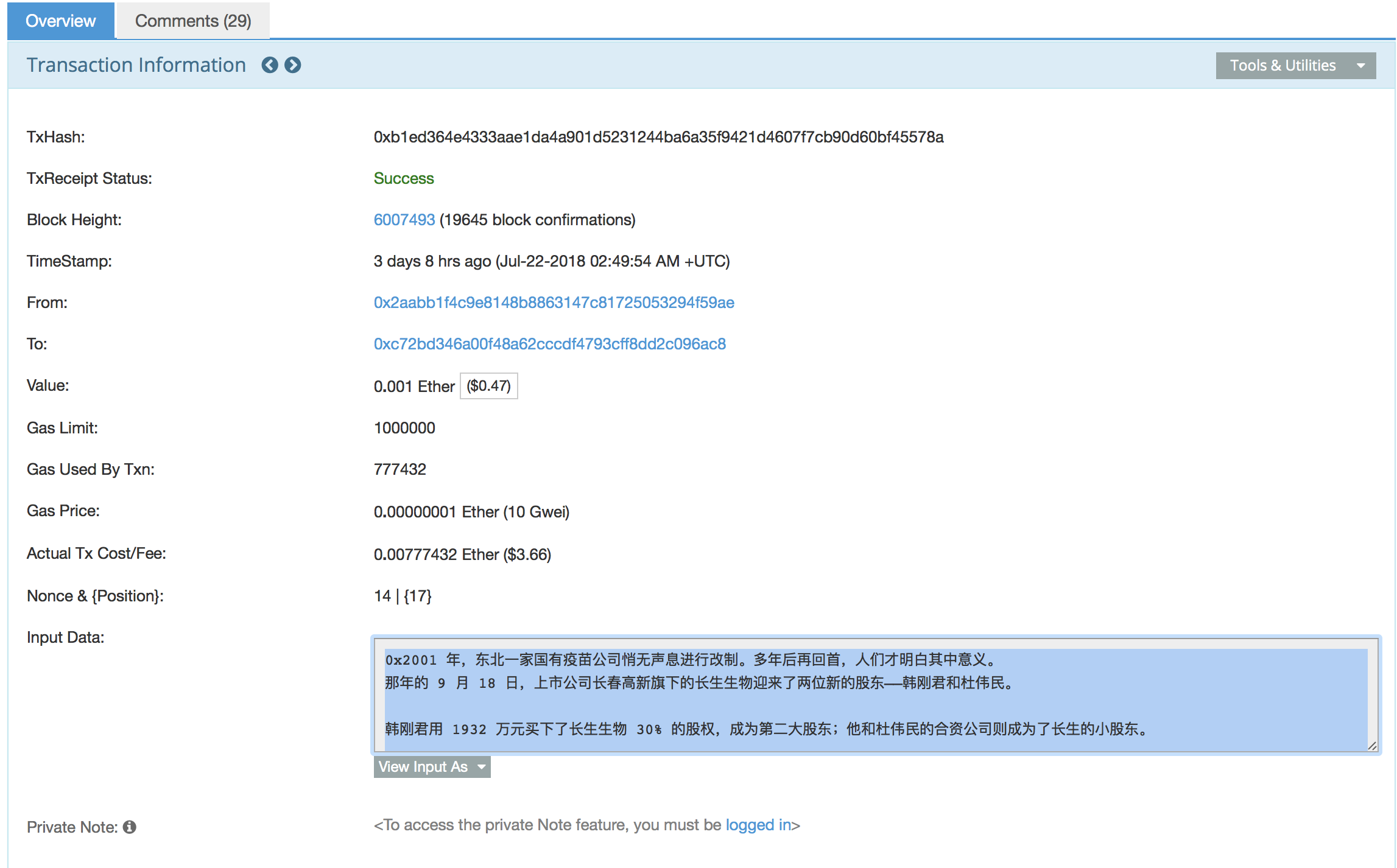 China can censor its centralized pages, but history won't be censored any longer. We include below in full a rough translation of this blockchain article which can be found in its original Chinese on the blockchain.
"0x In 2001, a state-owned vaccine company in the Northeast quietly changed its system. After looking back many years, people understand the meaning.
On September 18 of that year, Changchun Biotech, a subsidiary of the listed company, welcomed two new shareholders, Han Gangjun and Du Weimin.
Han Gangjun bought a 30% stake in Changsheng Bio with 19.32 million yuan and became the second largest shareholder; his joint venture with Du Weimin became a minority shareholder of Changsheng.
Du Weimin is the sales director of Changsheng Bio.
The deal was almost unnoticed. The longevity creature was placed under the spotlight, two years later.
At the end of 2003, Gao Junfang, the head of Changchun Gaoxin and Changsheng Biology, scored 20 million into the company's account and wanted to privatize the longevity.
Calculated, Gao Junfang's bid was 2.4 yuan per share; at the time, many bidders said that they were willing to pay 3 yuan / share price.
Gao Junfang was very grateful for their bid and then rejected them.
This caused a lot of doubts. Some people sent a report letter on the sale of state-owned assets at a low price to the municipal government. But still did not block Gao Junfang to become the third largest shareholder of longevity.
Finally, Gao Junfang, Han Gangjun and Du Weimin came together, and they held most of the shares of the longevity creature in their hands.
In 2007, Han Gangjun sold his shares to Gao Junfang, helping the latter become the absolute controller of the longevity.
Looking back ten years later, they have already mastered half of China's vaccines – the largest hepatitis B vaccine company, the largest influenza vaccine company, the second largest varicella vaccine company, the second and fourth largest rabies vaccine companies…
The vaccines they produce are constantly flowing into you and your child's body every day.
Just as Gao Junfang was swaying at the capital market and completing the privatization of longevity organisms, Han Gangjun and Du Weimin had already gone south. They were eyeing the Changzhou Yanshen creature who had just obtained the rabies vaccine production qualification.
Soon, Han Gangjun and Du Weimin won 90% of the shares of Changzhou Yanshen for 20 million yuan, and they were converted into Jiangsu Yanshen and Han Gangjun as the chairman.
Du Weimin completed all of this remotely in Canada. At this time, he has already got the Canadian green card. As long as he stays for a few more years, he will become the fellow of the Chinese people's old friend Bethune.
In less than three years, Han Gangjun received approval for the production of influenza vaccine, bronchitis vaccine and rickets vaccine for Jiangsu Yanshen. Jiangsu Yanshen soon became China's largest flu vaccine supplier and the fourth largest rabies vaccine company.
In October 2007, Han Gangjun and Du Weimin were ready to go public. If it is not an accidental discovery, Jiangsu Yanshen will land in the capital market.
In March 2009, Dalian Golden Port Dean rabies vaccine was found to be fraudulent during random sampling. The Food and Drug Administration immediately conducted a surprise inspection of the rabies vaccine manufacturer. Jiangsu Yanshen was found to have been suspected of fraudulently.
The Food and Drug Administration found that delaying the work of cutting corners, falsifying and evading supervision, the vaccine antigen content was lower than the national standard, and the drug effect was not achieved.
Experts at the Peking University School of Medicine summarized the vaccine for the injection of the vaccine into two words – killing.
At this time, 180,000 vaccines from Jiangsu Yanshen have flowed into 107 CDCs in 21 provinces, all of which have been injected into patients.
Jiangsu Yan Shen said that we can do nothing.
No recall, no compensation. After the case occurred, Jiangsu Yanshen was sentenced to a fine of 3 million yuan for the crime of producing and selling fake and inferior products. The general manager and five employees were sentenced.
Chairman Han Gangjun and another major shareholder were unscathed.
What is even more surprising is that Jiangsu Yanshen soon revived, and only half a year later, it received an order for 1.6 million people from the epidemic prevention department, and the price exceeded 100 million yuan. Soon, it obtained a license for the production of a vaccine.
Just under the eyes of the investigation team, Du Weimin transferred all the shares of the fake vaccine company and cashed in 200 million yuan to successfully withdraw from Yanshen.
Du Weimin's eyes are a starry sea.
According to a character report, in 2007, Du Weimin resolutely sold Canadian property, gave up naturalization, returned to China with his wife and children, and re-entered the vaccine field.
"I am familiar with this industry and know that China's bio-industry is to be developed. And I feel more and more abroad that letting vaccine technology be in the hands of the Chinese themselves is related to the country's biosafety."
China is really a land of decay and magic. Lost yourself overseas, it is right to return home.
However, Mr. Du did not give up the Canadian Green Card and Hong Kong Identity Card.
Since 2008, Du Weimin has quietly squandered most of the shares of Shenzhen's old state-owned Kangtai Bio-investment at the property rights exchange and controlled the largest hepatitis B vaccine manufacturer in China.
Shenzhen Kangtai's hepatitis B vaccine technology comes from the humanitarian assistance of Americans. In September 1989, Merck USA transferred a full set of process technology to China with a negligible $7 million.
Du Weimin used the method of reorganizing Jiangsu Yanshen in the same year to reorganize Kangtai Bio and began paving the way for listing.
The biggest obstacle to the listing of vaccine companies is the single product category. Kangtai has failed to market for many years because it is only a hepatitis B vaccine.
Soon, Mr. Du made the product of Kangtai diversified by acquiring Beijing Minhai. From the end of 2012 to 2013, three vaccines independently developed by Kangtai, Hib vaccine, leprosy vaccine and quadruple vaccine, were approved for production.
How did Minhai Biotech obtain production licenses for three products in a short period of time?
According to a trial book from the Beijing High Court, from 2010 to 2014, Yin Hongzhang, deputy director of the Drug Review Center of the State Food and Drug Administration, received RMB 470,000 from Du Weimin to help the drug declaration and approval of Minhai Biological.
In addition to accelerating the launch of new vaccines, Du Weimin also gave Kangtai's flagship product, hepatitis B vaccine, a new birth.
When Du Weimin was still selling for longevity organisms, China's vaccine market was basically divided by the seven state-owned biological products companies. Du Weimin took the opportunity to seize the hills by pulling the price down.
He copied this method in Kangtai. In the government's bidding, Kangtai settled all competitors with low prices.
The ex-factory price of a single hepatitis B vaccine was originally around 15 yuan, and Kangtai directly quoted 6.9 yuan, and quickly won a large order for the national immunization program vaccine project. For the bidding institutes, this is lower than their cost price. After all, the ex-factory price set by the state needs 9.3 yuan.
In December 2013, Kang Tai and Du Weimin ushered in the biggest crisis. In ten days, a total of eight newborns died after being vaccinated with Kangtai's hepatitis B vaccine.
A month later, the investigation by the General Administration of Food and Drug Administration and the Health Planning Commission showed that all infant deaths were coupled deaths, and there was no problem with the quality of the vaccine. The production certificate was returned to Kangtai Bio.
After the storm, Kangtai was listed on the market. The market value rose from 600 million yuan when Du Weimin was acquired to 40 billion yuan now.
Gao Junfang, Han Gangjun and Du Weimin, the three kings of vaccines, have much in common.
They have similar control and transformation paths for vaccine companies. Targeting the old vaccine companies, Changsheng Biology, Yanshen Biology and Shenzhen Kangtai, all of them are Chinese state-owned biological agents research institutes.
They quickly started at a very low price, achieved full control, and then obtained multiple vaccine production licenses in a short period of time to pave the way for future listings.
Most importantly, the relevant departments of these companies seem to be completely unaware of the value of vaccine production licenses – the gross profit of vaccines is generally above 80%.
When Gao Junfang bought longevity organisms, the company's valuation was 120 million yuan. When the backdoor was listed in 2015, the market value was 5.5 billion yuan.
When Du Weimin was admitted to Shenzhen Kangtai in 2008, the company's valuation was 600 million yuan. On the first day of listing in 2016, the market value reached 13.8 billion yuan;
Jiangsu Yanshen failed to go public, but Han Gangjun and Du Weimin bought shares at a valuation of 22.22 million yuan, but in the three years they restructured, Yan Shen's total net profit reached 84 million yuan.
The beast's friend, you Bao Shu said:
They are all nine-year compulsory education, and how are researchers so deceived?
Within six months prior to the listing of Kangtai Bio, the company's equity has been reversed more than 20 times between individuals and institutions.
The Shenzhen Stock Exchange once questioned whether there was any loss of interest and loss of state capital, and asked the company to explain the reasons and rationality of the transfer, but Kangtai never answered this question in detail.
In the same way, Gao Junfang turned his son, husband, younger sister, nephew and prostitute into shareholders of longevity.
Just like the 360 ​​Security Guard, after installation, you will find a variety of 360 software appearing on your computer.
In the 2017 Hurun Report, Du Weimin ranked 559th with a value of 7.3 billion yuan, and the Gao Junfang family ranked 820th with 5.1 billion.
If it is not a problem with Jiangsu Yanshen's rabies vaccine, Han Gangjun should appear on this list.
The kings of vaccines all started in the grass, and no one knows where their money came from.
Gao Junfang's more than 40 million shares of Changsheng Bio is self-funded. At the time, the announcement of the listed company showed that her monthly salary was only 6,000 yuan. Gao Junfang said that he had smashed 2 million. The rest of the money would be said to be made by relatives and friends. It would be said that it was a bank loan.
Du Weimin and Han Gangjun were former employees of the Jiangxi Provincial Health and Epidemic Prevention Station and the Health and Epidemic Prevention Station of Longting District, Kaifeng, Henan. In the past four or five years, it has become the most important capital driver in the vaccine industry.
All are geniuses. Be a child like a disease prevention officer.
The world's largest arms exporter is the United States, Russia and France, and the five permanent members of the UN Security Council.
The most news events in China are also the kings of these vaccines.
On July 11, 2018, an employee inside the longevity organism reported fraud in the real name of vaccine production. The State Food and Drug Administration immediately conducted a flight check on the longevity organism and found that there was record fraud in the production of rabies vaccine.
The State Food and Drug Administration has requested the Jilin Provincial Bureau to take back the Changchun Changsheng Drug GMP Certificate, and Changchun Changsheng has voluntarily recalled all batches of rabies vaccine during the validity period.
At the time of the investigation of the longevity, the Jilin Food and Drug Administration "shun" handed down the violations two years ago.
In November 2017, the General Administration of Food and Drug Administration received a report that during the sampling inspection, it was found that a batch of DTP vaccine titers of Changsheng Biotechnology did not meet the standard requirements. After inoculation, it may affect the diphtheria, tetanus and whooping cough. Immune effect.
At this time, 250,000 vaccines were sold to Shandong, and more than 250,000 children were involved.
Eight months later, the relevant departments of Jilin Province acted swiftly, confiscating 186 vaccines in stock and fined more than 3 million for longevity organisms.
There are 186 stocks of longevity creatures. 3 million, the punishment is really big.
So there was a second falsification soon.
In just three years, the market share of the long-lived rabies vaccine has risen from less than 4% to 28%, becoming China's second largest rabies vaccine supplier, threatening the market position of the industry's hegemonic creature.
The price of the Chengdu Bio-vaccine is 149 yuan, and Changchun Changsheng's quotation is 239 yuan, and it is more than a shot.
A friend of the biopharmaceutical industry said:
After living for so long, I saw products with higher prices and more needles, and put down the industry leaders with lower prices and fewer needles.
The lord found that the sales expenses of Changsheng Bio in 2017 were 583 million yuan, which means that the sales cost of each of the 25 sales personnel was 23.3 million yuan, which was 4 times that of Kangtai Biological and 47 times that of Chengda Biological.
The lord is renting a stall to sell pancakes. What do these numbers mean? I can't understand them at all. By the way, the city management is coming, I am going to do a good job.
In 1989, under the leadership of Merck's President Roy Vajlos, hepatitis B vaccine production technology was given to the Chinese people at a very low price. He said that preventive medicine is the best medicine, and the best way to deal with infectious diseases is to prevent it.
At that time, the hepatitis B hero should have not thought that infectious diseases can be prevented, and some things cannot be prevented.
Is there really no rule of law for poor people?"
Copyrights Trustnodes.com