Trading volumes for all digital currencies have suddenly risen to their highest level since January after the entrance of a little known Asia based exchange which begun operating in 2017.
EXX is currently handling more than $10 billion in crypto trading volumes, some 10x that of Binance which used to dominate.
Some $8.5 billion of it is in the eth/usdt trading pair, while btc/usdt is seeing only $1 billion in trading volumes on this exchange.
Both numbers have been rising very quickly by the billions in just a few hours, making one wonder just what exactly is going on. Where are all these volumes coming from?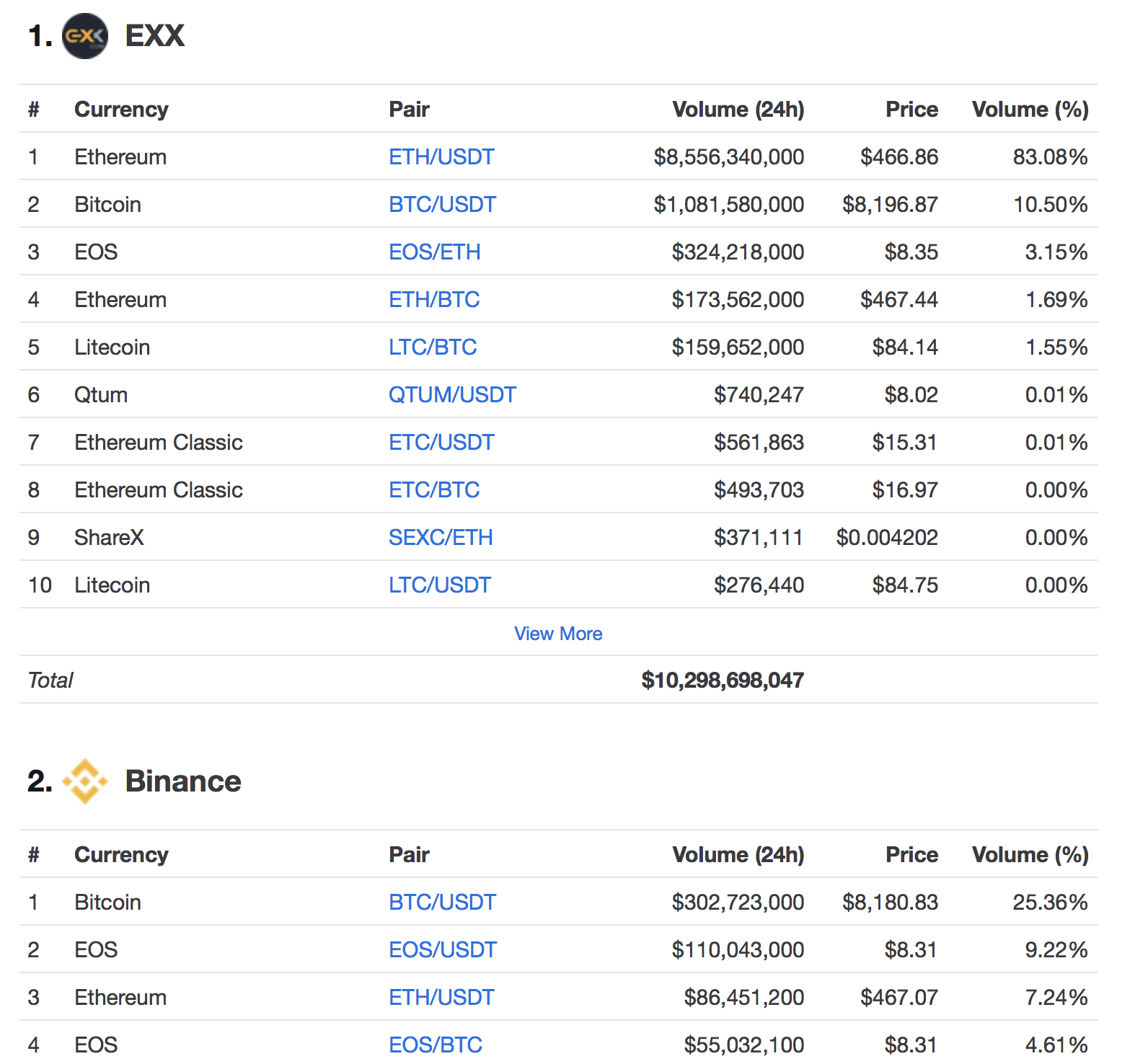 It looks like entrepreneurs in Asia are trying to open China's crypto market through crypto to crypto exchanges with a twist of sorts in that traders receive tokens from the exchange as a rebate for their trading fees.
This model begun around a month ago, but we've noticed huge volumes only recently after many Asia based exchanges suddenly made an entrance.
None, however, has reached $10 billion or anywhere near it, with EXX being the very first. When South Korea made an entrance they went to a high of one billion or so, with half a billion on just one trading pair being a familiar occurrence.
Binance too went to only around a billion, maybe two, but $8 billion on the eth trading pair is unseen.
Naturally many are suggesting these are fake volumes, with ethereum's price up by around $20 from yesterday's low, but not really moving much.
The scale of it however makes one wonder whether much of it is real volume, although some probably is fake just for the tokens reward.
Moreover, the fact most of these exchanges are based in Asia makes one ask whether China is making an entrance once again through potential loopholes.
We don't quite know with this phenomena pretty new, so a lack of current price reflection isn't surprising. It took some weeks if not months last year between us noticing something was brewing in South Korea and price reflecting it.
Whether that will repeat is to be seen, but only China can give such huge volumes, and interest there in ethereum in particular is very high with China dominating Solidity google searches by far and with Chinese people using ethereum's blockchain to bypass censorship now twice which may have made some headlines there, or may have created some buzz in WeChat and other spaces.
Copyrights Trustnodes.com