For seven months Vitalik Buterin has been able to make no comment on price actions, but today he could not resist when faced with a tweet by the decades old (in crypto years) sceptic Tim Swanson.
He showed estimated website visits to Coinbase by SimilarWeb, which have gone down some 50%, with Buterin stating in reply: "Is anyone surprised? We're at the tail end of a crypto bubble."
SimilarWeb themselves chimed in, stating: "Also important to note that December/January marked a major spike in traffic, so the 'drop' is more a return to normal levels."
One of us, said no one, but where price is concerned, Buterin has previously made a pretty good call.
On 12th of December 2017 he said: "So total cryptocoin market cap just hit $0.5T today. But have we *earned* it?" On the 27th of December he sold some 30,000 eth. Just about a week before that, price had begun moving down.
Unfortunately we can't see his fiat movements, so we don't know if some of that $22 million is making its way back to eth, but we don't need to imagine Buterin with a crystal ball to explain much of it.
Sentiment in December was one where pretty much everyone was tired of euphoria and all were expecting a crash any second now. Sentiment now is pretty much of complete depression and all wondering just how much lower can it go.
Buterin, of course, has been around for years and years. He's seen similar cycles before, so a good guess might not be that surprising, perhaps.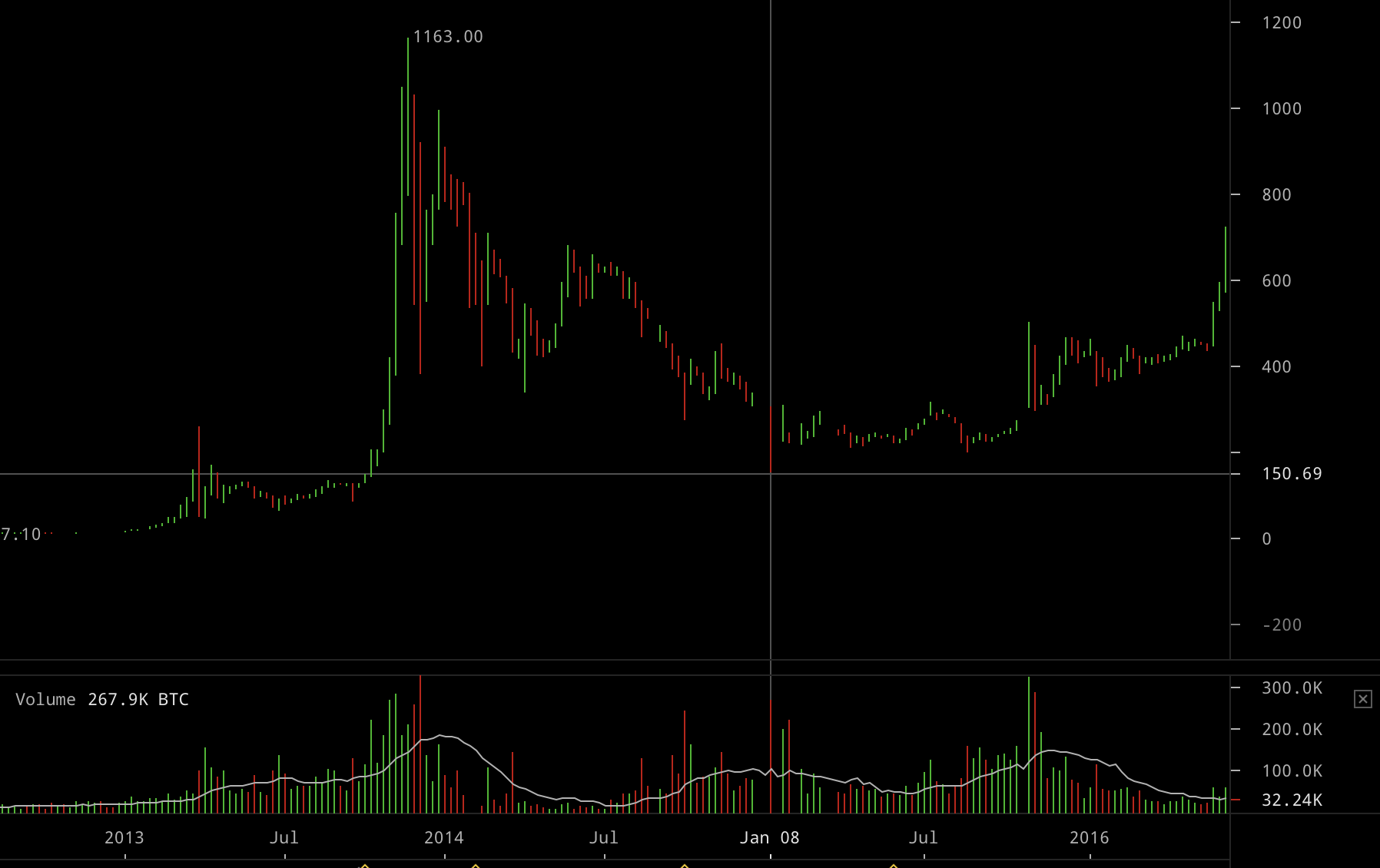 That's bitcoin, beginning around December 2013 with the high of around $1,200 on Bitstamp. It reaches a low around May 2014, then it goes up in a PayPal "pump," eth's equivalent to around $800 recently perhaps.
PayPal's Braintree announced integration with Bitcoin at that time (whatever happened to that?). Tim Draper bought some Silk Road bitcoins at the PayPal high of around $600. Ridiculed for months he was because as you can see price goes on descending to a miserable $150, the one true price.
You recall MT Gox? After it declared nearly a million coins had been lost, with some, including perhaps the present writer, revealing they were lying as 200k coins were found, the exchange still continued trading for about a week or two.
During that ghost trading period, price oscillated considerably, but it ended up at $150 before the exchange went off-line. Ergo, the one true price which bitcoin reached on January the 8th 2015 just about a week or two after bearwhale sold 30,000 bitcoins in that little gap there above.
The equivalent for eth, and now we tempt no gods, would be Easy Peasy's 324. Yet who is to know. It is interesting, however, how bitcoin pretty much sidewayed for an entire year. It is also interesting how it started moving up before 2016, quite a bit before the halving.
For eth, timeframes have been a lot more condensed, mainly because a blackswan this space has been spared for now two years, the longest period ever.
Except for the DAO, it was MT Gox really that gave this space all of its blackswans, so perhaps, now with hindsight, it isn't that surprising. After all, as some say, without gox, who will come?
Blockstream tried perhaps under some interpretations, but no one cared. Yet as we're now seeing without gox, the exchange was maybe just a catalyst, maybe a delayer, at worst, with this quite unusual volatility probably better explained by the very new and previously never seen mining Proof of Work.
That aspect now is perhaps a bit predictable, but what exactly "tail end" means we don't think anyone can luminate except for perhaps to suggest that it kind of feels like bears are on parade.
Copyrights Trustnodes.com