Ethereum has been sidewaying for one of the longest period since its invention, with the currency barely moving much since June.
It has gone up, of course, and it has gone down, but it has stood at around $420 for all of July and a bit more.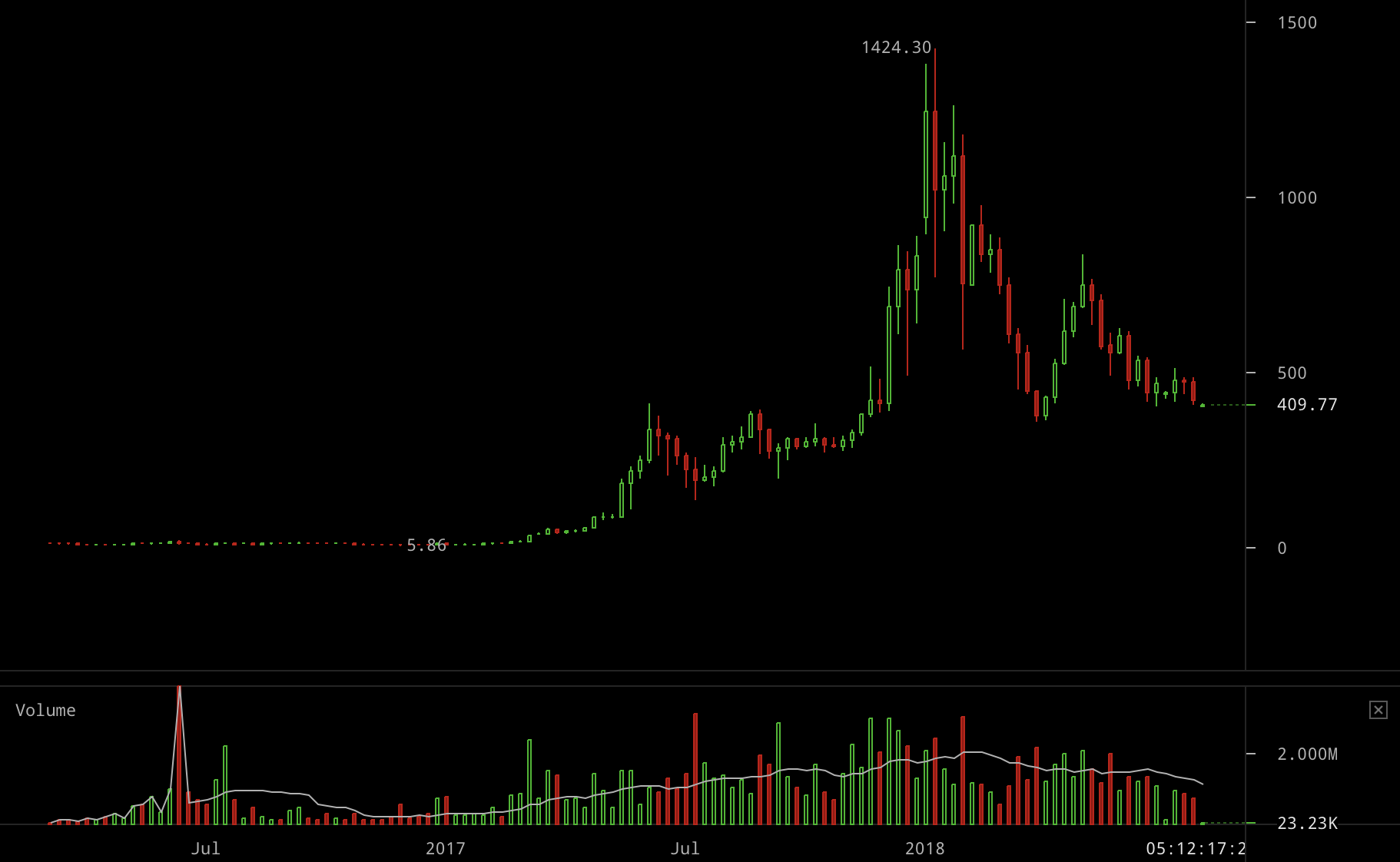 There is much doom and gloom in public spaces. You'd think the world is about to end if you read some of the comments, but eth's price has actually neither fallen nor risen for much of summer.
Now a move of 20% up or down isn't quite a no fall or rise in traditional markets, but cryptos being cryptos, 20% is more like 2% in stock markets.
Obviously how it progresses from here we do not know, but while you can see a clear fall from $1,400 to around $400, then an instant V bounce to $800, followed by another fall to $400, you can't really see much movement since then, with then being June.
That suggests, at least as far as looking back is concerned, that a floor of sorts has been found for eth. That may change, of course, but for now it sort of looks like the market is happy to stay put.
The technical term for it is consolidation or accumulation and how long it lasts or which way it goes once it starts moving, no one knows.
For eth, the longest such period within sight was eight weeks during autumn. For bitcoin, it was a whole year during 2015 after the MT Gox calamity.
During this period, minds tend to focus and what might have been lazy devs start becoming less lazy, although all of them are fine hardworking men and women.
Some sort of realism establishes itself after permabulls flirt with bear lands and the permabears try the bull kind. That is, unacknowledged flaws are acknowledged and unacknowledged benefits are acknowledged.
These are not math rules, so we can easily be proven wrong, but during these accumulation periods it tends to be the case that growth in the ecosystem, in fundamentals if you like, in the infrastructure and so on, is not reflected in the price.
The reasons are probably numerous and complex, but when they do start being reflected naturally emotions overshoot and the cycle repeats itself.
That's if there is another cycle. No one should feel entitled to it. Must work for it. Nothing comes on a plate.
Copyrights Trustnodes.com