South Africa is seeing increasing interest in bitcoin with the middle income nation of nearly 60 million people toping the country ranking of Google searches for bitcoin.
This relatively higher demand for bitcoin in South Africa, compared to other jurisdictions, has recently led to a persistent 6% premium.
Bitcoin's price in South African Rand (Zar) currently stands at around $400 higher than its price in dollars, euros or pound.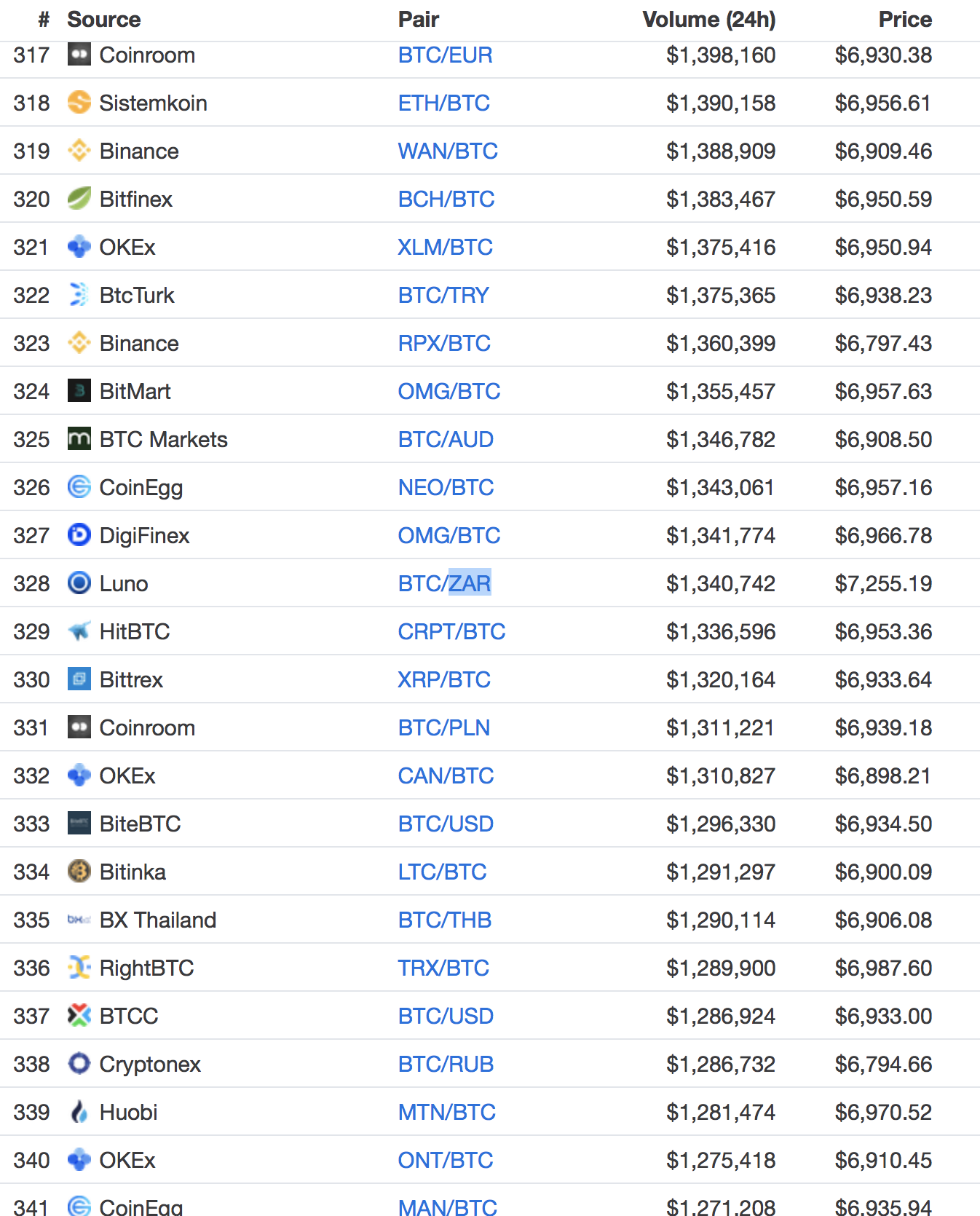 As can be seen above, while bitcoin's price is currently at around $6,900, in one of South Africa's crypto exchange, Luno, it stands at $7,255.
Interestingly, this specific exchange has the euro pair and that seems to be trading at global prices, but the trading volume there appears to be almost none.
They further have Malaysian Ringgit, MYR, which allows you to buy some very cheap bitcoin if you can get your hands on Malaysian money in this exchange.
However, it's not just Luno showing a premium on bitcoin. A South African crypto exchange called AltCoinTrader has bitcoin at around 99,000 Zar, translating to $7,400. Making it a premium of nearly $500.
Interestingly, for eth or BCH, although they do have a premium, it is very little at just around $10-$20.
Richard de Sousa, a partner at AltCoinTrader, recently announced the addition of USDT trading pairs to close the gap. Speaking to local media, he said:
"They will level the price [of bitcoin] and make it more competitive. There are massive arbitrage opportunities.
It won't happen overnight, but those who see the opportunities and are willing to take them will benefit tremendously, and this benefit will trickle down to the man in the street because the price of bitcoins in SA will become closer to the international standard."
He said that the persistent 6%-7% premium was because individuals had to send money to South Africa "and there's a lot of red tape around that."
It remains to be seen, however, whether USDT would affect bitcoin's price in Zar because you can buy btc in USDT and then sell it for Zar, but you might struggle to get out that Zar money and convert it to dollars or to USDT with which you can repeat the cycle.
Copyrights Trustnodes.com