On a sunny summer Sunday, this July 29th, two busses were racing each other to the next bus stop. Their aim was to be the first to pick up all the passengers.
It would have been an ordinary day in Dhaka, the capital of Bangladesh, if the race had not ended in tragedy. The driver of the bus lost control and drove into the passengers he was meant to pick up. Two died, many were injured.
Just another tragic accident in a country where traffic laws are hardly applied, but this time something extraordinary happened.
The friends and classmates of the two students that lost their life begun enforcing traffic laws themselves. They stopped cars, checking for papers, they managed traffic signaling, and so on.
A movement was born, and with it, a counter movement. Bangladesh Chhatra League (BCL), a student organization affiliated to the ruling Awami League party, tried to disrupt this citizens' enforcement of the law.
BCL students are pictured with batons. Some say they attacked the peaceful students. Escalation was on its way, fueled by rumors of terrible deeds in some of Awami League's offices in Dhaka.
This Sunday, a week on, the capital of Dhaka was brought to a standstill through largely peaceful student protests.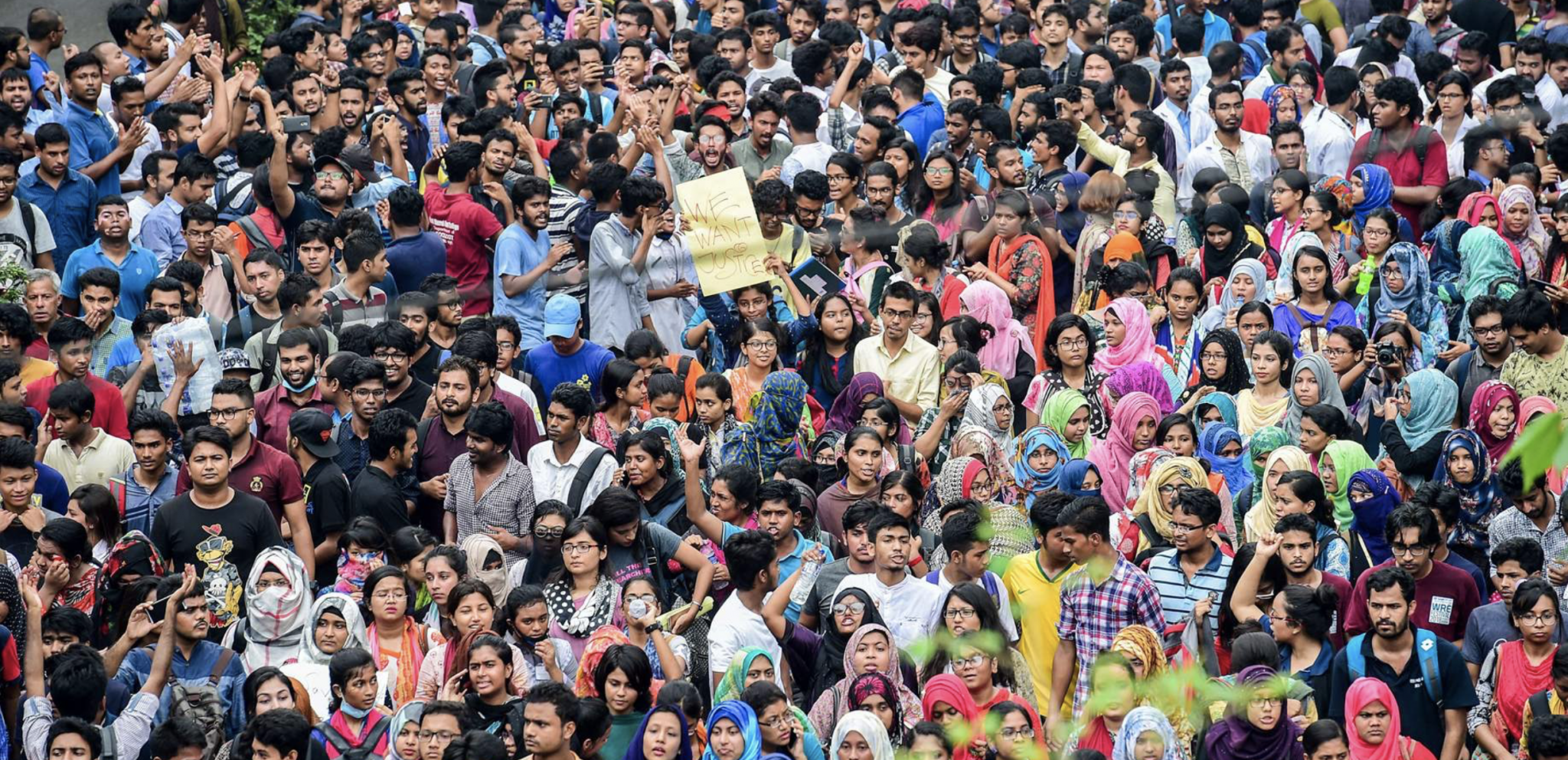 Peaceful initially. In an angry statement, Amnesty International says "at least 115 students were injured over the weekend as the police resorted to grossly excessive force, including firing rubber bullets and tear gas at thousands of overwhelmingly peaceful student protestors. The students also came under attack from pro-government counter-demonstrators."
They demand an immediate release of Shahidul Alam, who they describe as "a well-known photographer and activist, who was detained by plainclothes policemen on 5 August 2018 after giving an interview to Al-Jazeera English on the current wave of student protests in Dhaka."
Of relevance in the unfolding of these events stand reports that the government there has shut down the internet, at least briefly during the protests.
Some say it was only throttled to 1.2 KB per second. Some say it was only phone based internet that was shut down, with wi-fi still working. Some report ISPs there have admitted to the throttling due to orders by the government. Some say the government has denied all of it.
As relevant as all of this is to the protesters, it can also be very relevant to this space because cryptos are illegal in Bangladesh. There are reports police is "hunting" cryptonians there.
A shutdown of the internet, thus, can be very much a threat to public blockchains which can keep a record of information for history, such as some censored Chinese articles, but public blockchains rely on the internet for the network to function.
That's, of course, internet anywhere in the world. As long as one node runs, the blockchain keeps running. There are also ways of keeping the network running even without the internet through radio frequencies, but a better way is meshnets.
The current design of the internet is somewhat decentralized, but still has hierarchies within it. A mesh network flattens the hierarchies as "nodes (i.e. bridges, switches and other infrastructure devices) connect directly, dynamically and non-hierarchically to as many other nodes as possible and cooperate with one another to efficiently route data from/to clients," according to Wikipedia.
Such networks are still in development, so they can't assist the students right now, but if any of them manages to get access to the internet, they can now blockchenize their pictures by completing a simple from through a new project called Moken.
The decentralized twitter, Peepeth, might also assist them in communicating information in a censorship-resistant way as it is stored on the blockchain. If they have the skills, they could directly put information or documents on the ethereum blockchain.
Yet, they shouldn't have to do so. Not in an ostensible democracy. Not when all they seem to be demanding is the enforcement of laws already passed.
The rule of law, and its enforcement, and its adjudication by an independent judiciary, is in many ways what distinguishes rich countries from poor nations.
And Bangladesh is very poor. Their GDP per capita is around $4,000 a year, compared to Europe and US where it stands at some $30,000.
To have a proper functioning rule of law, one needs resources. That being the government needs a way of collecting taxes that they can then use to pay for the needed infrastructure.
In a country where banks as we know them do not exist, however, financial instruments are a rarity. Something like cryptos could assist in a leapfrog where banks are replaced by wallets on smart phones, as in China, but the government of Bangladesh has apparently said no to this 21st century technology.
It is thus no wonder the students are angry. Many of them might have connections to Britain through extended family due to the colonial era. They see how things can be done and they must be outraged their government stands in their way when all they were asking for is the enforcement of traffic laws the government itself passed.
Now they are to pass a new law where tragic accidents are to be met with a death penalty for the driver. Something which shows how out of touch the government there must be, for accidents should be prevented, not lead to even more death.
Copyrights Trustnodes.com