Red greets most markets today over some concerns regarding a plunge in Turkish Lira which has fallen around 20%.
Most stocks are down today. Some due to a general sell-off, while others because of their own specific reasons.
Apple (AAPL), Amazon (AMZN) and Microsoft (MSFT) are only slightly down, while Facebook (FB) fell another one percent, adding to its brutal decline from nearly $220 on the 25th of July to now $183.
Even gold is slightly down today, although it looks like it isn't really moving much from a 0% change, but Dropbox is kind of plunging, down 8%.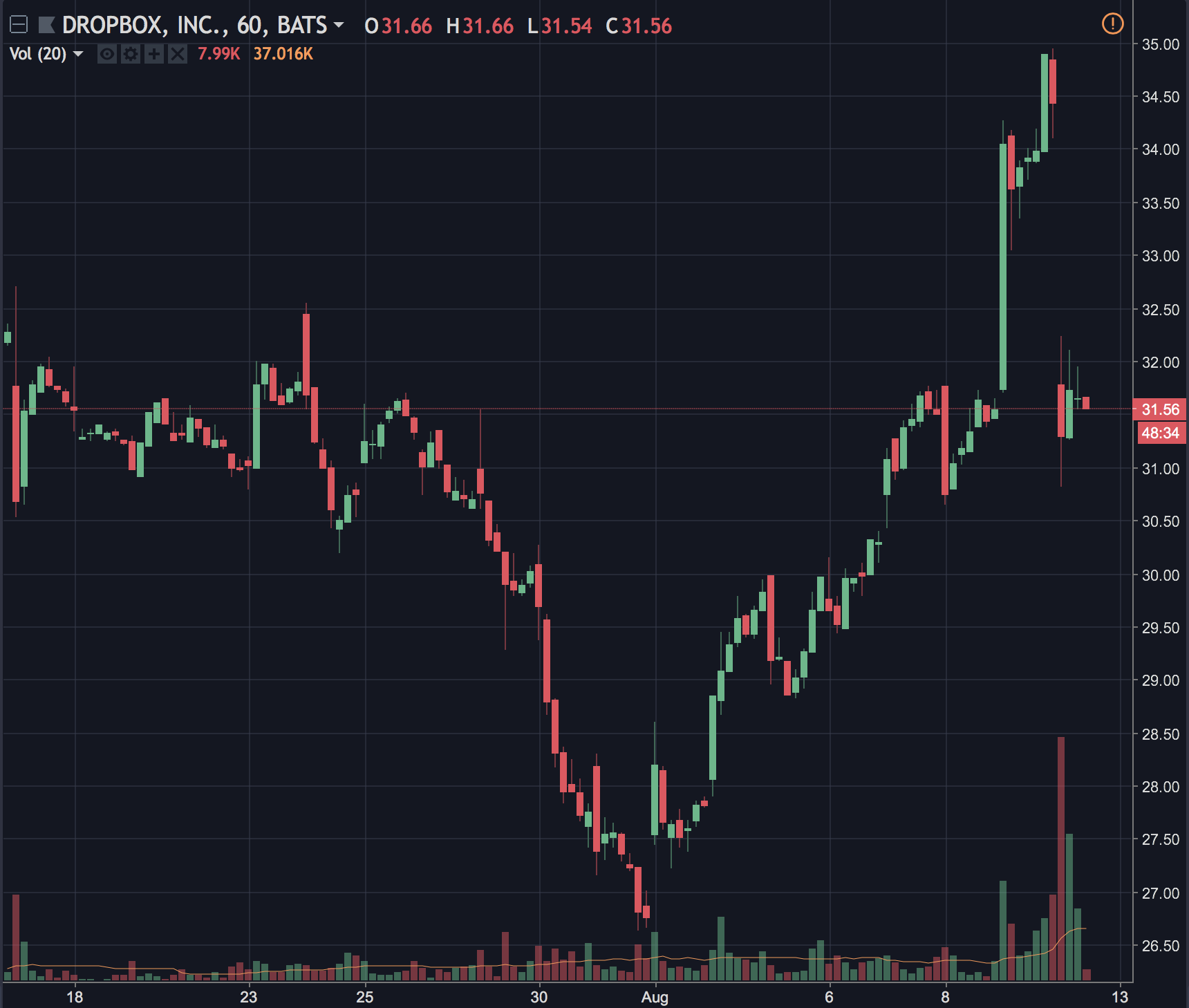 The cause of it appeared more to be the buy the rumors, sell the news, factor. As you can see there, it rose considerably by nearly $10, or around 40%, in the past week or so. Some correction therefore was perhaps due.
Such correction came today after Dropbox announced revenue is up 27%, beating expectations. Intel's fall, however, might have a different story.
Goldman Sachs apparently wasn't happy with Intel's delays of launching their 10nm chip, which is now pushed to 2019, while AMD plans to launch their 7nm chip later this year.
Both are beaten by Canaan, a crypto mining firm which plans to IPO. They claim to have integrated a 7 nanometer chip in their new asics, in addition to recently showcasing a bitcoin mining TV.
AMD, on its part, is slightly up on a tiny relief rally today after falling considerably thanks to Morgan Stanley giving a thumbs down. Now, however, Goldman Sachs is apparently warming up to the chip maker.
While Nvidia is down within the 1% trend shared by most stocks today, with one reason for some difficulties in this sector potentially being an expected cool down in GPU mining, although ethereum's hashrate knows only up and up.
Eth's price itself is down, and for once that too is within the general stocks' trend of around 1%, but Shopify (Shop) has decided to rise 2.30% today.
A clear reason for this countertrend is difficult to find, but it may be due to a deal with Green Organic Dutchman, which could lead to the selling of marijuana in jurisdictions where it is permitted.
A bigger green today has been seen by Ruth's Hospitality Group (Ruth), a steakhouse restaurants company which is up 11% in a very red market.
They announced profits of $9.6 million on revenue of $109 million with their shares market cap standing at around $1 billion.
A very volatile Tesla (TSLA) is also bucking the trend, up around 1%. The now meme stock is apparently going private at $420. Funding secured said Elon Musk. Uncertainty remains however as to whether any of it is for real.
Inflation is up. Food is getting more expensive in America, and presumably much of the west. The Consumer Price Index (CPI) rose by o.2% in July, now standing at 2.9%.
While the yearly rate of the core inflation has risen to 2.4%, the highest level since September 2008. That may mean interest rates might go up again, but that may cause problems for the incredible levels of government debts.
Yet a flight to safety is not being seeing currently. Neither cryptos nor gold are showing a countertrend. That might suggest a lot of this has to do with the dollar and its continued strength, rather than anything else.
Copyrights Trustnodes.com