A year after raising $11 million in an Initial Coin Offering (ICO) to become the crypto Bloomberg, Santiment has quietly begun to deliver.
One of the more interesting aspect so far has been their tracking of ICOs, but unbeknown to us until yesterday, they provide far more very interesting data.
Santiment has three different aspects. One of them is the open database, Sanbase. Another is crowdsourcing of data as much information has to be manually curated, with a third aspect being their data feed.
It is that data feed which can be considered a crypto Bloomberg of sorts. You need 200 Sans to access it, currently worth around $100.
Buying these tokens wasn't easy, although nothing compared to buying bitcoin in 2011. Our first hope was it would be on a decentralized exchange, so then we can just go to Totle and quickly be done.
Totle, however, doesn't currently list it. The only decentralized exchange (DEX) that does is Idex, and that had zero liquidity. So our plan to just transfer penny eths to MetaMask, then go to a dex and be done in minutes wasn't an option.
We had to use a centralized exchange, in this case BitForex which appeared to have most liquidity. The experience there is perhaps worth its own article.
First, thankfully we did not have to send documents there which would have taken weeks. Just an e-mail address and done. Secondly, the eth showed up fairly quickly after 12 confirmations. We had to exchange that for USDT because that's the only San trading pair on BitForex, and that was fairly smooth too.
Now on San, like pro traders we put what must have looked like a massive wall of 210. Price is moving by a few subcents, up and down a little bit, while no limit order was being touched.
To the contrary, price was moving far above and far below bids and asks, so how on earth was it moving? Completely fake volume, we can't say without proper evidence, but our limit order obviously wasn't going to be touched any time soon.
We thus look for a market order button, but there is none, so we place the limit order far higher than current price and give it a nice green candle by buying at almost double the market price.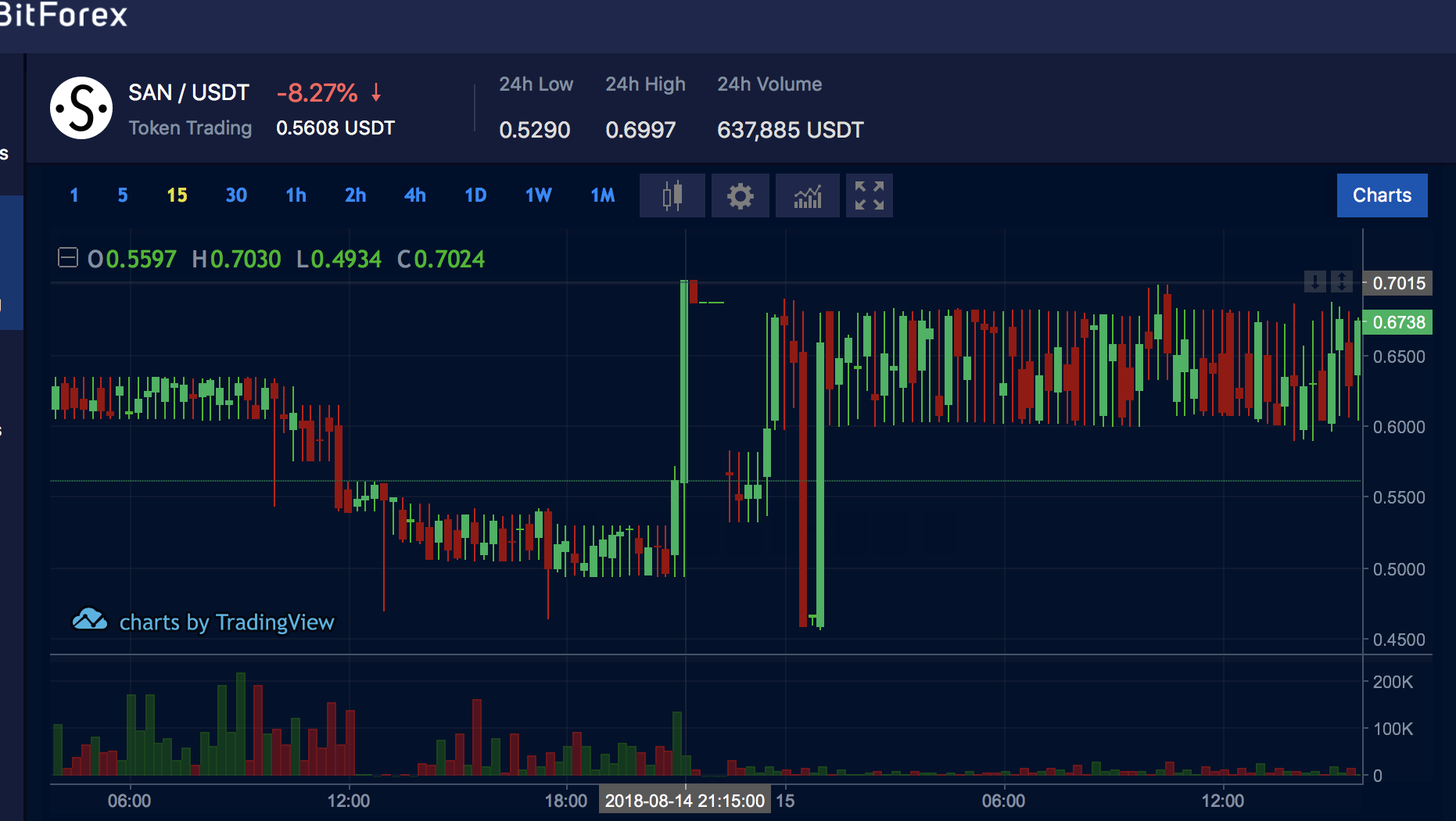 Time is a luxury, so money had to be sacrificed. Withdrawal took about an hour to be processed, but it went relatively smoothly and now we have on MetaMask the amount of Sans required.
We thus go to the data feed and it does feel a bit like it is a work in progress website. The menu could look far prettier and a lot more organized, but we don't care about pretty. We're here for mainly one reason, eth days destroyed.
We've been looking for that in the past week or two and it is no where to be found. Except on Santiment.
We had the privilege of being shown around by Valentin Mihov, CTO of Santiment. So that saved some headache because at first navigation is not very intuitive.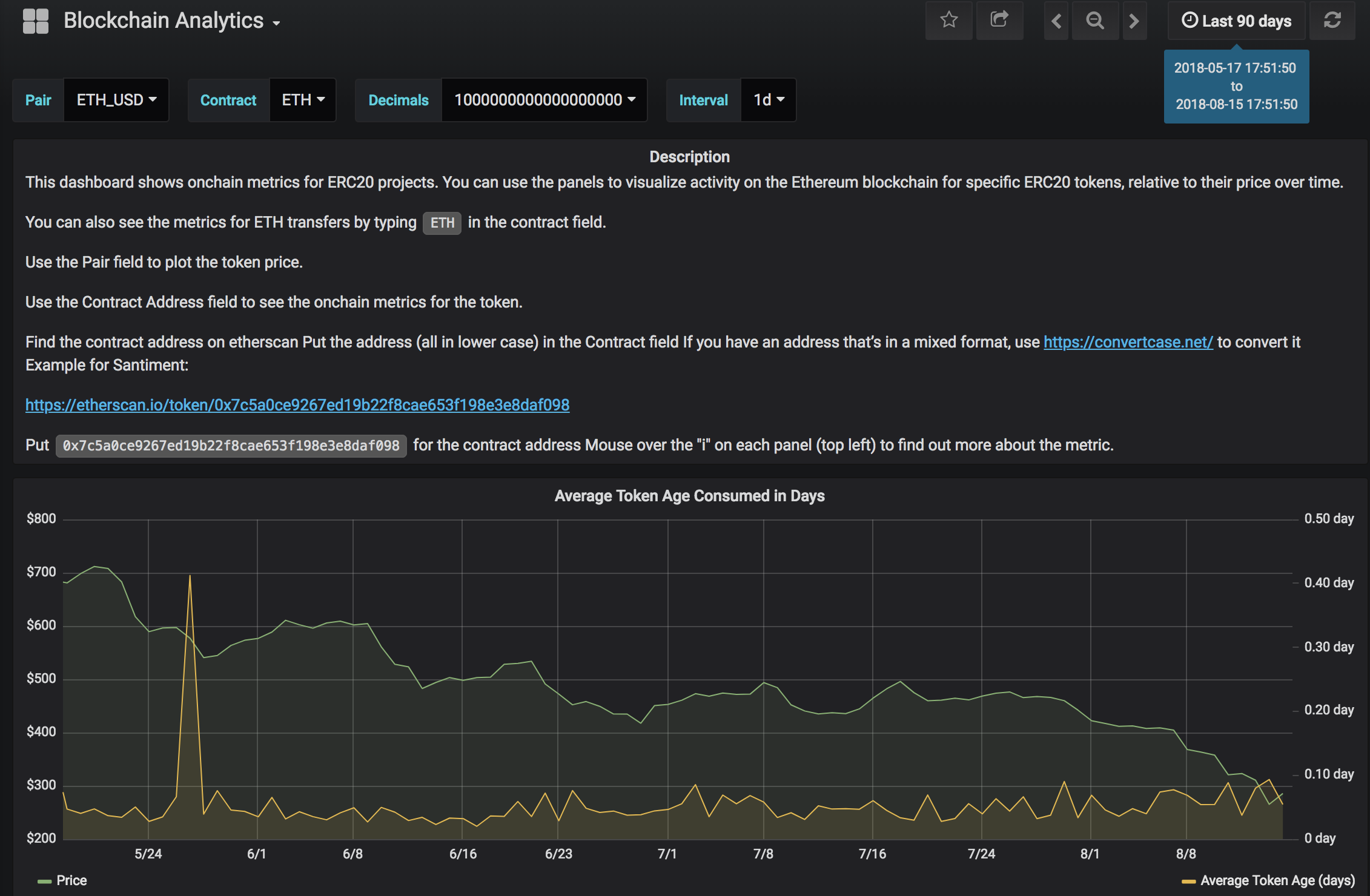 The Pair defaults to some token, with its corresponding raw contract address. Trying to find eth from the dropdown menu isn't easy, but when you just type ETH_USD, it does respond.
On the contract field, you just type eth. On the right, you have the time frame. It can be a year, it can be since the beginning.
You have the interval too, 1 day or 1 minute if you like. While on the chart itself you can highlight a part and zoom in as you can on CoinMarketCap's charts.
You can see there the average of days destroyed is almost zero. That is most coin movements are from newly created addresses, but that's the average which can be misleading because the movement of one million new coins can cancel out to a great extent the movement of 200,000 old coins.
For a slightly more accurate picture there is another graph called tokens age consumed, which is "age destroyed multiplied by the amount of tokens that moved," according to Mihov. That is the total days destroyed.
The above unfortunately is not available for BTC, but it is planned we are told. With this data useful for example when one considers the recent movement of 100,000 genesis eth coins.
"We currently have the data ready for bitcoin, eos and stellar and we need to compute the metrics. We are in process of adding NEM and TRON and of course for all ERC20 we have it right now," Mihov says.
They have another stat which is currently under construction. The measure of how many coins have not moved for say a month or a year. We were keen to see that data, but for eth there apparently was a bug, so they're in the process of fixing it, while for other tokens it works fine.
There's a lot more data on the blockchain analytics section, including sums sent to and out of exchanges which we found it useful for an entire article of its own.
Then, there's more sentiment data. As in analyzing social activity on Twitter, Reddit, Telegram and so on. This, for example, is the current social dominance chart:
Whether that is a leading or a lagging indicator is unclear, but it can add color to say Google searches and might show what new coin may be attracting attention.
They further have a dev activity measure. Interestingly, it appears to be following price somewhat to a point, with eth devs most active during the January peak: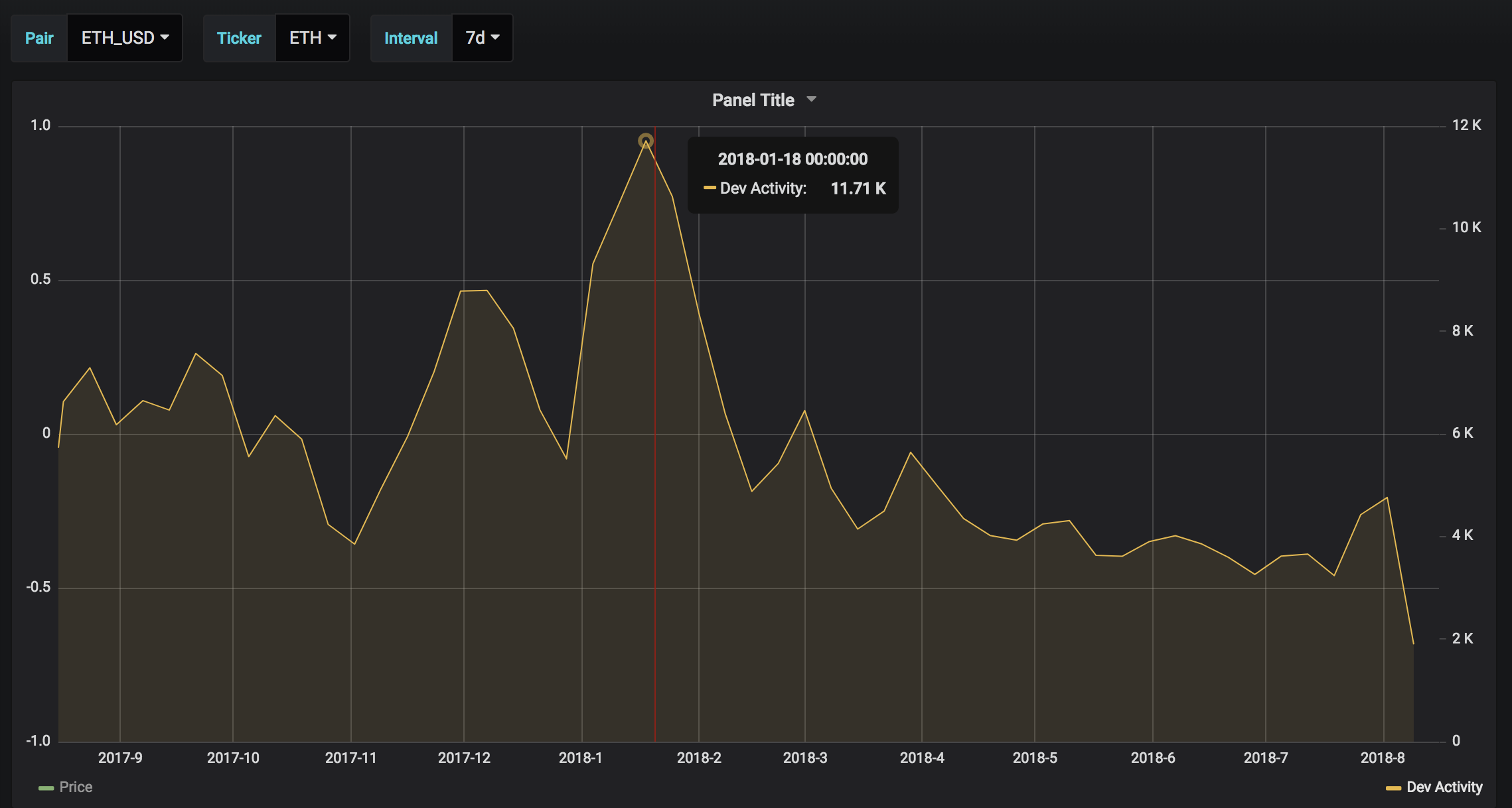 Eth's lower dev activity levels are the peak for bitcoin according to data from Santiment, showing how much coding attention eth is getting: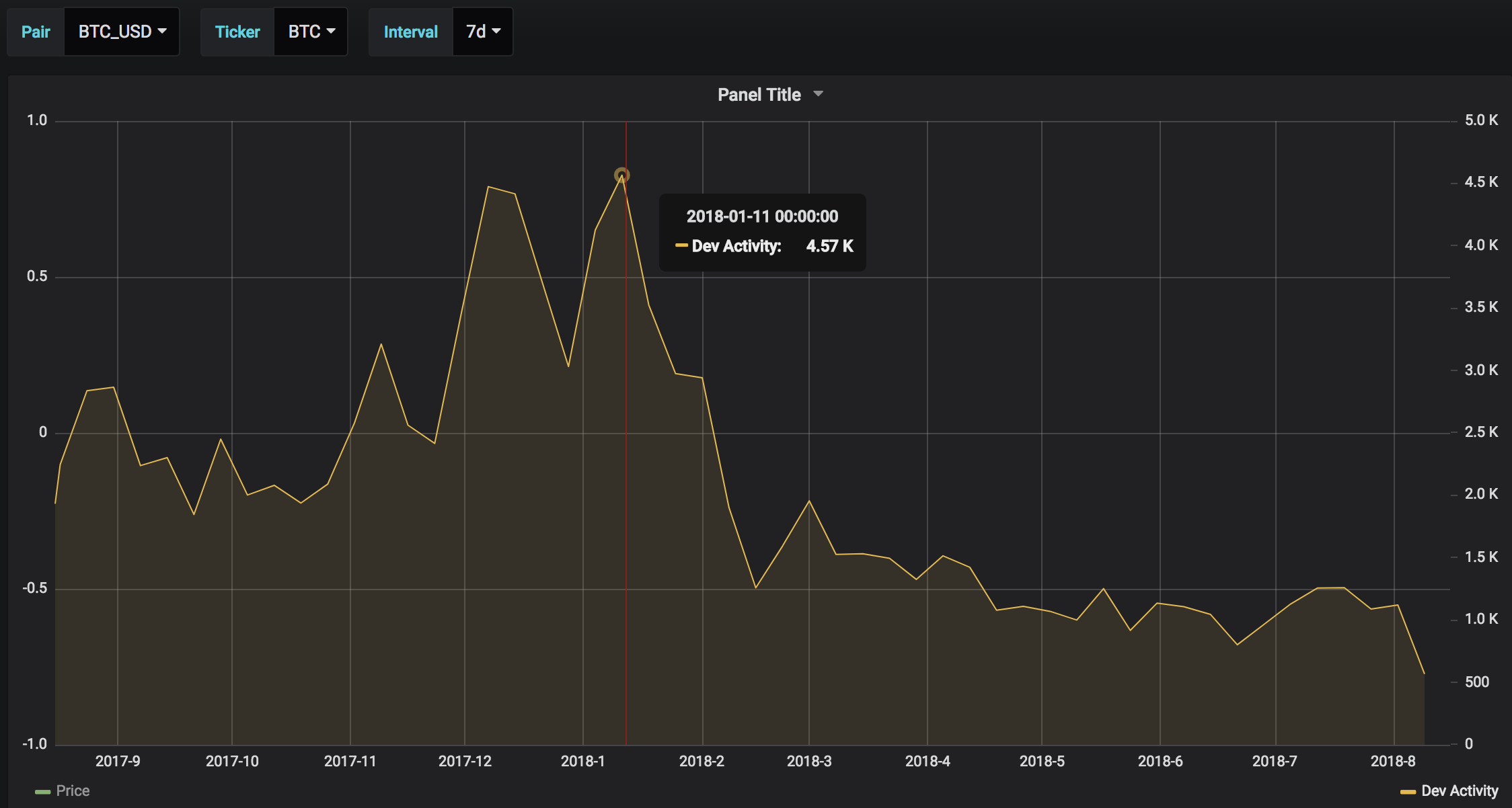 Some of this data is manually curated, say what exchange address they follow, so there is room for error and one can't expect full accuracy, but projects can reach out to Santiment with a team there so organizing what data parameters are fed.
For eth spent, for example, they track when eth moves "but we handle the case when it moved between team wallets and we don't count it as spent in that case," Santiment's CTO, Valentin Mihov, told Trustnodes.
They're using etherscan for now, "but we are currently deploying a solution which extracts the data directly from a full node. We will probably make the transition in the next couple of days," Mihov says.
Much of it is under development, so you can't currently have fancy graphs where you compare say eth days destroyed with bitcoin days destroyed or network activity, but you can grab the data from the feed and compile it, with Santiment showing some of it in an organized spreadsheet.
This data is then eventually fed to Sanbase, where full access is a bit more expensive at 1,000 san tokens, but that only provides you a longer time frame with access free otherwise.
They tell us the amount required for access is not fixed in a smart contract, so it can change if price significantly increases.
With that aspect so creating an interesting new dynamic where the token is effectively a company share for speculative uses, but with its valuation grounded in usage.
For traditional stocks, for example Twitter, valuation doesn't necessarily have to be grounded in reality, with it more depending on say the announced revenue or the amount of users. Both can be wrong, especially the amount of users and especially for the bot infested Twitter.
In contrast, for something like Santiment and likewise projects, the token is in many ways the product and how much it is worth can depend on direct usage, such as just how many want access to this data feed.
That makes this new business model both very similar to the old and in many ways very different, showing just how much we keep learning as this space continues to develop.
Copyrights Trustnodes.com