Tether has become the eighth biggest cryptocurrency after printing out around $300 million to gain a market cap of above $2.7 billion.
That's roughly a return to where it was a month ago, with its market cap then falling by $300 million to $2.4 billion.
Last week, however, it begun rising again and now it's at all time high, $30 million or so above where it has ever been.
Something which has led to this dollar pegged centralized token overtaking Cardano, an eth like copy clone that takes a slightly different approach in separating the token from the smart contract.
Tether in the 8th position isn't something that could have easily been envisioned, showing just how much cryptocurrencies have fallen this year.
It used to be that you needed a market cap of $10 billion to get to eighth position, but now less than $3 billion will do.
Litecoin isn't that far ahead, just half a billion, so seventh position might perhaps be seen in the coming weeks and months, with Tether seemingly knowing only up:
Dai, which performs the same function as tether, but in a decentralized and trustless way with the peg algorithmically managed based on eth collateralization, has also seen its market cap fall recently from $55 million to just above $46 million.
It too has risen slightly, to $48 million, but has not yet surpassed its all time high, so standing some $7 million below it, or around 12%.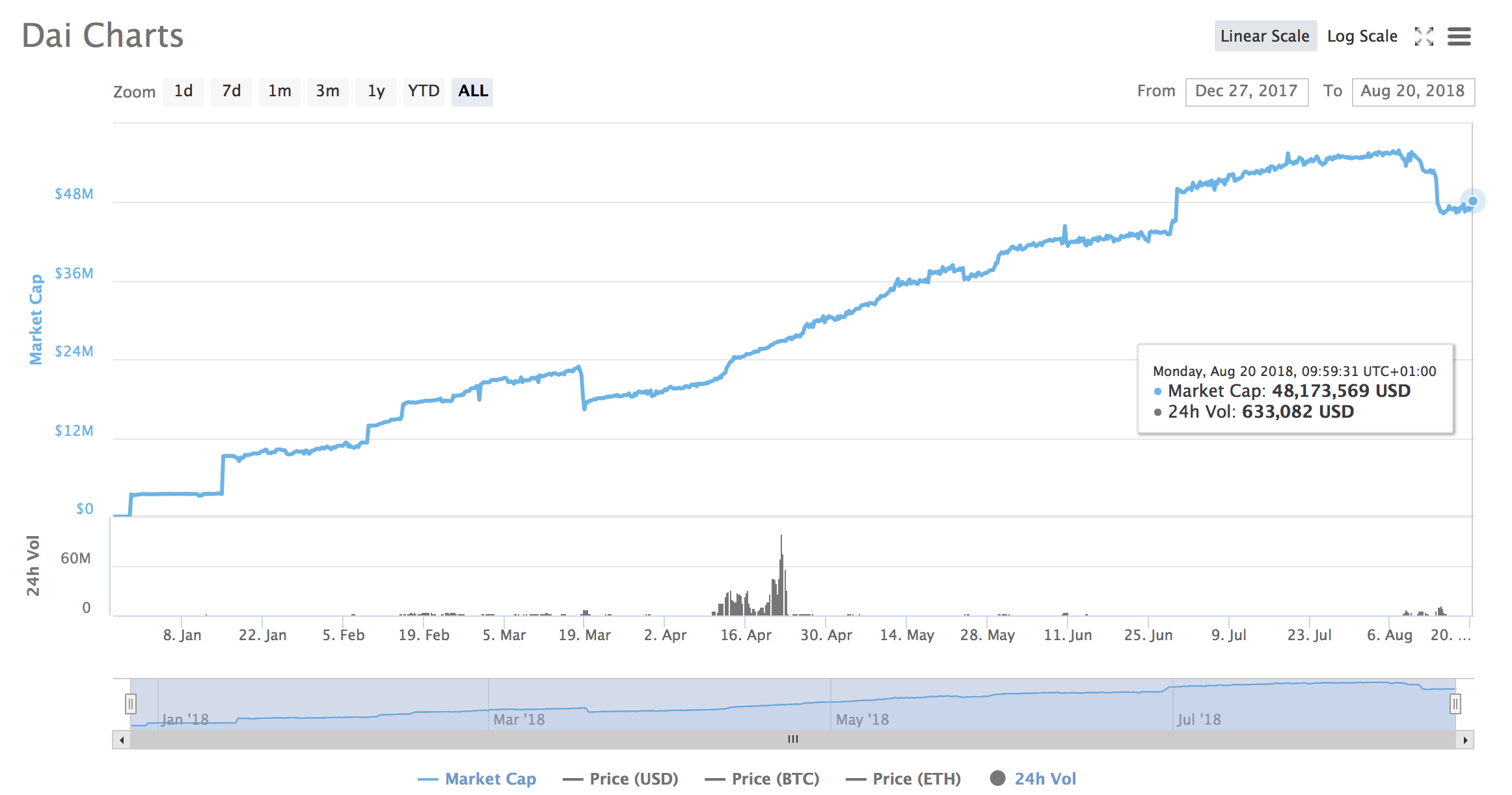 That suggests traders cashed out to fiat as eth reached a recent low of $250. Eth's recovery to $300 has now led to a higher usage of both tether and dai, but the latter seems to indicate some level of caution by traders at this stage.
That's presumably because it is not quite clear what direction eth will follow, or indeed what direction dai will go in its market cap.
It currently has a limit of $100 million, but that can be increased. This runs on a smart contract, however, so it's a bit edgy. One little bug and boom, all the money gone.
That it hasn't happened so far, is a miracle. They are however to add multi-collateralization, presumably to keep us even more on edge.
Binance doesn't list them yet for some reason, nor does any major exchange. They are a bit small at $50 million and naturally have to grow slowly, but it would be quite a day if dai ever finds itself in top ten, for among many things it would prove smart contracts can be unhackable.
Copyrights Trustnodes.com