Bitcoin's price spiked at around 1AM UTC today from $6,450 to a recent high of circa $6,850 with volumes slightly up today to about $4 billion.
It then saw a fall by around $200 starting at 2AM UTC, with it currently settled at $6,670 at the time of writing.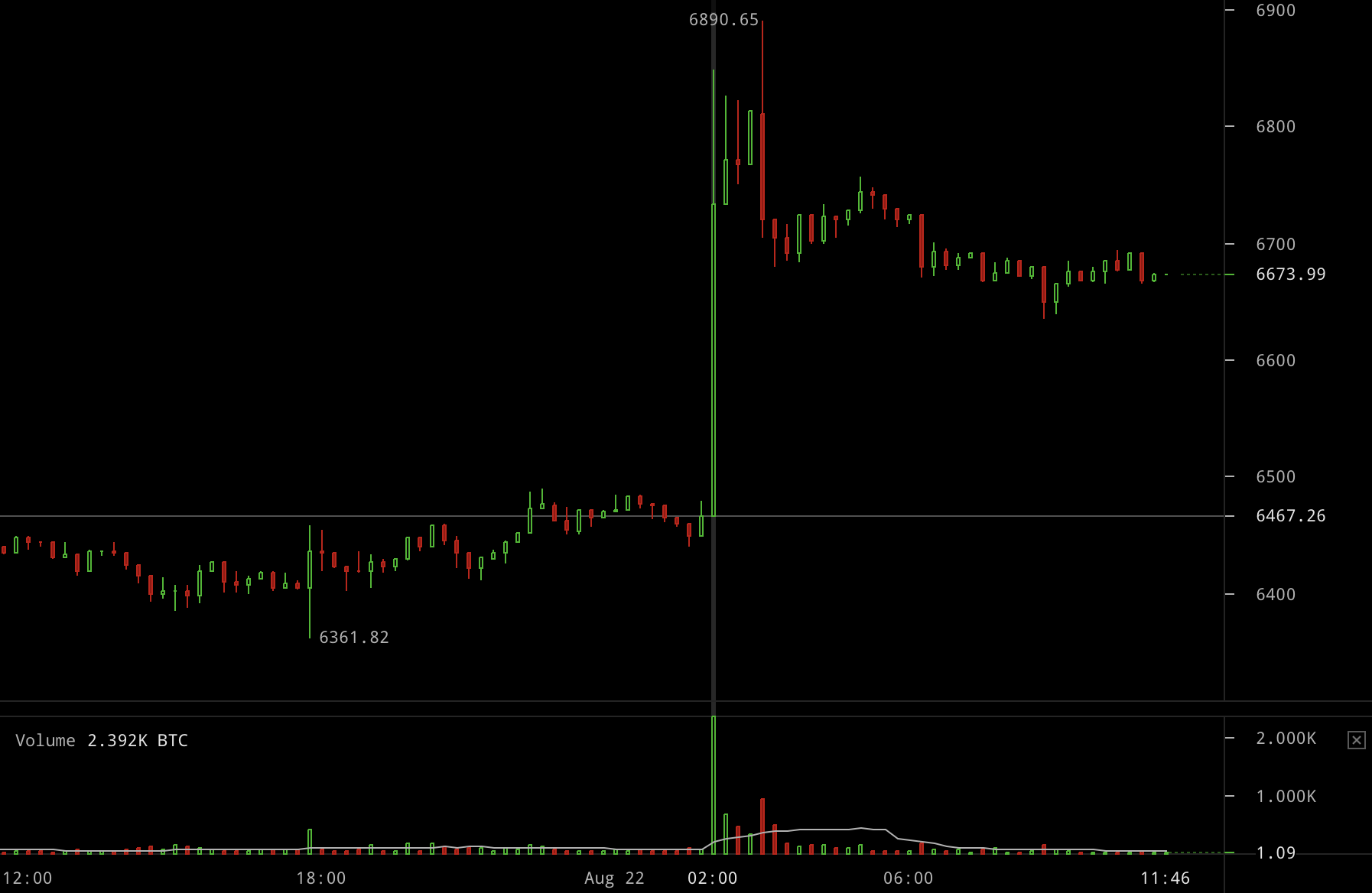 At 1AM UTC, the biggest futures trading platform with margins of 100x, Bitmex, went down for scheduled maintenance.
They were meant to come back online at 1:30 UTC, but they said "some users are reporting difficulty in logging in," so they postponed it for a further five minutes.
Then they said: "Trading resumption deferred until login is stable." To be followed by: "Login has stabilized. We encountered a large DDoS upon restarting web services. We will resume trading at 02:00 UTC."
Price then fell at 2 UTC, but amid all this DDoS and maintenance, many traders saw their position getting called.
"TY BITMEX, I lost %60 of my balance! THANK YOU!" Says one. Another one say he was rekt on Bitmex, adding:
"The order cancelled dialog popped up, and the price kept rising and I was like oh this is good because I was already open long from 6480. However my stop buy somehow still triggered (originally at 6650) at 7130."
Bitmex apparently told him "it appears as though your buy order was not successfully cancelled." Something which must have taken a Sherlock detective to conclude.
Hopefully they have further instructed Sherlock to see whether there was any manipulation here because it does not appear obvious at all that the price jump might have had something to do with Bitmex traders being offline and thus unable to do much about their shorts getting called.
Just as it seems like the DDoS was probably completely unrelated to logging problems or the stupendous finding that "it appears as though your buy order was not successfully cancelled."
Furthermore, there is no reason here at all to suggest that Bitmex seems to be run by amateurs with the exchange having significant spreads and of course remaining completely unregulated.
There is now though some competition as OKEx and Huobi start gaining market share again with liquidity there being significant in addition to having no seemingly fake spreads or slippage.
Copyrights Trustnodes.com