Ethereum based tokens have proliferated to now more than 490 with a market cap above zero. Giving them a combined market cap of $10.9 billion, or just about 40% of ethereum's current $28 billion market cap.
Some 420 tokens, according to data from Santiment, have a market cap of above $1 million, with 189 of them standing at above $10 million.
At $50 million there are only 51 tokens, with it dropping to 25 at $100 million. None currently stands at above $1 billion, but the ERC20 Binance coin is just under it at $920 million.
That's followed by OmiseGo, which now has a market cap of only half a billion, with 0x in third position at $274 million.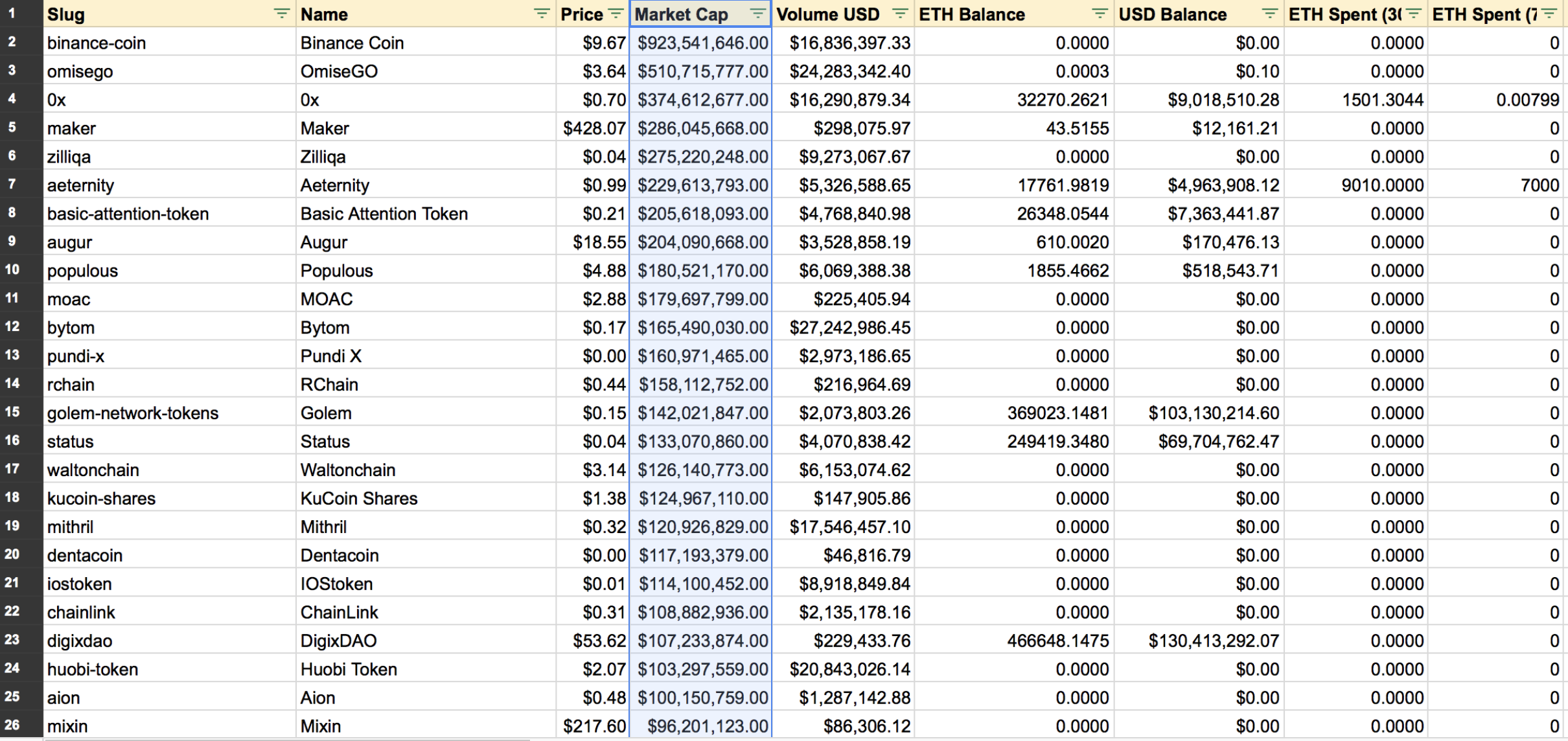 According to our previous analysis, ethereum based tokens reached a combined market cap of $1 billion in May 2017. That then rose to $3 billion in July of last year, with it ballooning to $70 billion in January 2018.
Ethereum's market cap at that time was $132 billion, suggesting tokens have fallen in proportional share of market cap, but not if we discount outliers such as EOS and Tron which at the time were eth tokens with a combined market cap of $16 billion.
Without this discount, eth tokens had 53% of ethereum's market cap, but when the two outliers are removed then it remains at the current level of 40%.
Our manual analysis at the time concluded there were 300 eth based tokens, with that now not far from doubling at circa 500 with a more than zero market cap, and some 650 tracked in total by Santiment.
Interestingly, it appears both eth and eth-based tokens have fallen by roughly the same percentage point since their peak in January, with eth down around 79% while tokens are down 80% in combination.
Some tokens have of course fallen by more, including 95% or higher, while some have fallen by less, but since most of them are traded against eth, it appears they generally follow eth's price direction.
As with the market cap, trading volumes for all tokens are about half of eth's current $1.4 billion in the past 24 hours, with $620 million in trading volumes for all ERC20s.
That would give ethereum and tokens combined a market cap of $39 billion, or just 34% of bitcoin's $115 billion market cap. With their combined trading volumes at $2 billion, or slightly more than 50% of bitcoin's current circa $4 billion.
Eth itself is now at just 24% of bitcoin's market cap, while its trading volumes are 36% of bitcoin's, quite in contrast to nearly overtaking bitcoin in market cap last year and having 55% of its market cap at the beginning of the year.
Copyrights Trustnodes.com