Initial Coin Offerings (ICOs) have sold 11.7 million eth since August last year, worth about $6 billion at the estimated sale price according to our analysis.
Our calculation of data provided by Santiment shows an average of 32,000 eth has been sold every single day by ICO-ed projects.

The lowest amount sold in a day is 409 eth, while the highest is 750,000. That was on the 7th of May this year when ethereum's price was about $790.
It fell by about $100 on that day, giving the ICO-ed projects $600 million if they did sell on May the 7th.
We don't know whether they did, with these sums, moreover, being estimates based on the amount of eth moved from the official eth address of ICO-ed projects.
They could of course move them for many reasons, but an estimated 70% of it goes to exchanges, with this sell pressure seemingly bigger than even that of miners.
On the 27th of March 2018, some 630,000 eth was sold. Price on that day was at about $500, falling by $50 as presumably it gave ICO-ed projects $315 million.
The third biggest sale of the past 12 months was on the 23rd of April when 470,000 eth was sold. Price on that day was at about $650. It falls by $120 two days later, with it continuing upwards after giving ICO-ed projects $305 million.
A further outlier is 24th of May when ◊420,000 was sold at a price of about $600, or $250 million. After which price continues downwards to a low of $250.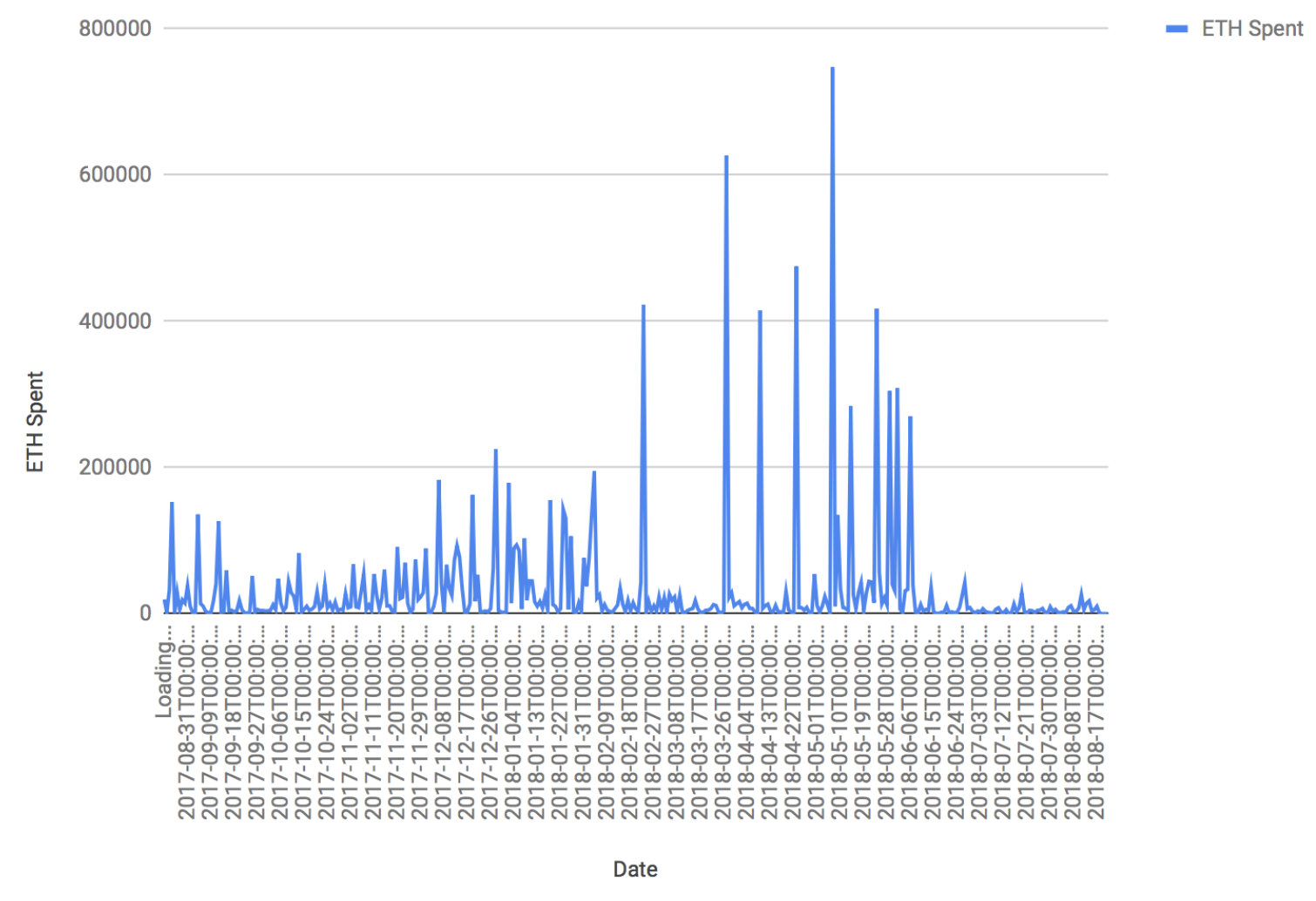 Just for this year, 8.2 million eth has been sold, with the average increasing to nearly ◊36,000 a day, suggesting the vast majority has been sold in 2018.
Some ◊4 million of it probably belongs to EOS, with other projects seemingly selling in combination an equal amount of eth after ICO-ing primarily in 2017 and some in 2016.

During winter, by which we mean January 1st to Feb 28th 2018, some 2.6 million eth has been sold, with an average of ◊43,500 a day.
If we take the average price to be at $1,000 during that time, then about $2.6 billion was cashed out by ICOs for the month of January and February.
For spring 2018, being 1st of March to 31st of May, some 4.5 million eth is sold, with the average at its highest of ◊49,000.

Eth's price fell during that period from $870 to a low of $360 before recovering slightly by the end of May to $540 or so.
Taking an average price, therefore, is difficult, but as the biggest outliers for the year were during this period with $600 being a somewhat common price point, then an estimated $2.7 billion was sold during spring.

For this summer, which is 1st of June to 18th of August, eth sales by ICOs have significantly slowed down to "just" ◊1.1 million, with its average at its lowest of ◊14,500 per day.
Price opened at about $600 for this summer, and now stands at just $280, so $450 for an average would be fair, giving them about half a billion dollars.
In combination, ICOs have sold an estimated $6 billion worth of eth this year, with $2.6 billion at the peak during January and February, $2.7 billion during spring, and about half a billion for summer so far.
They still hold 3,330,390 eth according to the tracked data, with ◊14,000 of it sold on average every single day.
Copyrights Trustnodes.com