One of the biggest mining hardware manufacturer now requires identification documents, such as a passport or a driving license, as well as a confirmation of address, before allowing purchases of asics or other mining gear.
Bitmain has currently made no public statement to the effect, but we were able to confirm the authenticity of an e-mail received by many individuals which details the new requirement.
The e-mail says individuals from China can buy up to circa $45,000 of mining gear without any identification, others however can not buy any mining gear from Bitmain prior to going through the identification process.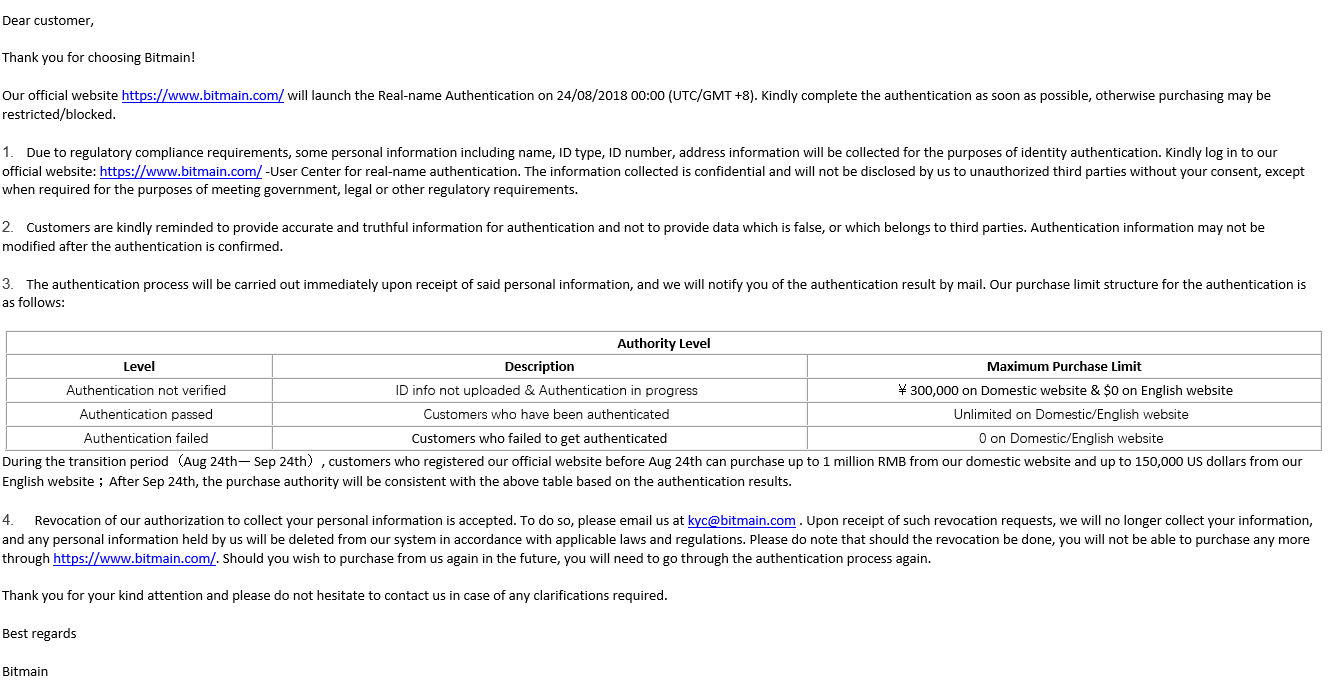 They are the only miner, as far as we are aware, to ask for ID before purchasing mining gear, but individuals can still mine in their pools without needing to provide identification.
The reason for this change is unclear. They say it is due to regulatory compliance requirements, but we're not aware of any that apply to purchasing mining hardware.
Some are speculating it might be related to their planned Initial Public Offering (IPO) which might perhaps have additional requirements, including perhaps identification requirements.
In addition they recently announced they are to give "a $55 USD coupon (per miner) to customers who fully purchased Antminers between 09.01.17 to 08.20.18."
Why they're just giving out all this money is unclear, but the many requirements related to IPO-ing and to public companies might perhaps have necessitated some changes at Bitmain.
The ID requirement to buy mining gear is the most peculiar one because you can buy GPUs from Nvidia, for example, without needing to provide any ID, as of course you can buy a computer and so on without needing ID.
Why asics would be any different is unclear, especially considering their eth asics, for example, are hardly much different than high end GPUs. So perhaps they're being just a bit extra cautious ahead of the IPO.
Copyrights Trustnodes.com