EOS is up today from around $5.4 to a recent high of nearly $6.5 on increased trading volumes of almost a billion dollars with some of it from South Korea.
The currency has been rising since mid-August, up by around 35% from $4 to now $6.4, but still considerably down from its high of $23 just this April.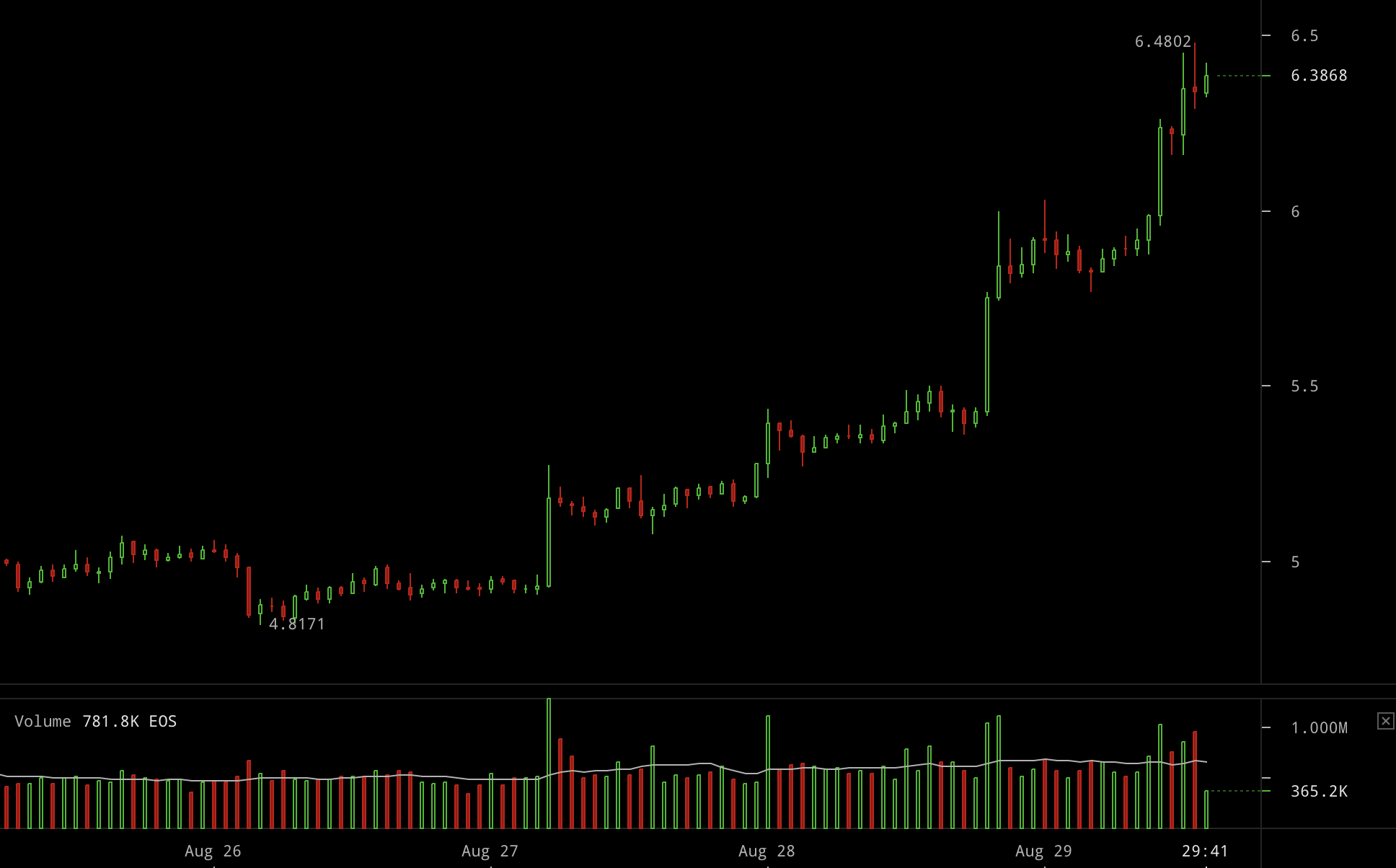 It isn't very clear why eos is rising today more than any of the other top cryptos, but bitcoin has been somewhat bullish since mid-August too, up by about $1,000 to now above $7,000.
As they say, when adults get a bit excited, kids start jumping up and down, shouting while having fun, so perhaps this spike in eos is simply because it fell a bit more than the other top cryptos, down from all-time high by some 83% at the low of $4. Now with this recent rise, down some 72%.
That's a lot less than eth which still remains down some 80% from its all time high despite a recent rise by $50 since mid-August to now close to $300.
Another reason for the eos rise might perhaps be the anticipated London hackathon starting this September 22nd.
They're apparently getting some dapps now, including one that's trying to build a music streaming network on eos. While Dan Larimer, eos' lead dev, is apparently working on a decentralized exchange (DEX).
There's quite a few of them already, most running on ethereum, but the oldest smart contract platform might now be facing some competition.
Eos, however, continues to experience difficulties, including a recent ram exploit which allowed others to steal ram. They have now come up with a temporary solution for it, with further suggestions a future upgrade may double cpu bandwidth per token.
Eth's Loom Network, on its part, recently announced an eos-like dPoS sidechain for ethereum dapps, but eth might now have a project to keep them more nimble.
Copyrights Trustnodes.com