Ethereum developers were in general agreement during a livestreamed meeting today to reduce block rewards from 3eth to 2eth.
Around 15 developers took part in this special meeting on issuance reduction which follows much public debate including last Friday when representatives of miners and eth holders were invited to participate.
A number of developers today said there was general consensus to reduce issuance to 2eth per block, with discussion following on whether uncle rewards should be reduced by merging EIP1295 and 1234.
Some devs however raised concerns regarding Ethereum Improvement Proposal (EIP) 1295 as it changes the proportional rewards between uncles and actual blocks, so it seems most were in agreement on just 1234.
EIP1234 itself will probably proportionally reduce uncle rates and nephew rates in line with 2eth per block, but it does not change the proportional reward between uncles and proper blocks.
In regards to 1eth, some devs said it was better to make changes incrementally. Moreover, the difficulty bomb is only delayed rather than removed.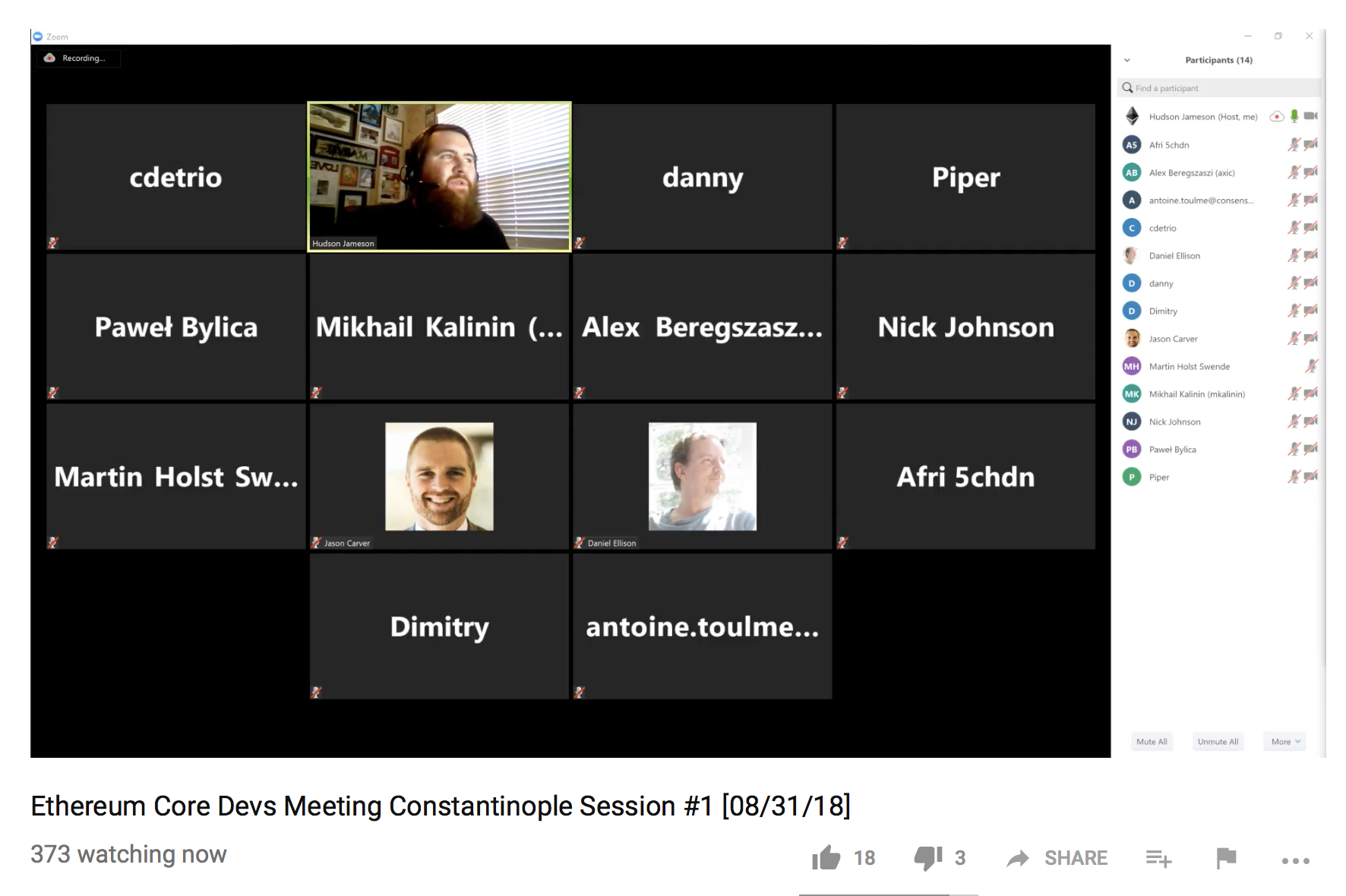 Some devs said the coinvote, where 99.7% voted for a reduction to either ◊2 or ◊1, was one signal on where the consensus lays. Another signal was miners saying they were happy to maintain it at three eth, but they can manage at two eth. With a further signal being the crowd watching the livestream which was shouting 2eth, 1.5eth or 1eth.
"Incremental compromise until we get to the vision," said one eth dev after adding that 5eth per block was temporary until Proof of Stake (PoS). That was delayed so issuance was reduced last October, and the difficulty bomb is being delayed again so issuance is being incrementally reduced again.
Casey Detrio, an eth dev, was the only somewhat dissenting voice, saying he'd be happy with reduction to 2eth if it is coupled with ProgPoW, a Proof of Work (PoW) change aimed at making asics less effective.
Some devs said they didn't see how issuance and ProgPoW were related, with questions raised regarding when ProgPoW would be implemented.
Pawel Bylica, an eth dev, said ProgPoW is definitely not feasible to implement this year, so it can't be considered for inclusion in Constantinople.
Hudson Jameson said a lot more data is needed on ProgPoW, with Bylica adding that ProgPoW is quite a long way from being anywhere near ready for implementation.
Piper Merriam said there was general agreement on 2eth, so wondered if a decision could be made on it. He asked whether anyone was opposed and following some silence, the devs concluded there was consensus to reduce issuance to 2eth, with a decision thus finally made.
Copyrights Trustnodes.com