Vitalik Buterin was apparently escorted out of a closed door meeting where Bitcoin Cash developers and miners are to discuss how the currency is to move forward following disagreement over some very technical matters.
"This meeting is for miners and devs of BCH. There is security at door and it appeared as if he walked in and then he had to come back out and leave, while BCH went back into meeting," someone in attendance said.
Jihan Wu of Bitmain said "We invited Vitalik to come by and have a brief chat. Vitalik expressed his congratulations on the growth of BCH community."
Little information has come out of this closed door meeting, but some reports suggest Craig Wright left just an hour after the meeting begun.
That suggests the meeting doesn't appear to have led to anything, with Calvin Ayre of Craig Wright affiliated Coingeek stating:
"There was a lot of technical debate in these meetings but I submit that much of this, is not a technical issue at all, this is a practical business issue.
Miners have two choices. One side wants to submit an untested change that can only theoretically benefit Bitmain and are asking everyone else to assume unnecessary risk for their potential benefit.
The other side wants to lock down the battle-tested base protocol and make it easier for Miners to vote for changes that they want."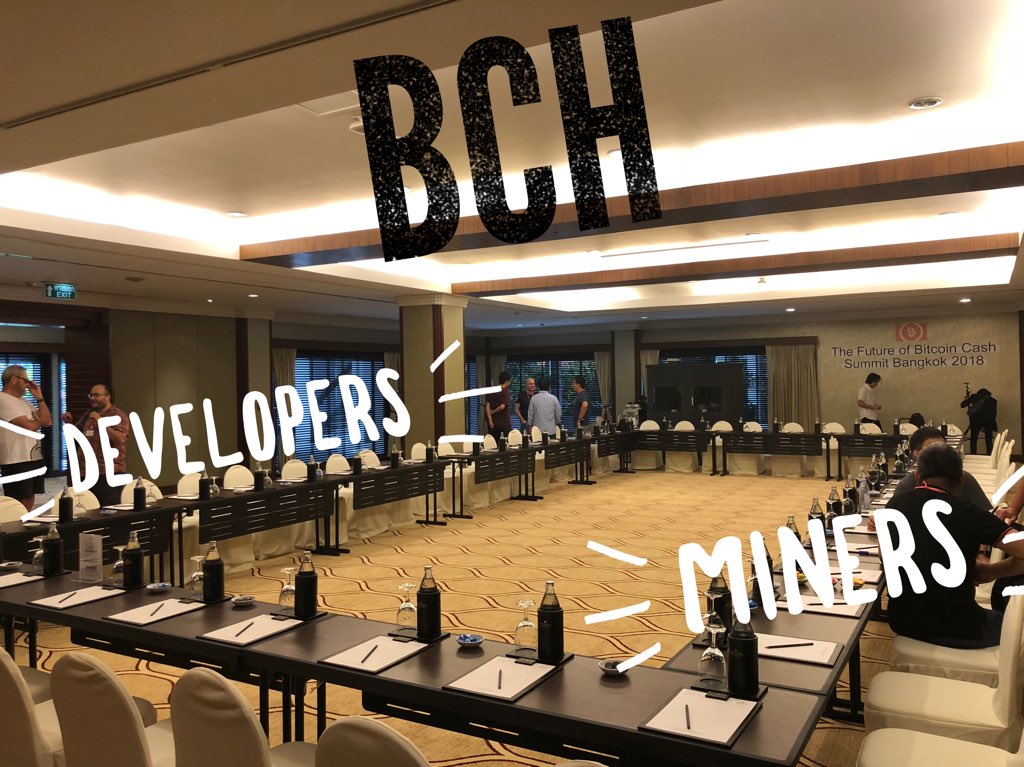 Just how many closed door meetings there are, is unclear, just as it is unclear whether they will be able to reconcile their many differences, including over what appears to be a community split in BCH regarding the role of Craig Wright in protocol development.
Craig Wright affiliated nChain recently launched a BitcoinSV client that may split the BCH blockchain into two currencies. Craig Wright recently said according to a rough translation:
"One important thing, let's say it again. This time, we do not HF. If anyone wants to work with ABC, I want them to think carefully, we have more hash power and continue to compete until we die. We will not tolerate HF, try to bankrupt all HF coins! This is the game rule of Bitcoin!"
Jihan Wu's reply to the above statement was: "That will be an attack against the BCH community." Craig Wright's new client has removed replay protection, suggesting they may try to take over BCH and have the network follow his client's rules.
Since BitcoinSV has different consensus rules, however, it will probably split off into its own chain. Businesses and exchanges therefore would need to choose to run the BitcoinSV client, which appears unlikely at least for reputable exchanges due to Craig Wright's reputation.
How this will go down, however, remains to be seen with Bitcoin Cash now seemingly facing quite a bit challenge barely a year after it forked.
Copyrights Trustnodes.com