After about two weeks of hanging around ₿0.04 per eth, ethereum's price against bitcoin fell below that support line this Monday, down to a new recent low of ₿0.039.
That continues a four months long downtrend since May, with ethereum's price against bitcoin more than halved in the meantime.
Since last year, it has fallen nearly 80% from its all time high of ₿0.17 in May-June 2017, with it nearing those levels in January this year after rising to ₿0.12, then to a recent high of ₿0.08, to fall yesterday below ₿0.04.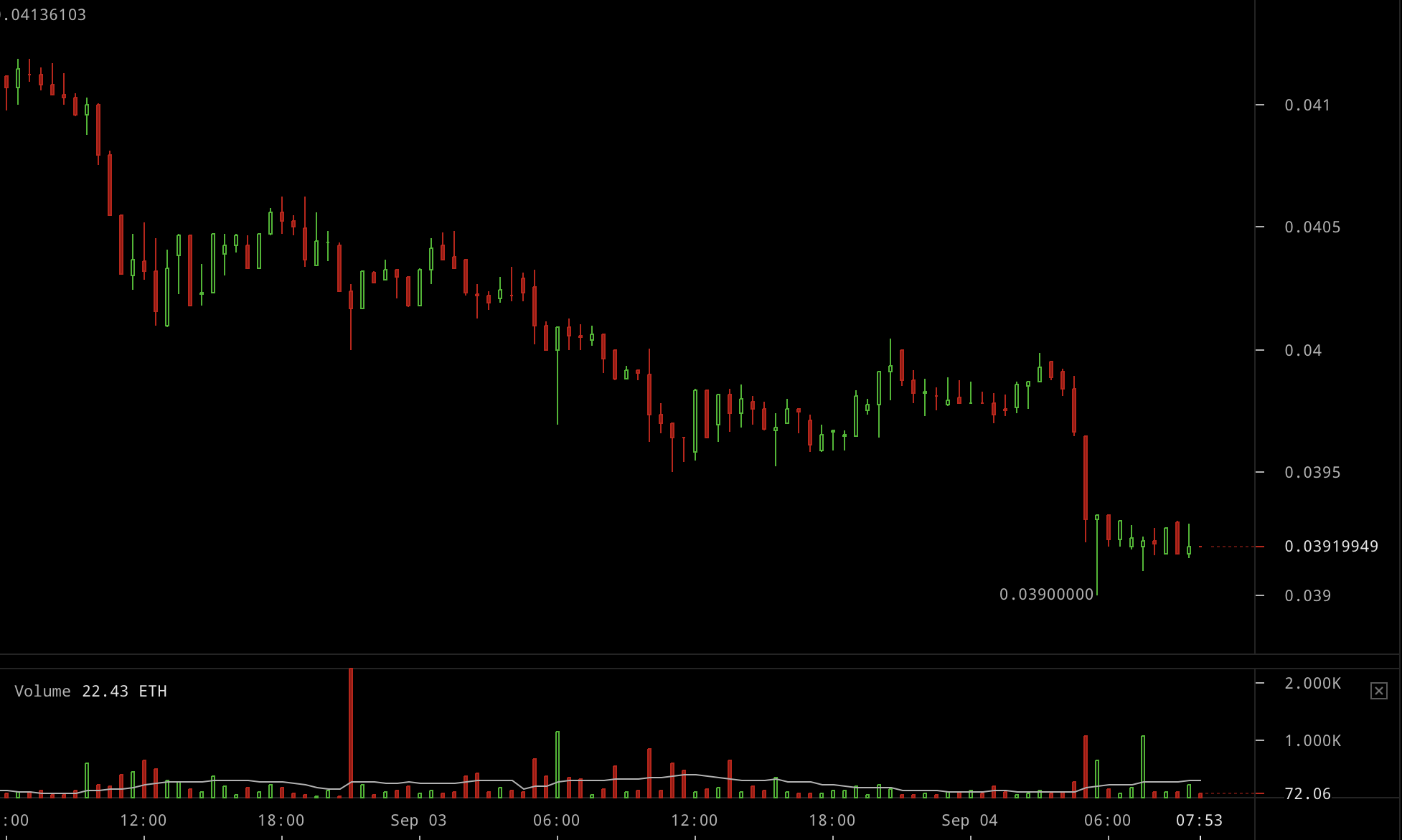 It remains somewhat of a mystery as to why ethereum has shown so much weakness against bitcoin since May 2017 or January 2018.
One theory may be that it is simply a cycle which in many ways mirrors bitcoin's price action sometime in 2013-2014.
As you may recall, bitcoin rose to a high of $250 during spring 2013. It then "crashed" to reach a brief high of $1,200 in November 2013. Bear market then follows for much of 2014-15.
Ethereum rose to a high of $420 in May last year, to then "crash." It closed that year at a brief high of $1,420, to then go into a bear market for much of this year.
Whether that makes eth 2018 the equivalent of bitcoin 2014 or 2015 is unclear, just as it is unclear whether eth 2019 will be a repeat of bitcoin 2016-17. The sentiment, however, appears to be similar, and just as back then it seemed like no one could spell bitcorn, so too now it looks like everyone is talking about etherium.
Just as then it suggested most were very unfamiliar with bitcoin, so too now it suggests most have no clue just what ethereum is as shown by their inability to spell it properly.
The other similarity is of course the inflation rate which for bitcoin back then was around 7%-8% and for eth currently it is around 7%-8%. That changed for bitcoin in 2016 to roughly 4% and it will change for eth this October-November to roughly 4%.
You'd expect that change to be priced in, but it never was for bitcoin. The reason may well be perhaps because the pricing in theory is simply wrong at least where cryptos are concerned. That might be due to the unique dynamics of cryptocurrencies whereby miners effectively insta fiat convert their crypto to pay for their operations, to buy more miners, and so on.
That might put some limit to pricing in or the pricing in might be just some sort of a floor rather than a reflection of new information.
This crude analysis limited to only supply and demand may therefore by itself explain why eth's ratio has fallen so far with the reason potentially being that eth's inflation rate is simply higher than bitcoin's.
That means for eth to maintain its ratio, its demand needs to be 50% higher than for bitcoin. There were times when it was so and perhaps far more than 50%, like in May 2017 or even in January 2018 when bitcoiners tried to ride the eth run-up.
Yet if demand is roughly the same, then eth's value against bitcoin should naturally fall simply because there are more new eth created and therefore more new eth sold than bitcoin.
Were any of those parameters to change, then so would the outcome of the equation. Thus if eth's supply were to suddenly become the same as bitcoin's while demand remains unchanged, then you'd expect a re-adjustment of the ratio considering the selling pressure has effectively halved. Whether that will indeed be the case, however, we will see soon enough.
Copyrights Trustnodes.com