Someone just market sold a huge amount of eth on Bitfinex starting at 10:30AM London time sending its price down with speed to $250 at the time of writing.
About 60,000 eth exchanged hands on Bitfinex between 10:30AM and 11AM, sending price down from $280 to $265. Another ◊70,000 then exchanged hands between 11 and 11:30, sending price down to $260.
With the selling continuing as a further ◊60,000 closes the candle to greet this American morning.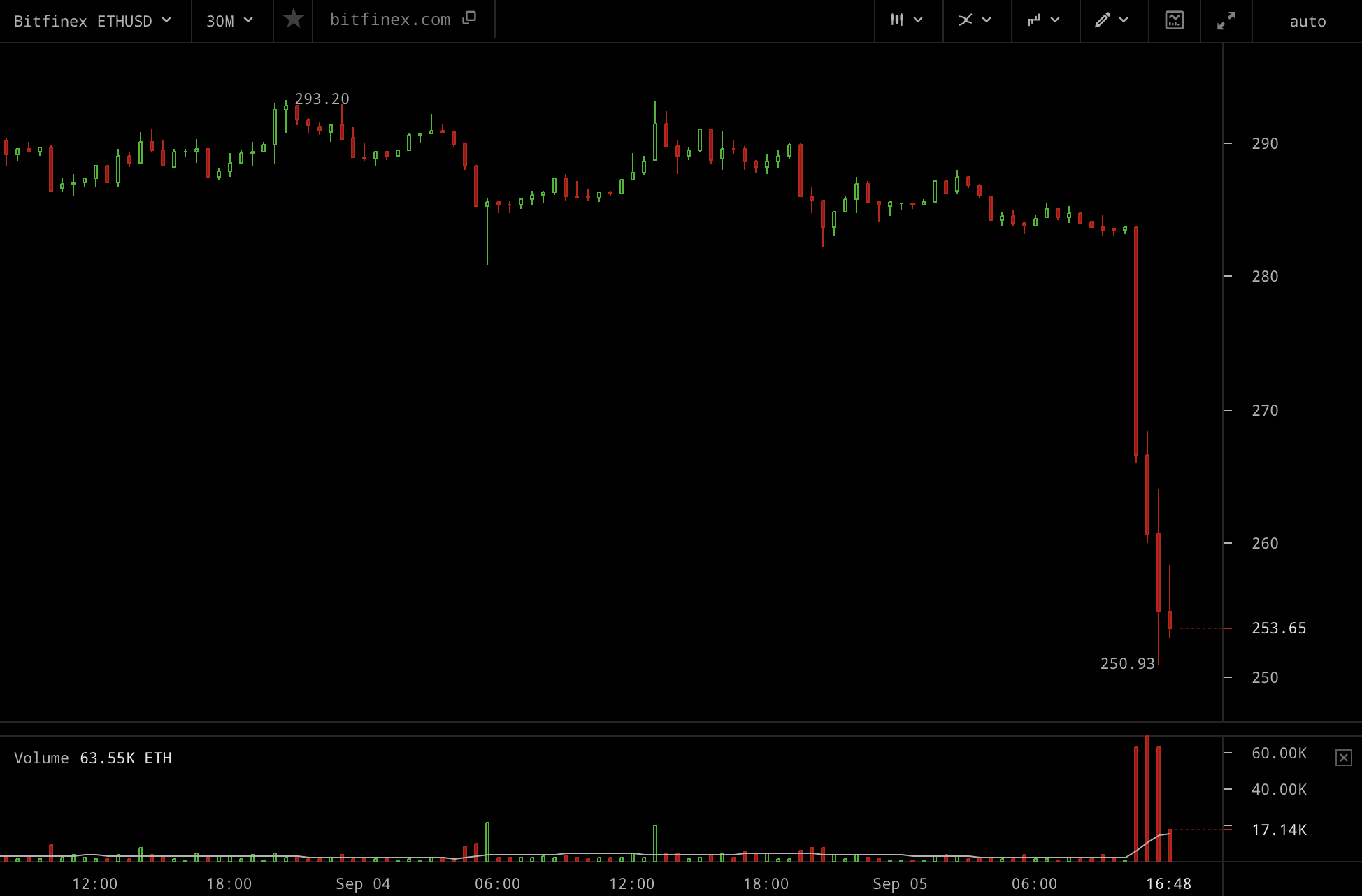 What exactly happened here is unclear, but it follows a flash crash on Kraken yesterday to $240 which was seemingly isolated to that exchange only.
It also follows a move of some half a million eth by Digix Global after token-holders approved their request to liquidate ◊70,000. Some ◊54,000 was quickly sent to Gemini yesterday by Digix Global.
Gemini offers Over the Counter (OTC) block trading, but, if we zoom in, it does look like Gemini moved first by about two minutes although at a small scale.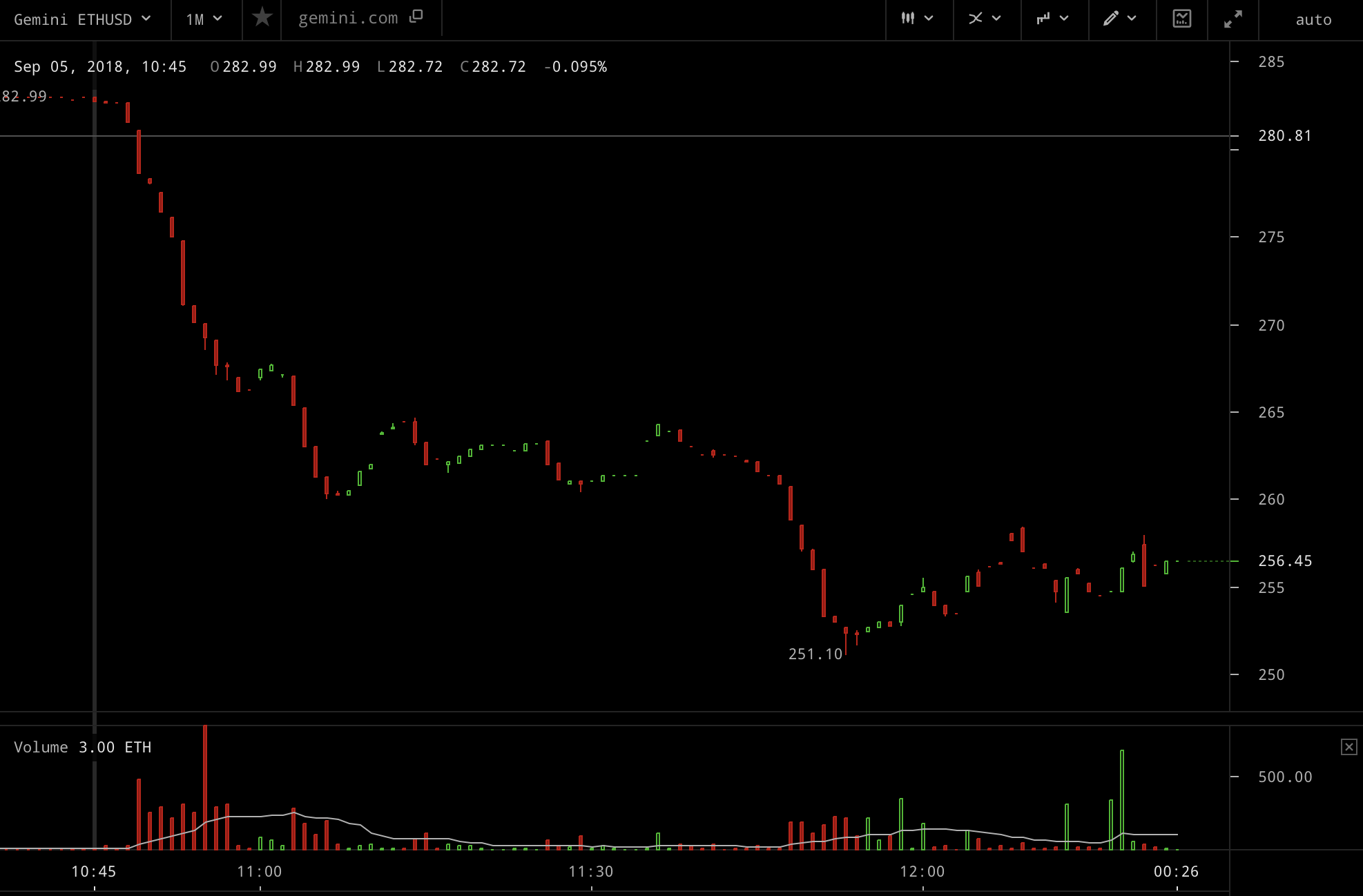 As can be seen there, price is flat then it falls a bit at 10:45AM London time. Here is Bitfinex by comparison: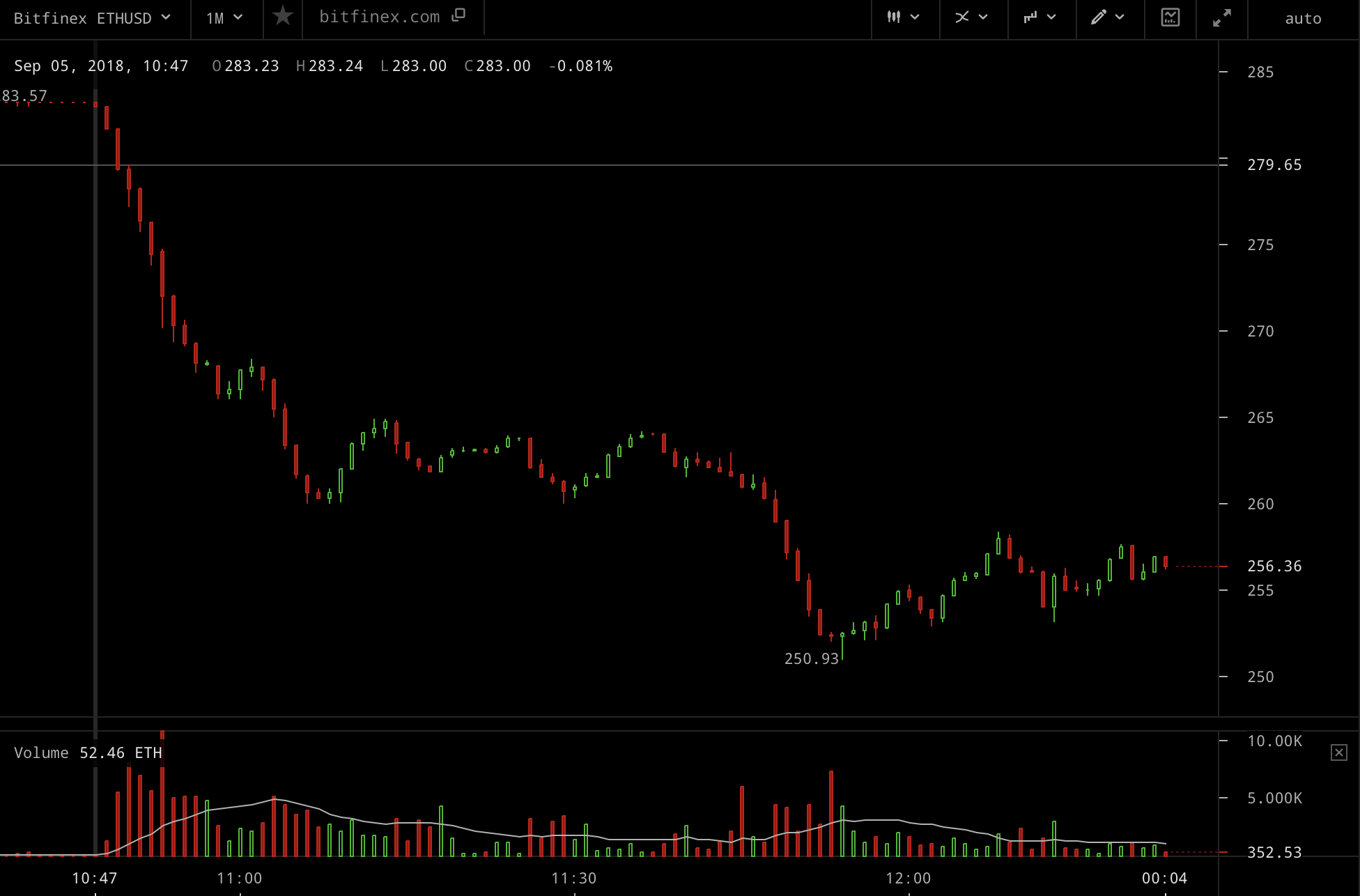 Price on finex was flat until 10:47 when it moves a bit, then they all sort of sell in tandem. Traders, of course, keep an eye on the chart of all major exchanges, so if one moves then they rush to be first to follow.
Moreover, Gemini's volumes are pretty low at about 500 eth per minute with the highest being ◊1,000, making it circa 5,000 eth sold in about 9 minutes.
In Bitfinex a lot of eth moved hands, some ◊5,000 t0 ◊10,000 a minutes, so how much was intended to be sold and how much was traders is unclear.
Other cryptos, however, were not affected that much. Bitcoin fell down by just 4% to slightly below $7,000 from $7,300, suggesting this was an eth specific event.
What event that is exactly, remains unclear, but it may have been Digix – although there is no evidence to show so – or some other ICO, or perhaps this is eth's equivalent of bitcoin's bearwhale.
Copyrights Trustnodes.com