An eth flash crash to $237 on Kraken this Tuesday raised eyebrows, but few paid much attention to it, considering it an oddity of sorts.
Yet when eth started moving with speed towards $250 this morning, all wondered just what was going on. Few were aware, not even all-knowing (/s) Trustnodes, that an even bigger sell off had been going on in India yesterday, with global prices seemingly lagging behind to catch up this morning.
In addition, on September the second, just three days ago, nearly $90 million worth of bitcoins were added to shorts. Today, those shorts see little movement despite a close to 5% price fall in btc: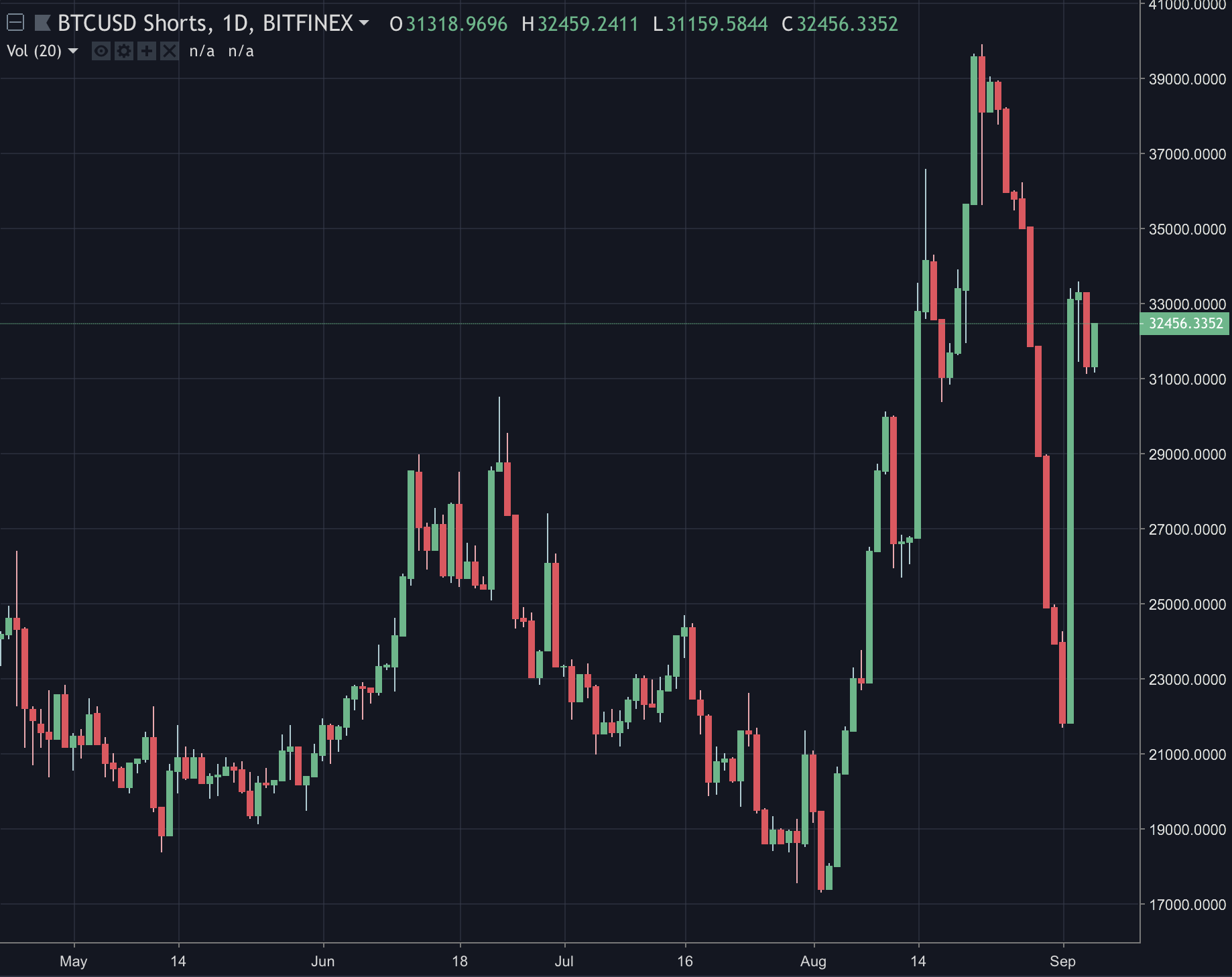 Even more interesting perhaps is the fact that bitcoin longs appear to not be in play at all sine mid-August, at least on Bitfinex for which there is data.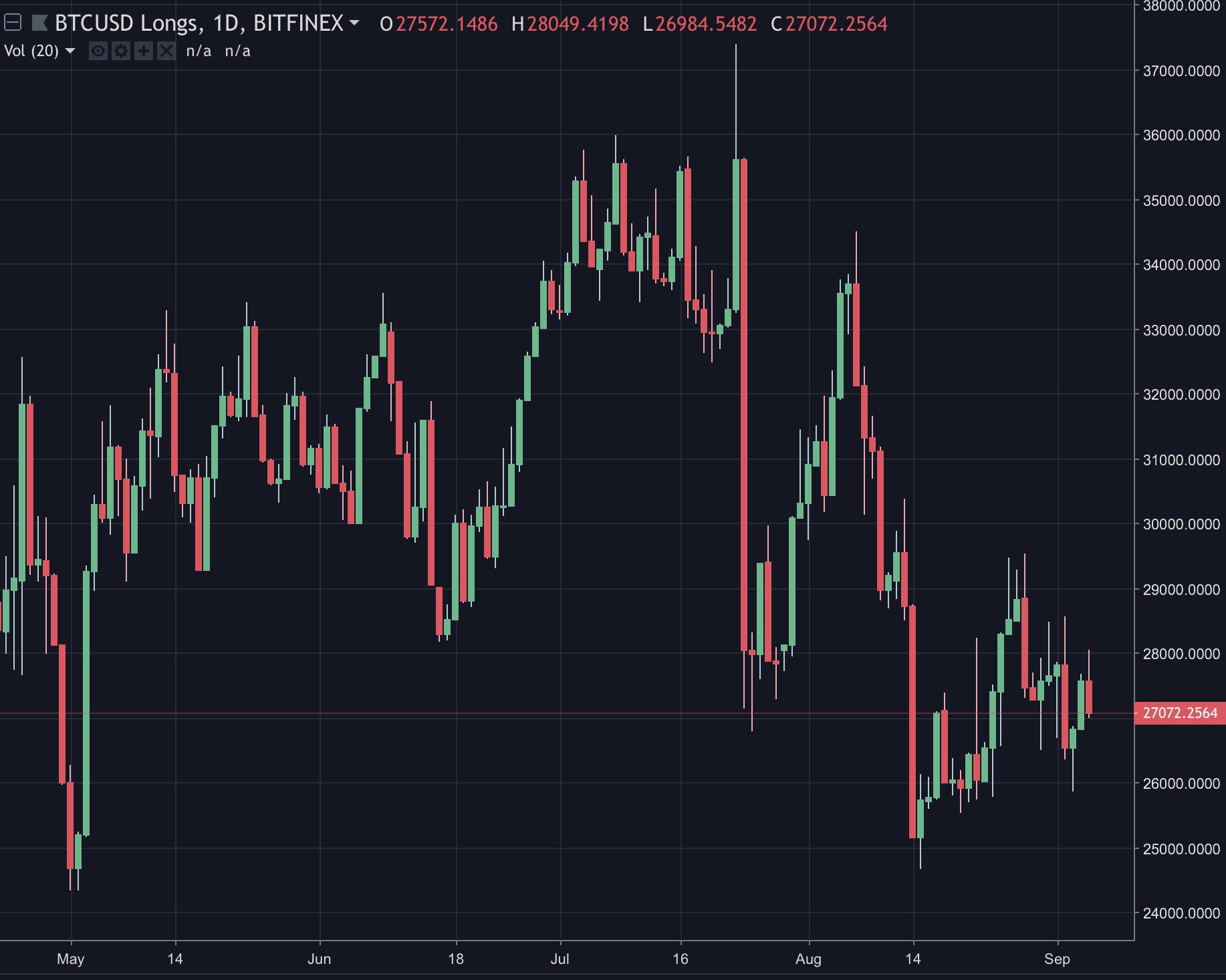 As can be seen, the action in bitcoin, by comparison to the rest, is as if bulls are just not bothering anymore except for a little bit here and a little bit there.
In eth, in contrast, they had some reason to be sad. Their favorite dainan, whale 601, was called out of some $600,000 worth as ethereum plunged to $250, with the dai bot going into some frenzy.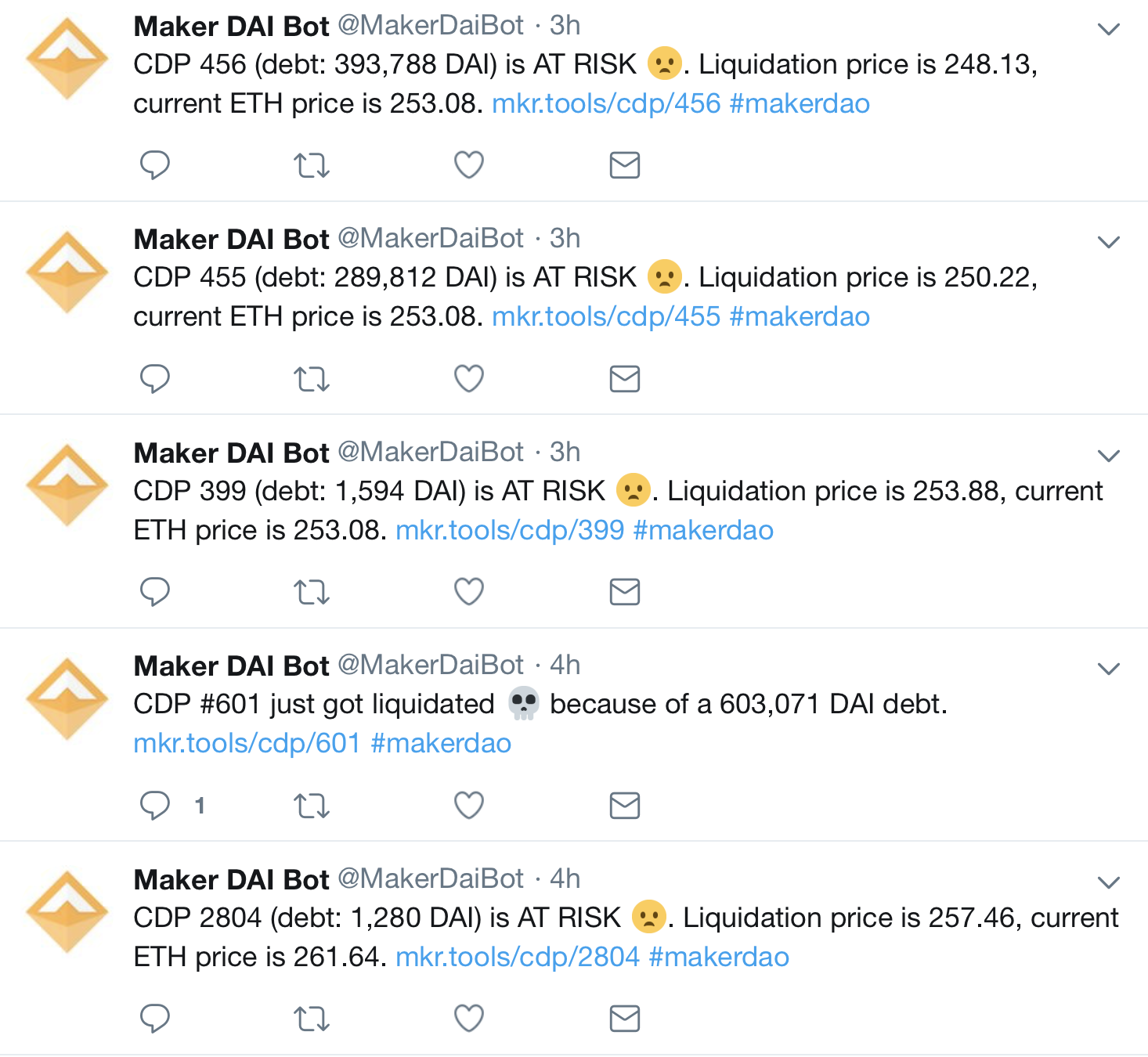 About $2 million worth of dai was liquidated within that one hour out of circa $50 million, or about 4% of all dai.
At the same time, some 50,000 eth was added to shorts, worth $13 million, giving what looks like the biggest green candle certainly since May, but perhaps ever.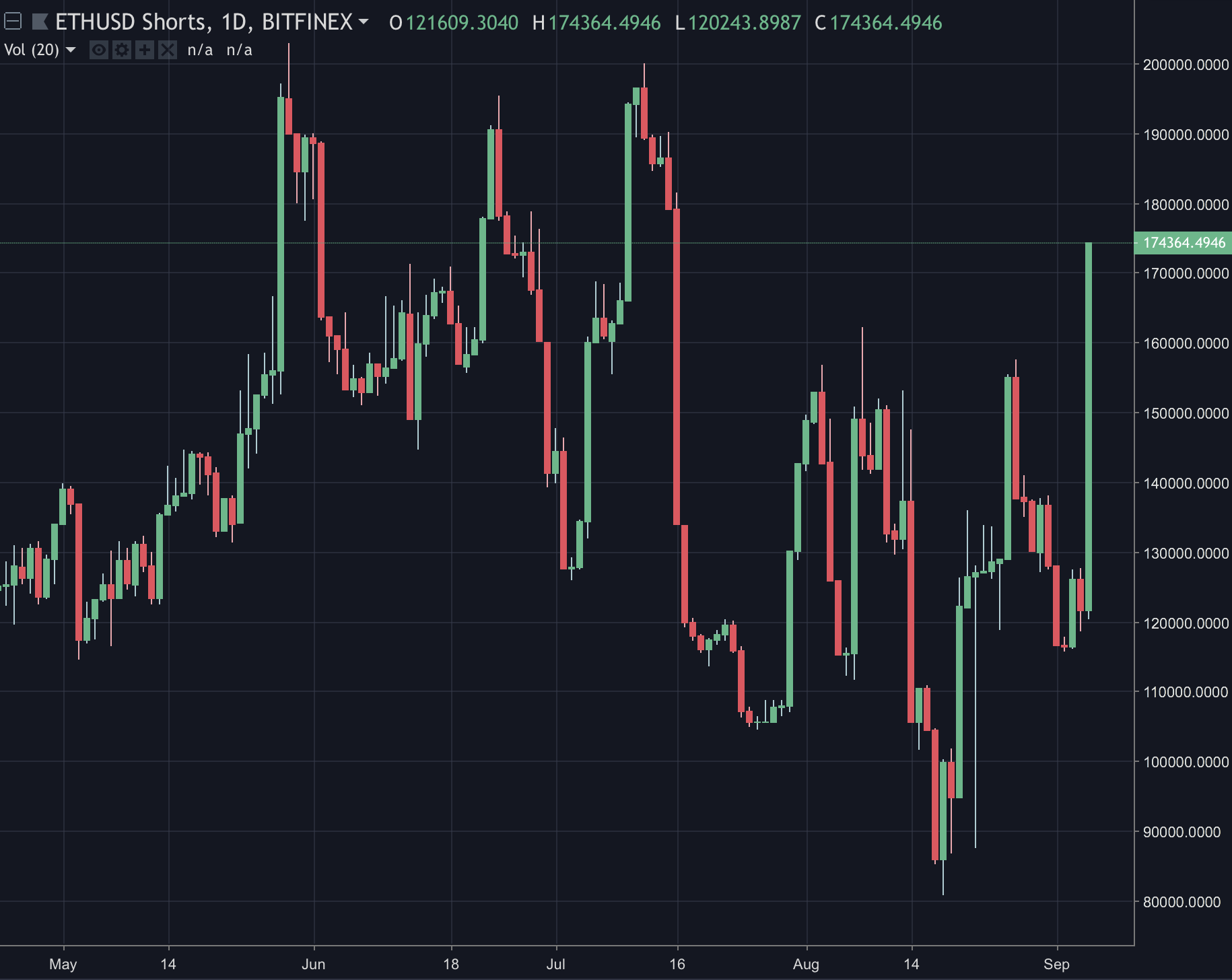 In contrast, eth long have been up and up, but today many of them saw red as about ◊35,000 closed at the time of writing, worth $9 million.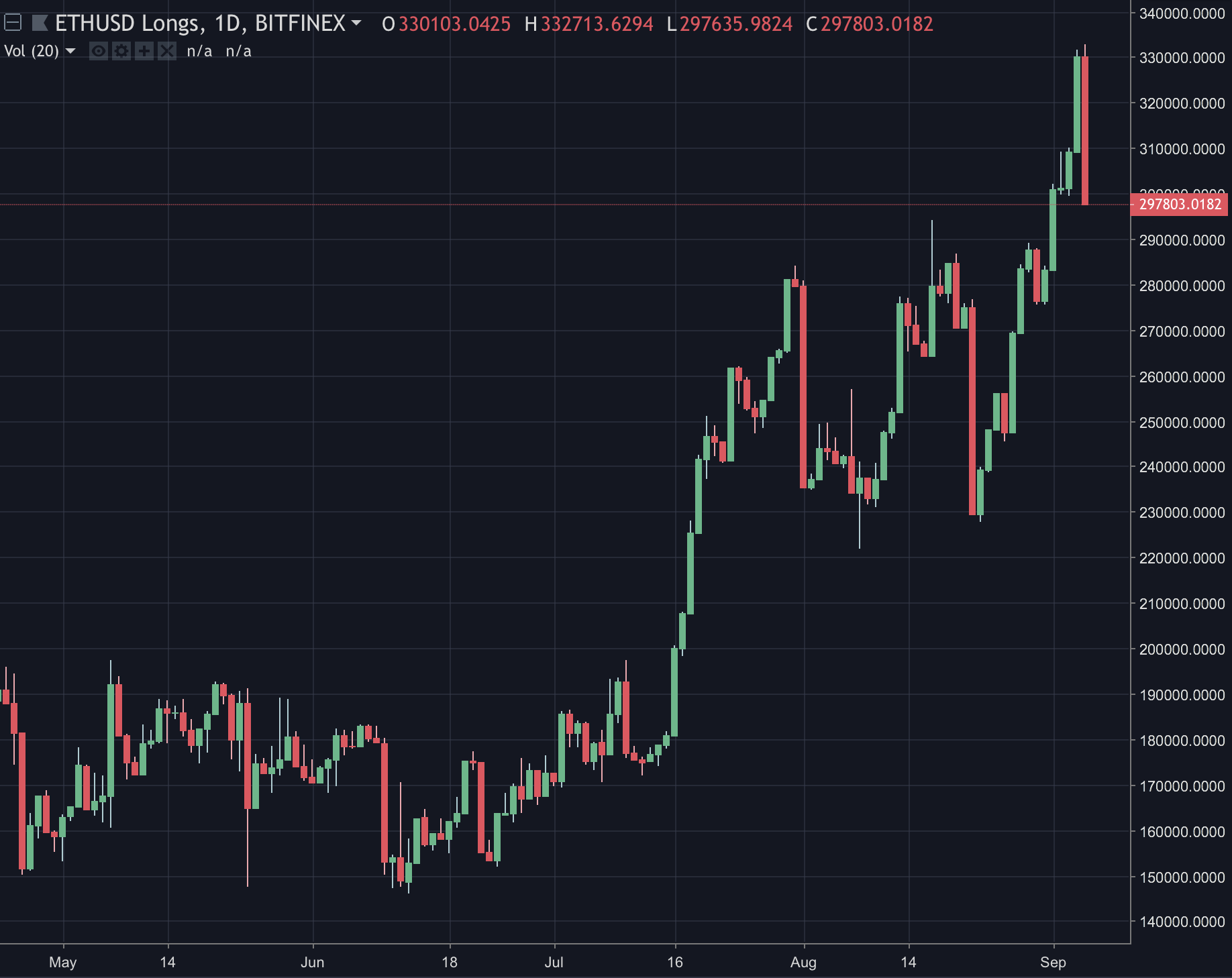 That means many lost plenty today chiefly because of the unexpected fast price movement downwards which some are saying is due to Goldman Sachs holding off plans to open a crypto trading desk, but it appears far more likely to be due to Indian exchanges closing off Indian fiat crypto trading pairs.
In effect, the world's second most populous country is leaving the crypto scene, at least as far as conveniently hanging around it is concerned.
They can still trade peer to peer, no one can possibly stop that, but yoloing on 100x crypto margins and losing it all might be a thing of the past for India, at least for now.
That closure was now felt globally as the world's biggest democracy, at least ostensibly so, turns its back on the first innovation in five centuries that addresses the nature of money.
Copyrights Trustnodes.com