Ethereum's trading volumes have risen to $2.8 billion during the past 24 hours, the highest level we have seen in a very long time. For bitcoin, they're at nearly $7 billion.
That's compared to about $1.4 billion for eth just the day before and roughly $4 billion for bitcoin during the same time period.
Tether's trading volumes have reached an all time high of almost $5 billion, some 25% of all global crypto trading volumes at $20 billion. Suggesting much of this is traders doing trading.
Only three cryptos are now worth more than $10 billion, with Bitcoin Cash dropping out. Tether may well overtake Litecoin. If we exclude it, only 8 cryptos have a market cap over $2 billion, down from about 28 at its height in January.
Ethereum has fallen in the past 24 hours to a recent low of $210, down by close to $100 on double the trading volumes over the previous day.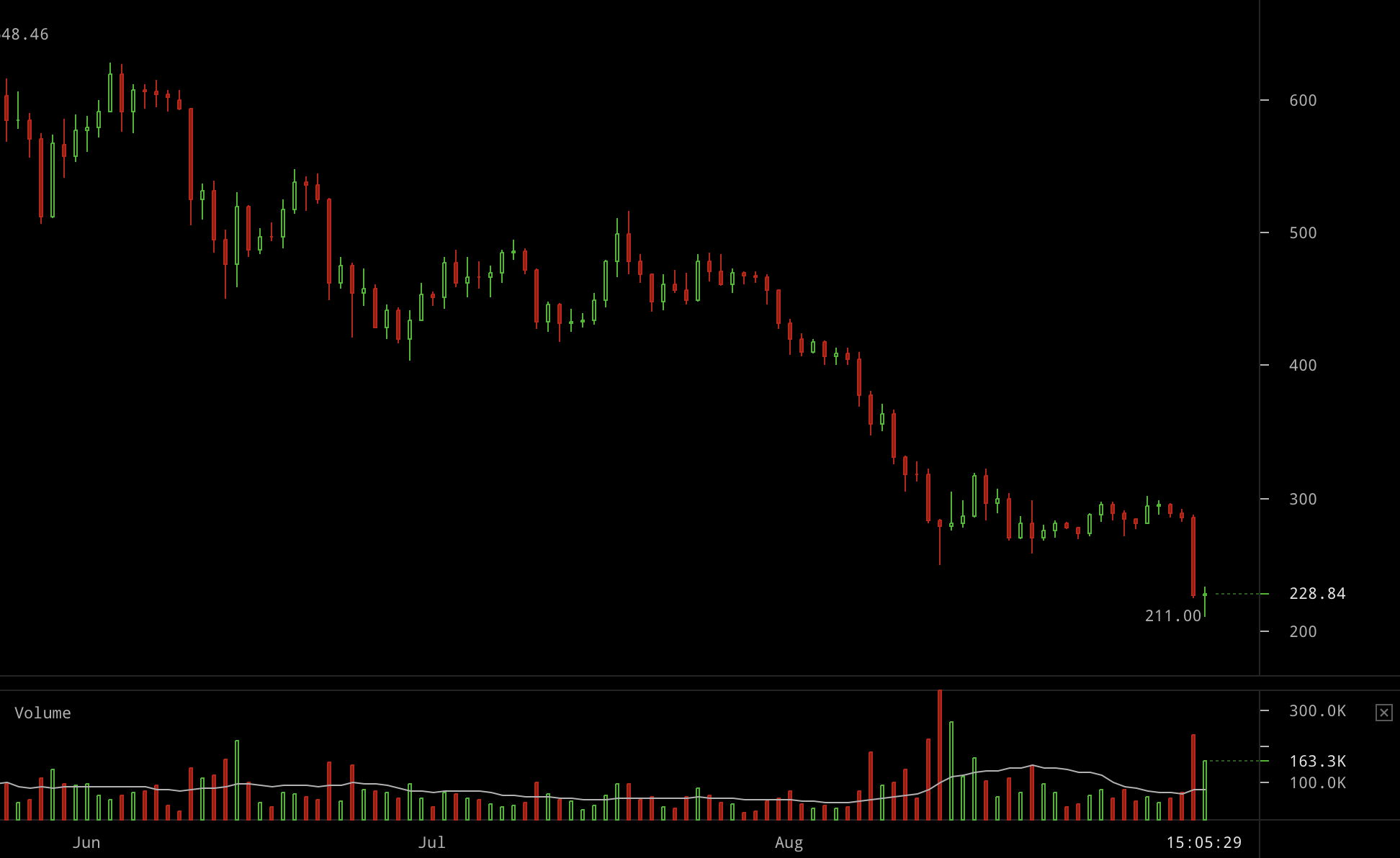 As can be seen, there was a bit of a retrace at the time of writing, making that daily candle look a bit nice, but whether that will translate to anything remains to be seen.
Ethereum's price against bitcoin reached a new yearly low of ₿0.033, down 25% in a couple of days, before slightly recovering to ₿0.035.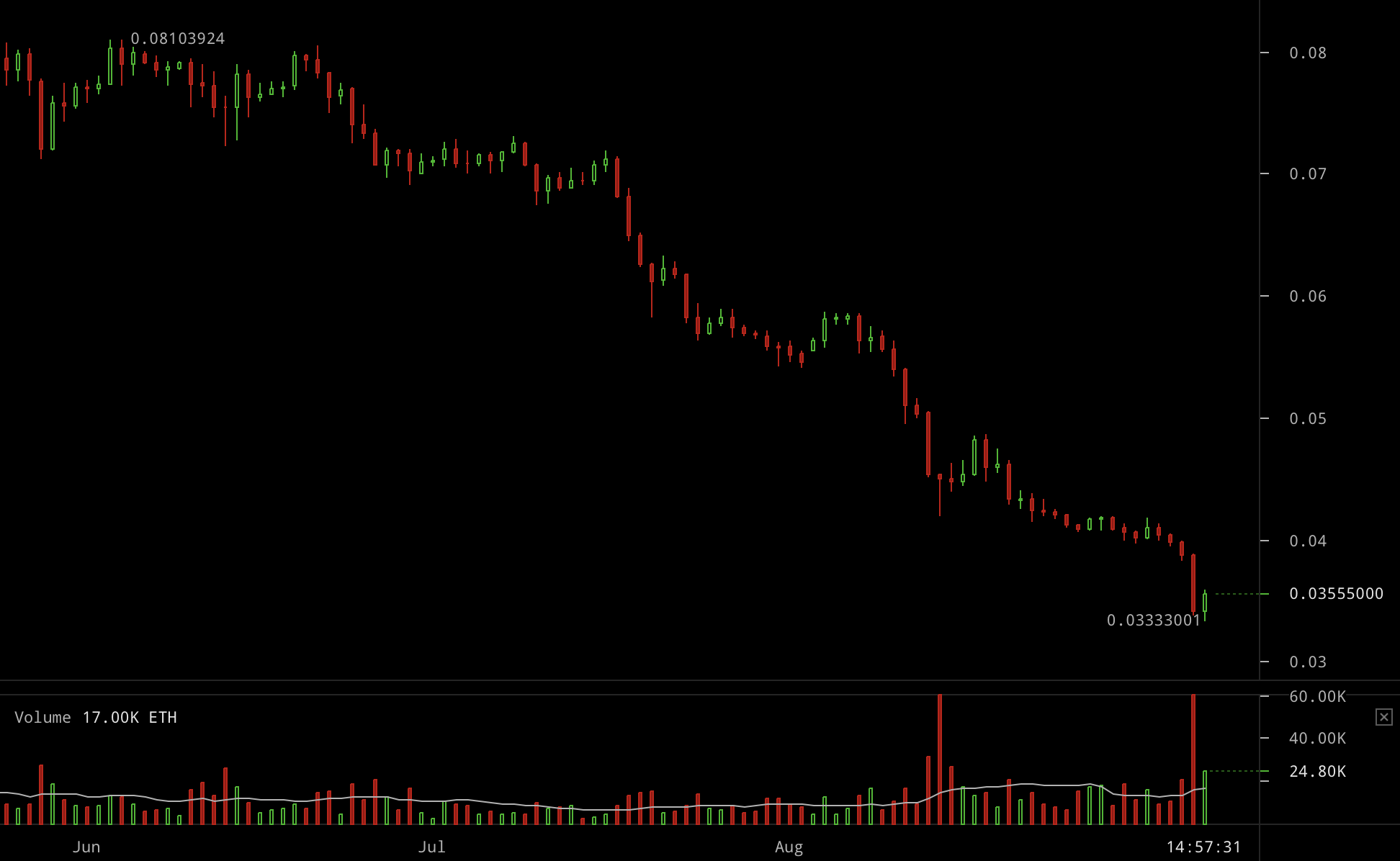 Bitcoin fell too by about $1,000, or roughly 14%, to $6,400 at the time of writing, with the crypto making one of the biggest daily candle since June when it also fell from circa $7,500 to $6,500.
That might suggest resistance lines and tea leaf reading technical analysis (TA) had some part to play in all this, but what exactly happened isn't very clear.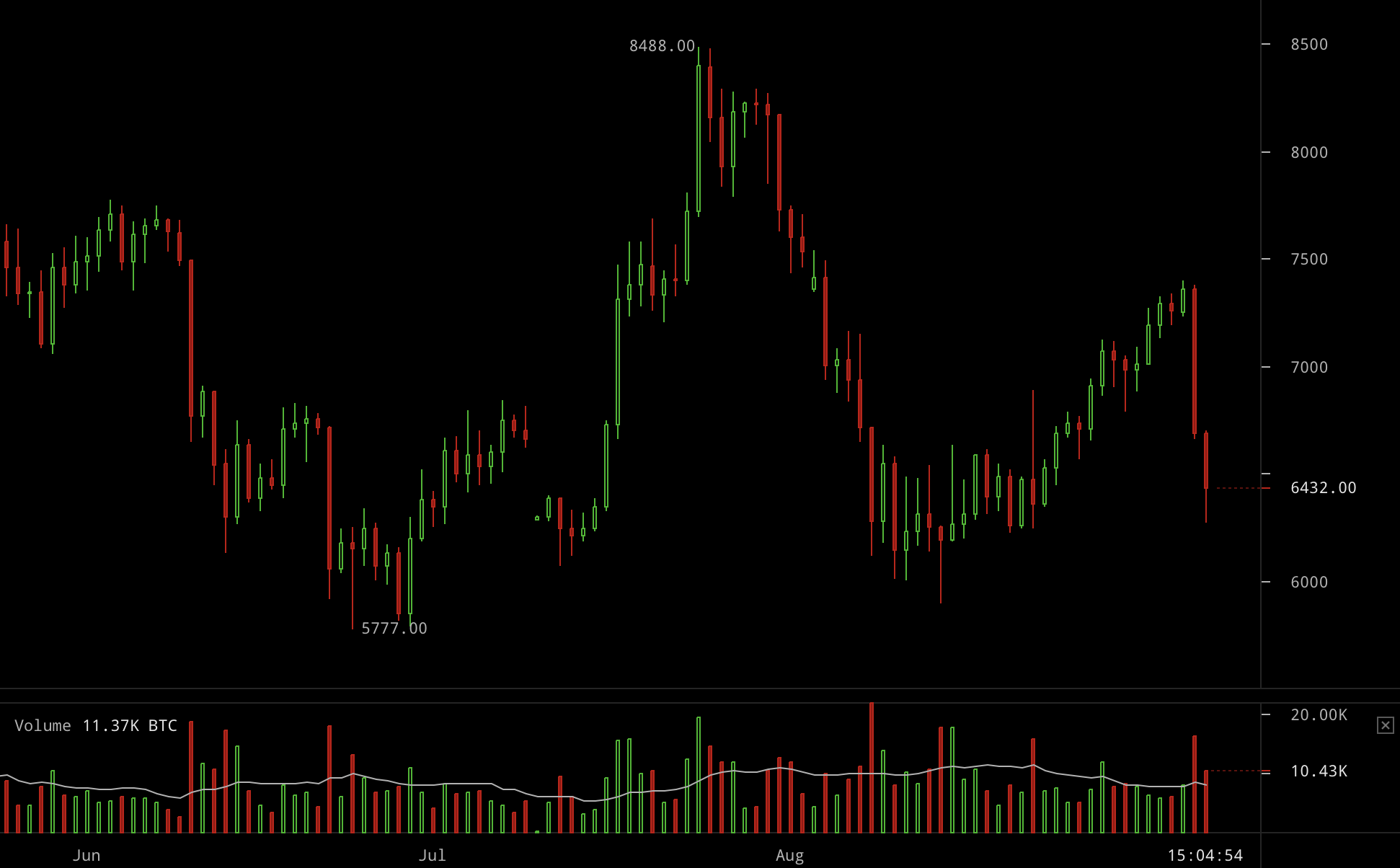 Some are saying Goldman Sachs holding off plans to open a trading desk had something to do with it, but that news was not published until well after the flash sell-off.
Goldman Sachs, therefore, was likely responding to the events rather than creating or contributing to them. By contrast, the flash sell-off had happened in India 24 hours before it occurred globally. They, therefore, most likely are the cause of it as the Indian Rupee trading pair leaves the crypto market.
How this all will develop now remains to be seen, but eth's chart does look a bit nice-ish currently, although after all that beating, bulls perhaps no longer dear hope again.
Copyrights Trustnodes.com