Ethereum's market cap has fallen below $20 billion for the first time since July 2017 on low volumes of just $1.4 billion during the past 24 hours.
The drop below $20 billion follows a downwards turn for eth's price once again after it saw a brief bounce to $205, now back to around $190 at the time of writing.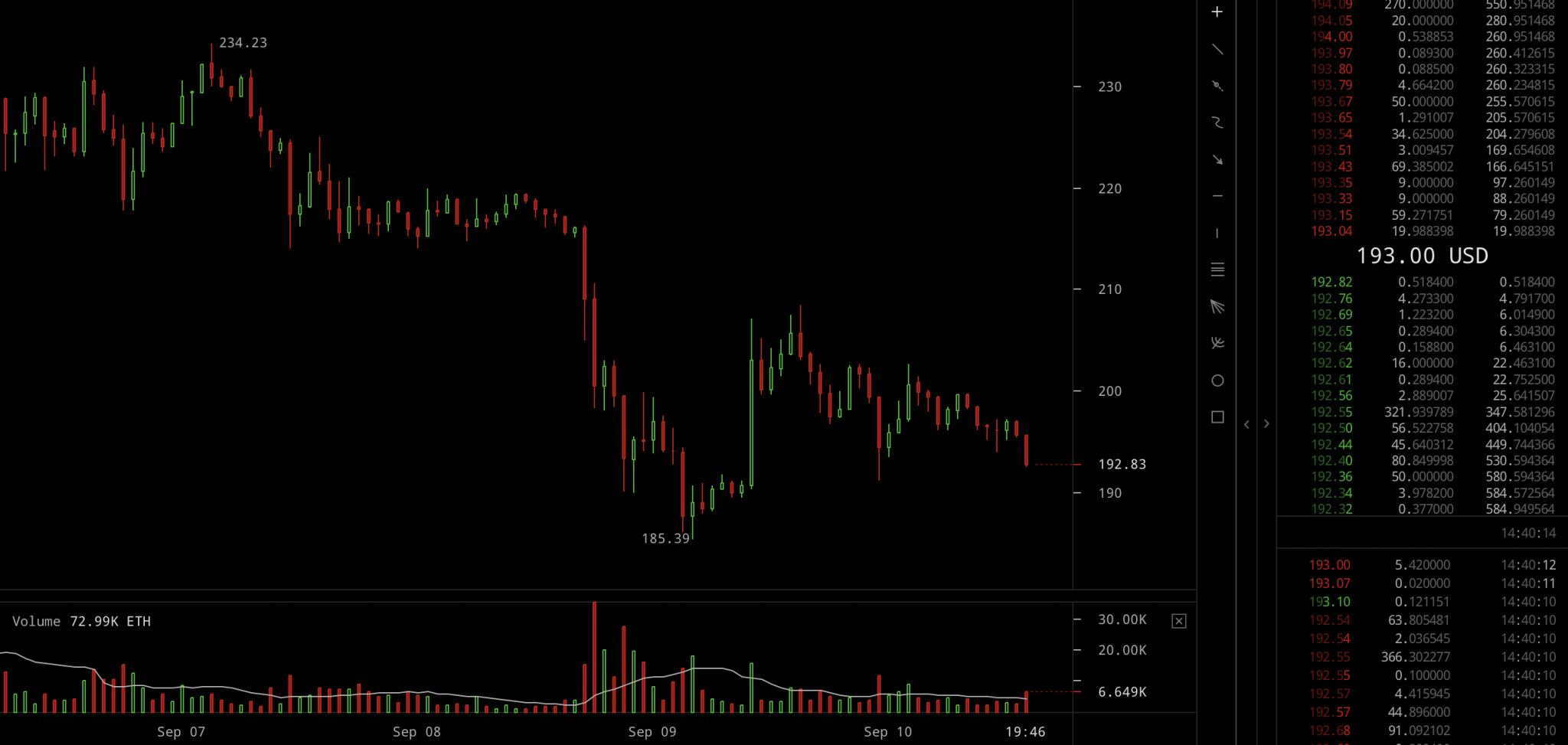 The currency has seen a slight drop in its ratio against bitcoin, down to ₿0.03, but most cryptos are down today, including bitcoin which fell by about 1.5%.
Ethereum and Ripple are down 5%, with Bitcoin Cash falling 3%. Tether, in contrast, is up some 0.50% at the time of writing, seemingly eyeing that seventh position.
The global market cap has now fallen close to its lowest level for the year at $195 billion, with a general bear market all around in cryptos so continuing.
Where they'll find the floor remains to be seen, but a number of cryptos have now lost 90%, some 95% and even 99%, with Tron, for example, down 93%.
Bitcoin itself has lost about 70%, while ethereum is down from circa $130 billion to less than $20 billion, an 85% drop in nine months.
That makes it the worst and the longest bear market for ethereum, with sentiment there beginning to change but still overall very much bearish.
With the question so remaining just how low this will go, and the answer is not available. One indicator may however be eth mining costs, which are now close to unprofitable if eth mining is not unprofitable already.
An ethereum miner recently said energy costs alone are at $152 per eth, not far off from the current price level of about $190 per eth.
Another indicator may be the disparity between transaction levels or network usage and price. The two often correlate, but recently there has been a detachment in price continuing to fall while network usage levels remain somewhat stable.
Which may mean bears have perhaps overshot in exuberance with price now sort of getting detached from reality, but whether that is indeed the case, only time can say.
Copyrights Trustnodes.com