The weekly Technical Analysis is provided by Dmitriy Gurkovskiy, Chief Analyst at RoboForex.
Needless to say, all statements and views expressed below and any forecasts contained herein are solely based on the author's particular opinion.
This analysis may not be treated as trading advice. RoboForex and Trustnodes bears no responsibility for trading results based on trading recommendations and reviews contained herein.
The crypto market is continuing its last week trend, which is likely to be here to stay next week, too. Some cryptos are falling sharply, others are steady, but also heading down. In the nearest future, pullbacks or slowdowns are possible, although the overall trend is still descending.
Ethereum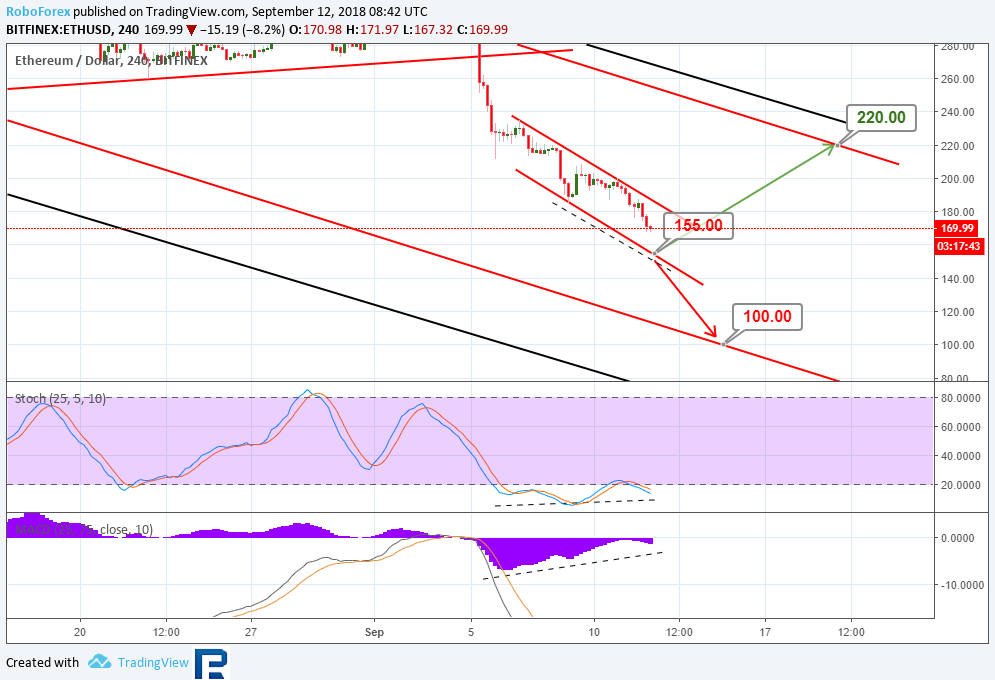 Lately, many have called Ether 'the biggest loser', as after striking a low it continues falling beyond with a great speed. The current target is the midterm descending trend channel support that lies on the round number of $100.
Meanwhile, the short term trend is heading towards another support at $155. The MACD and the Stochastic are converging, which may signal a pullback to the nearest resistance at $220.
Bitcoin Cash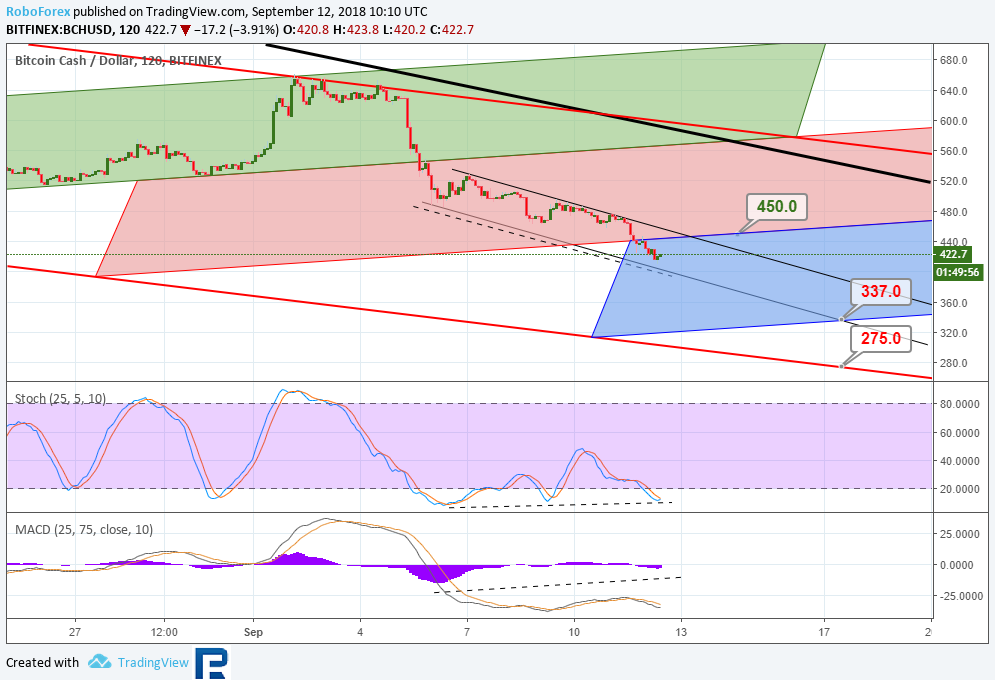 BCH is downtrending on H2, heading towards the current descending channel support at $275. Right away, the crypto is breaking out the projection channel support and moving to another channel.
The new projection channel support is at $337, which is the new target. The MACD and Stochastic are converging, signaling that the momentum may be fading out, and a pullback to the resistance at $450 is possible.
EOS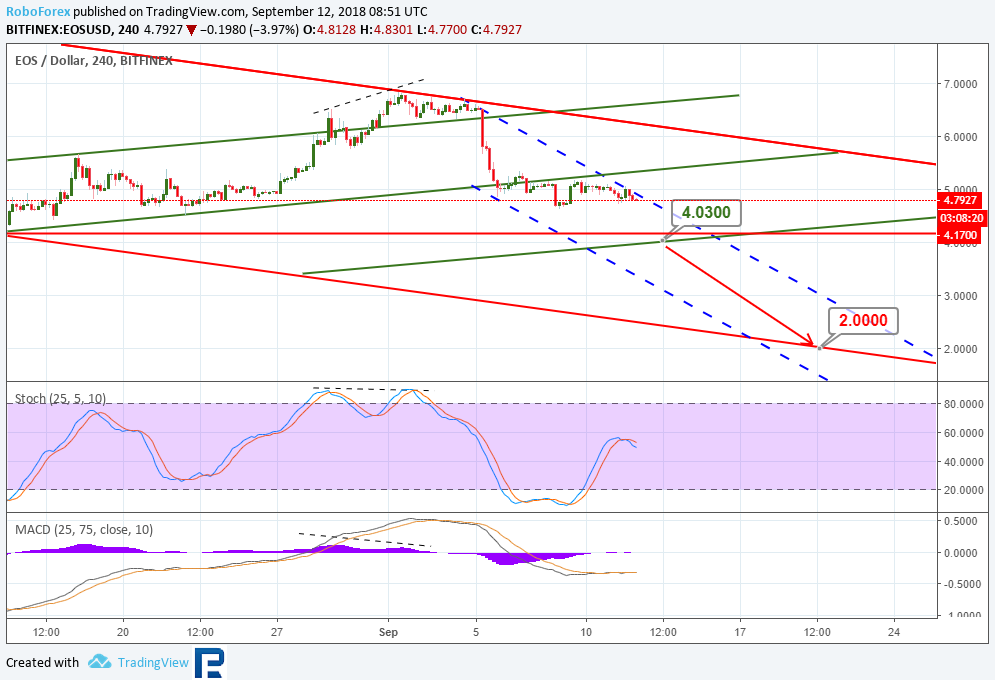 On H4, EOS hit the last ascending channel support; after testing and breaking it out, the price is heading to the major low at $4.17 and the projection channel support at $4.03.
However, the major target is beyond, namely at the major descending channel support at $2.00. However, this target may be reached only once the major low gets broken out.
Litecoin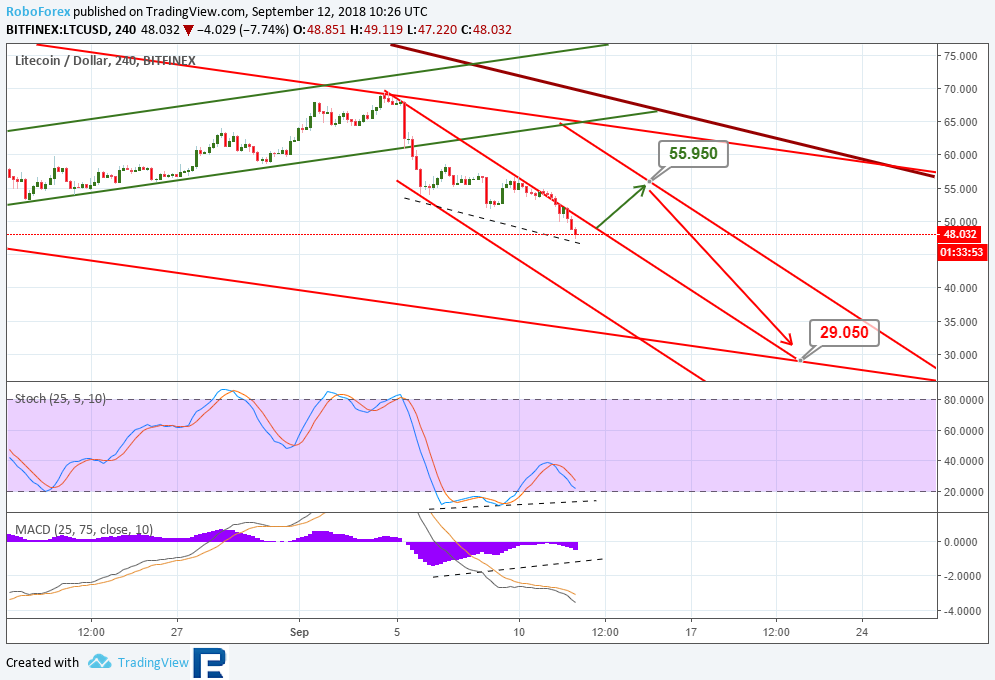 After breaking out the correctional uptrend support, LTC started forming a new downtrend wave. The major target is at the support that lies at $29.05.
However, with the MACD and Stochastic converging, a pullback to the projection channel at around $55.95 is possible.
Ripple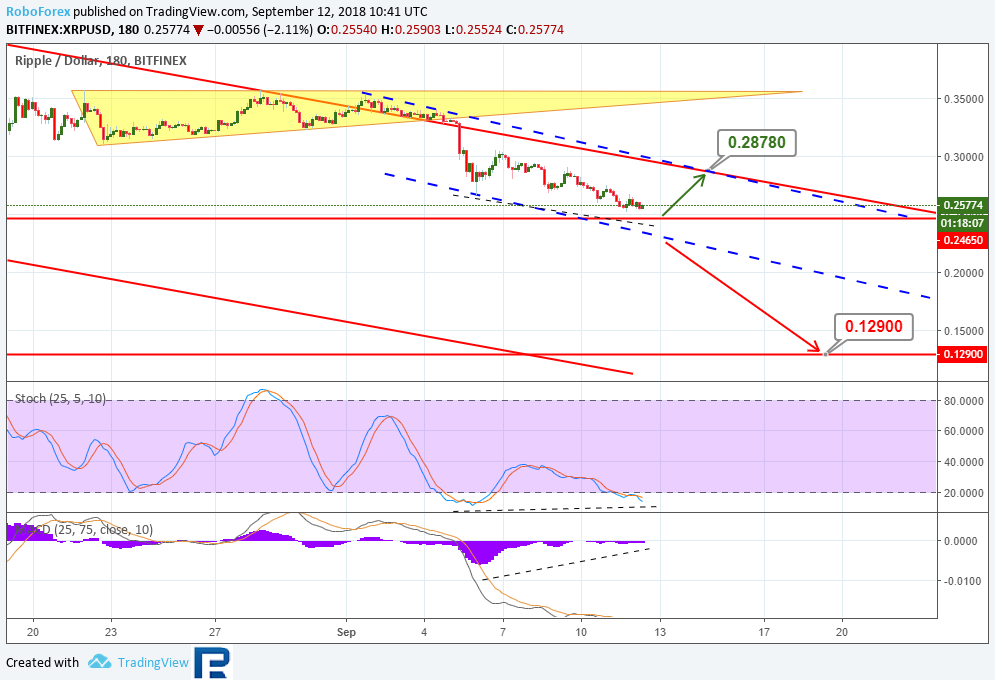 On H3, Ripple has exited the consolidation triangle and is now heading towards the low at $0.2465. When it gets closer, a pullback to the major channel resistance at $0.2878 is possible, as the MACD and Stochastic are converging. In the midterm, however, the price is moving to the fractal support at $0.1290.