Ethereum may have seen one of the highest sustained selling within a one week period between September the 6th and 13th when an estimated one million eth ($206 million) was sold.
Our calculation of blockchain data provided by Santiment show that an estimated total of ◊944,582 was sold during the past week when ethereum saw a flash sell-off to a low of $167.
This estimate is based on the difference between the amount of eth sent to exchanges and the amount withdrawn from exchanges during that period.
It is also based on an assumption that if more eth is deposited than withdrawn, then that difference is extra eth sell pressure.

A positive number is more eth deposited than withdrawn, a negative number is vice versa. A correlation of sorts seems somewhat evident, at least recently, and especially on September 12th.
That day, ◊302,000 more eth was sent to exchanges than withdrawn and price reached the low of $167, with that sell pressure considerably reducing thereafter, and price so increasing.
The week between September the 6th and 13th is one of, if not perhaps the, longest sustained period of significantly more eth deposited and thus presumably sold as opposed to withdrawn after presumably they were bought.

This can be seen more clearly in the yearly chart where that blip in February can be ignored as is it was Poloniex moving its own funds after it was acquired by Circle.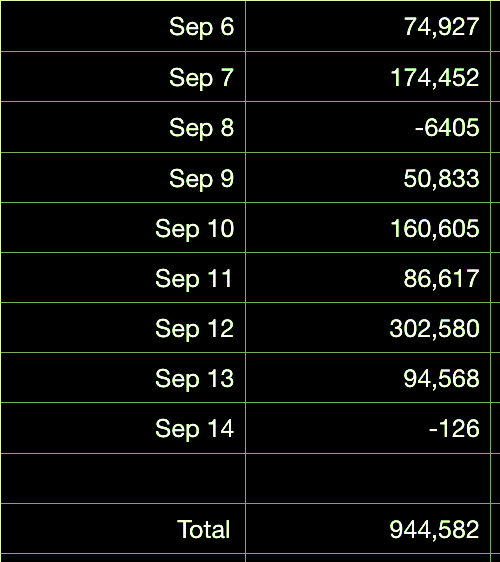 As can be seen, there were days when more eth was sold in one day than recently, just as there was a sustained period in December when a lot more eth was withdrawn.
Visually, however, it looks like the past week was one of the widest and steepest for a sustained period of eth selling, which may indicate capitulation as the last of the holdouts seemingly gave up and gave in to the bear.
It may thus be the case that after nine months, whoever wanted to sell has now sold, but whether that is indeed the case, remains to be seen.
Copyrights Trustnodes.com, Image courtesy of Zoran Kutuzovic