The innovation arm of Airbus, A3, has announced Heritage, an open source ethereum based framework for charities to accept crypto donations.
The Airbus Foundation celebrated last month its 10th year anniversary. During that past decade, the Airbus Foundation says they have:
"Coordinated 66 flights to transport over 864 tonnes of essential aid and medical and humanitarian personnel and funded 418 helicopter hours over 20 emergency missions. In addition, more than 700 people have been trained for emergency helicopter rescue missions."
To mark this achievement, "Heritage will provide Airbus Foundation with a decentralized application to accept and manage donations for itself and its charitable partners from cryptocurrencies on the Ethereum blockchain.
And in the spirit of the Airbus Foundation's commitment to bringing together people and products to inspire the next generation, we will open source the blockchain portion of our work."
The Silicon Valley based A3 shows some considerable knowledge of ethereum's ecosystem with their work so far on Github where they say:
"The Heritage smart contracts facilitate the creation, donation, and issuance of an asset based on the ERC-721 standard. Managers set by the contract owner define donations for a cause. Donors receive an ERC-721 receipt of donation to serve as a certificate or badge for their social impact. Managers may issue donations directly to an address to notarize fiat donations that occur off the blockchain."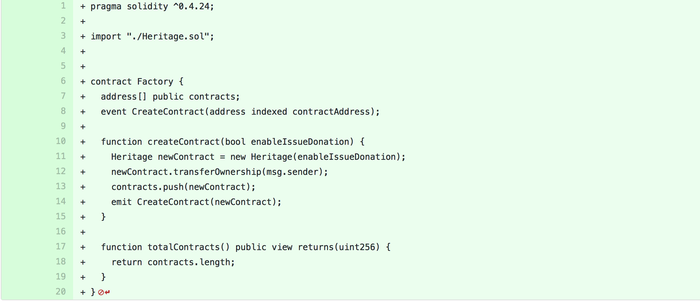 We couldn't find the smart contract address, but a quick look at their Github lands us on the DAI code. They're of course using Zeppelin templates, with a previous audit warning seemingly now removed so it may be this is all ready and good to go.
The project may be the latest to use DAI as a sort of bank, stating: "DAI gives Heritage the ability to issue donations in USD and insulates charities from the price volatility of cryptocurrency."
They also seemingly plan to utilize 0x which they say "enables the creation of a marketplace for donations where donors can shop for the social impact they would like to affect."
Moreover they plan to use Plasma or its refined version of Plasma Cash which they describe as "a second-layer scaling solution that provides thousands of transactions per second while the underlying assets are protected on a decentralized base layer."
Making them effectively ethereum developers working for the innovations arm of the global airline giant, Airbus.
Moreover, it appears this project is just the beginning as they say: "Our long-term goal is to integrate blockchain technology into business applications that can benefit from it throughout Airbus."
They are one of the few projects coming out of corporate giants to not utilize a private blockchain, but ethereum's public blockchain. The main reason for it seems to be transparency, as well as the security of funds, with the project stating:
"The open, public nature of the network data increases the organization's accountability to the donors and reduces the custodian-of-funds problem, where middle-men run off with money intended for charity."
Another reason given is decentralization, with the project stating: "If we accept that the world is transitioning from an Industrial to a Digital society, we must prepare for a future that includes decentralized, public blockchains…
Ethereum is the leading decentralized platform for smart contract development… [and] Ethereum is pursuing scaling strategies without sacrificing decentralization or the underlying consensus that gives its blockchain value."
They're, therefore, developing on ethereum proper, making Airbus the pioneers. Welcome to the digital revolution.
Copyrights Trustnodes.com