The New York State Office of the Attorney General (OAG) has found that half of the exchanges which participated in a voluntary disclosure of their activities trade on their own platform. The OAG says:
"Circle reported that it accounted for less than one percent of the executed volume on its platform Poloniex during the most recent time period reviewed.
BitFlyer USA indicated that its own activity accounted for approximately ten percent of the executed volume on its platform.
Another, Coinbase, disclosed that almost twenty percent of executed volume on its platform was attributable to its own trading.
Such high levels of proprietary trading raise serious questions about the risks customers face on those platforms.
As a general principle, when a significant percentage of the volume in one or more assets on a venue is attributable to one source, customers face the risk that the availability of liquidity in those assets could change, without notice and at any time, including when liquidity is needed most – namely, in times of market volatility or rapid price movement."
HBUS is Huobi's US branch, with nine exchanges participating, including "Bitfinex (operated by iFinex Inc.), bitFlyer USA, Inc., Bitstamp, Ltd., Bittrex, Inc., Coinbase, Inc., Gemini Trust Company, itBit (operated by Paxos Trust Company), Poloniex (owned by Circle Internet Financial Limited), and Tidex (operated by Elite Way Developments LLP)" and HBUS.
Three did not participate, including Kraken, Binance and the mid-to-low volumes Gate.io as they "claimed they do not allow trading from New York and declined to participate." The New York State Office of the Attorney General (OAG) said:
"The OAG investigated whether those platforms accepted trades from within New York State. Based on this investigation, the OAG referred Binance, Gate.io, and Kraken to the Department of Financial Services for potential violation of New York's [digital] currency regulations."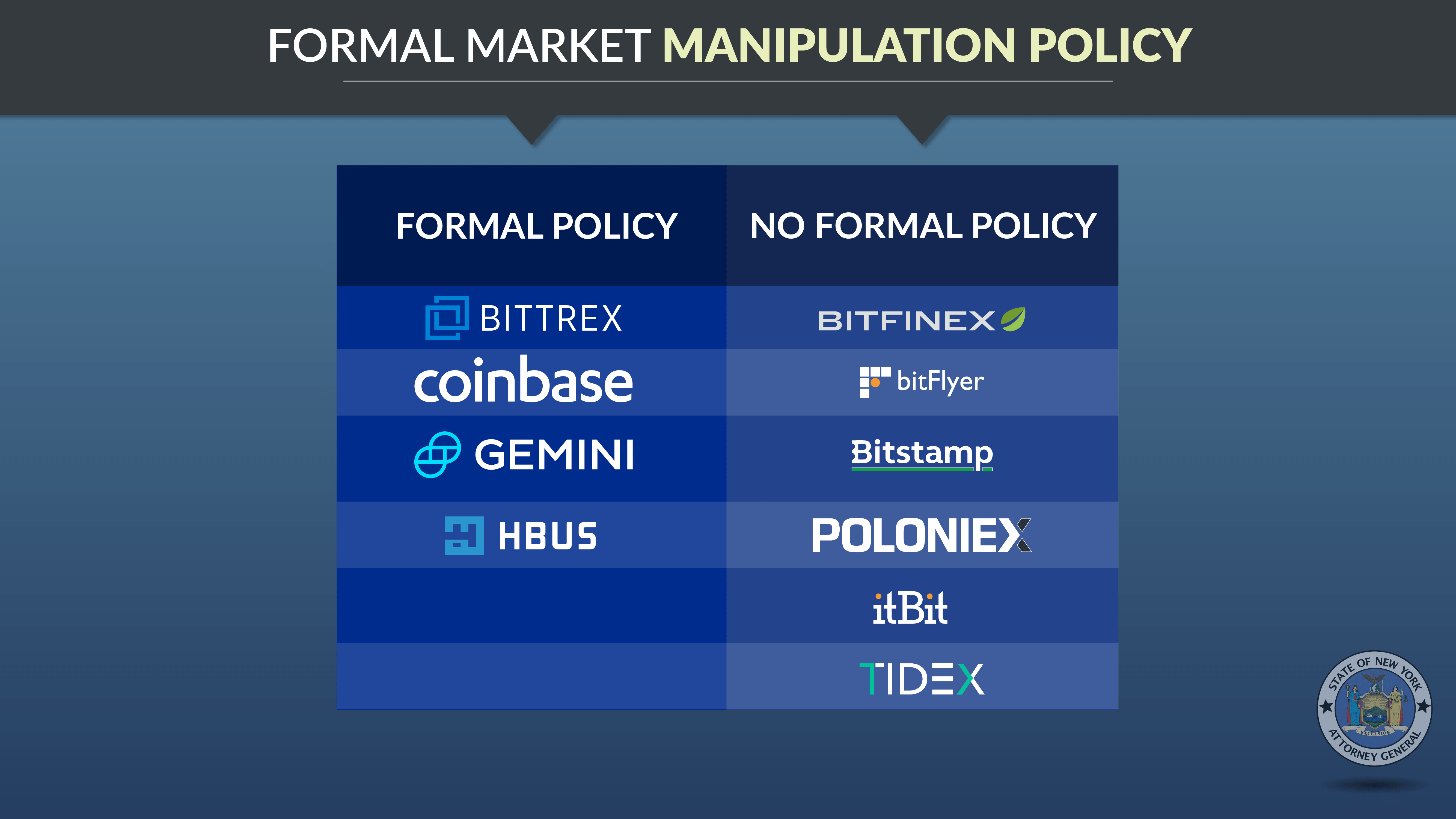 In response to the report, Coinbase said they do not engage in proprietary trading, do not operate a proprietary trading desk and do not undertake market making actions. Coinbase said:
"Coinbase does not trade for the benefit of the company on a proprietary basis. In order to provide an easy-to-use customer experience, Coinbase Consumer quotes a price and then quickly fills the order from our exchange platform (Coinbase Markets). This takes advantage of the liquidity provided by the entire Coinbase ecosystem."
In effect they're buying or selling on their own exchange based on orders from clients in their crypto-broker front facing business, Coinbase. That in itself presents a conflict of interest, the report says, with Coinbase in addition for some reason having the exchange separate from the broker business in the frontend interface.
An individual thus needs to go through their automated identification system for the exchange even if they have already passed such verifications on the Coinbase crypto broker.
In some cases, they can even be denied access to the Coinbase exchange by the identification bot even if they have "passed" AML/KYC checks for their crypto-broker platform.
The report further finds that almost all crypto exchanges allow their employees to trade on their own platform, but all claim that such employees would not have any information not provided to ordinary customers. The report says:
"Overall, the OAG's Initiative found a range of different policies at the participating platforms as to whether and how platform owners or employees are permitted to trade on their platform or on other platforms.
One platform, HBUS, reported that its employees may not trade on its platform. Other platforms reported to the OAG that while employees could trade on their venue, employees had no informational or other advantage over other traders (for instance, access to non-public order book data).
The OAG found that the measures taken to monitor or prevent employee trading differed. Some platforms require employees, or a subset of employees with access to sensitive data (for instance, those with knowledge of forthcoming listings), to be pre-cleared before transacting, while others limited employees' ability to trade on outside platforms, because the platform's ability to monitor activity on a third-party platform is difficult or impossible.
Two trading platforms – Gemini and Bittrex – require regular disclosures from each employee concerning their trading history and current virtual asset holdings.
Bittrex goes further, by restricting employee trading to a two-day window each quarter. Bitfinex, itBit, and Tidex did not provide any restrictions on employee trading."
Bittrex overall seems to go beyond other exchanges and appears to come best out of this report. On the other hand, that Bitfinex has no restrictions wouldn't surprise anyone.
Coinbase facing some heat is slightly surprising, but as they get bigger they may be becoming somewhat complacent.
All of these findings are however based on what the exchanges themselves said. There has been no third party reporting on their activities.
Kraken and Binance didn't want to even voluntarily disclose their activities, something which may mean OAG utilizes more non-voluntary methods as apparently they're now looking at whether these two exchanges broke New York's crypto regulations with the report seemingly implying their investigation found the two exchanges did have NY residents as otherwise they would have not had any reason to refer them for potential violations.
Copyrights Trustnodes.com