Bitcoin Cash is up and up, rising by some 30% in the past 24 hours from $440 to $580 at the time of writing on increased volumes of $1.4 billion.
The USD/T pairs are leading, followed by South Korea, with Coinbase handling some reasonable volumes for BCH in the past 24 hours at $41 million.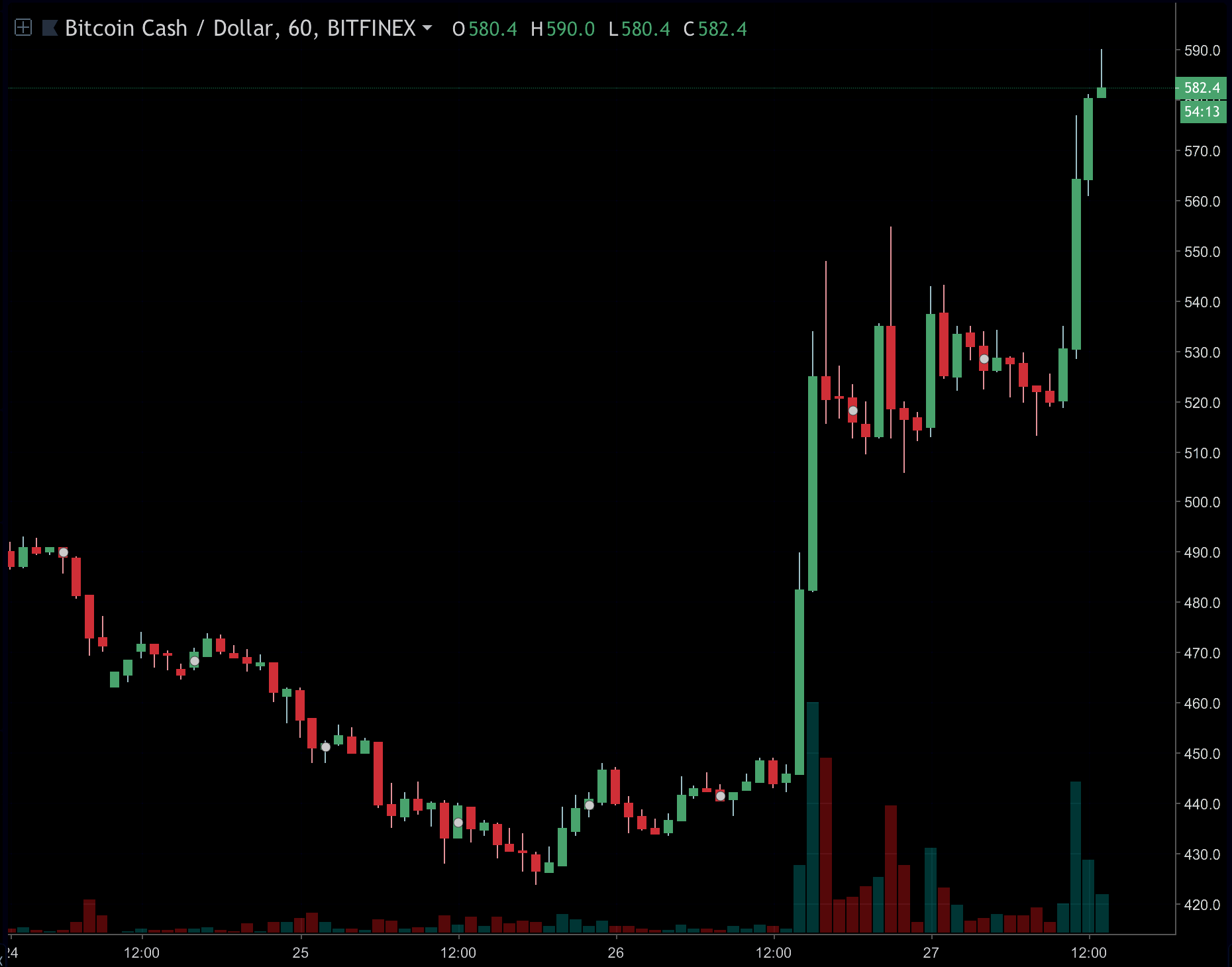 The considerable jump, starting at 2PM London time on Wednesday and continuing today, was somewhat unexpected with the reason for it unclear.
It may be due to one of BCH's biggest backer, Bitmain, filing papers to IPO. Bitmain holds about a million BCH and they may raise billions in the IPO, but its relation to the price action appears to be somewhat tenuous.
It may thus perhaps have something to do with Gemini apparently securing regulatory approval to list BCH, yet bitcoin cash is on Coinbase and most exchanges, so it's unclear why that would be worth a 30% gain.
Thus perhaps it is more increased confidence as BCH devs show they have some skill after one of them revealed the most serious bitcoin, and perhaps crypto, bug since 2010.
Something which may give BCH a role of keeping Bitcoin Core accountable for while bitcoin does not have multiple compatible implementations, it does have many incompatible implementations which are pretty compatible for probably some 99% of the code base.
That bug is now being exploited on testnet where devs test with play money how the code behaves, with this starting at 9PM yesterday.
Which means the timing is a bit off, so it may well be a combination of all the above, as well as more ancillary factors such as Ripple mooning recently.
That may have turned sentiment across cryptos, with XRP taking off first, and now BCH. Who's next? Well, that time will say but it appears there is some bullishness around.
After some cryptos fell 95%, and some even 99%, it may well be there is no one left to sell with almost everyone turning bear, meaning they've sold already.
So perhaps there are no more bears left, with ethereum's price on weekly candles looking like the bubble chart in reverse at the denial stage for bears.
Yet whether that is indeed the case remains to be seen now, but what appears somewhat clear is that BCH has taken the show for today.
Copyrights Trustnodes.com