One of the most controversial crypto exchange has apparently secured a bank account with HSBC through an entity called "Global Trading Solutions."
However, it is unclear whether HSBC is aware that Global Trading Solutions is seemingly using the bank account on behalf of Bitfinex. Just as it is unclear whether this arrangement extends to Tether.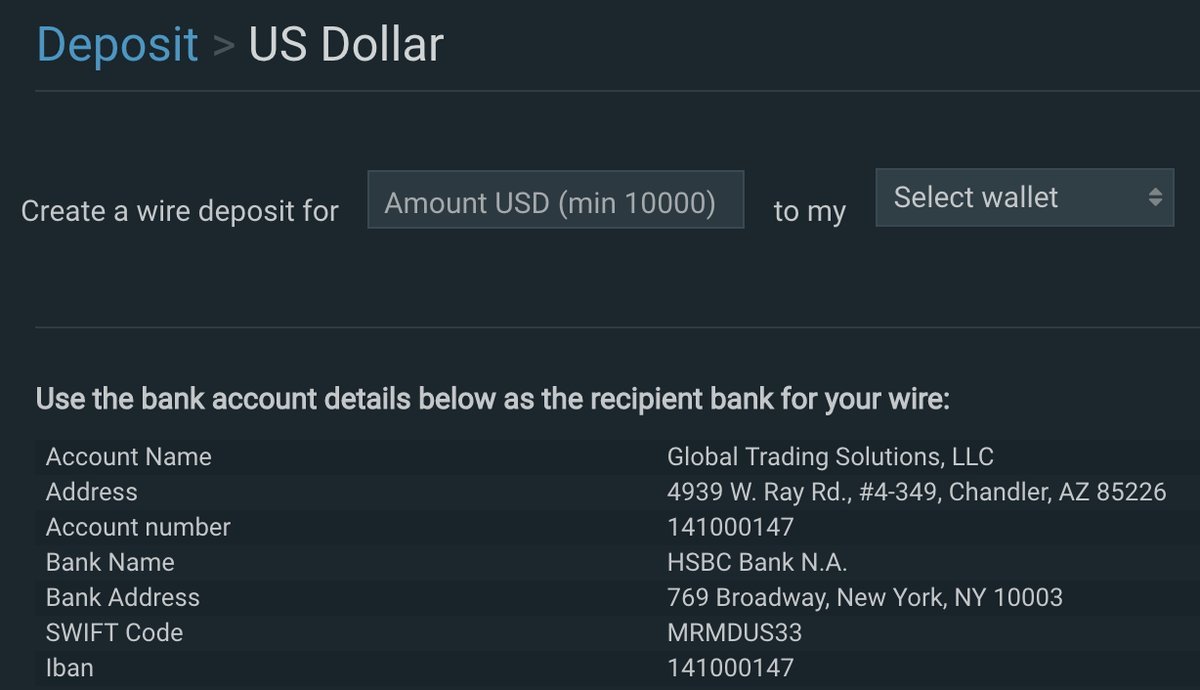 This news comes out just days after Bloomberg reported that Tether and Bitfinex had left Noble Bank International which they were previously using.
And it comes after complaints of withdrawal delays have reached fever pitch with many customers complaining on r/bitfinex where an apparent Bitfinex customer support personnel says:
"As you may know, our finance is handled by Crypto Capital Corp so they must have ran into some sort of problem with one of their banking partners.
From my experience so far with cryptocurrencies, commercial banks are very cautious when it comes to funds received from such sources and they can open investigations at any time without warning any of the involved parties, not even the receiving bank. It's part of their due-diligence to combat money laundering and terrorism-finance."
Complaints about withdrawal delays have been going on for at least two months when someone seemingly familiar with the matter stated:
"I think Phil Potter mentioned they played a cat and mouse game with the banks in an old interview.
The way it works is Crypto Capital Corp creates or buys a company somewhere in Europe that acts as a payment processor for them. They open bank accounts in this company name, register for a money transmitting licence and use the bank accounts as much as they can. When the bank accounts are frozen by the bank or the authorities, they switch to another company/bank account and start over.
The funds in the seized/frozen accounts are ultimately released after 3 to 6 months.
So far they've used the following companies and bank accounts for depositing money since they lost their accounts in Taiwan:
Haparc B.V, Netherlands – Bank ING (account frozen end of January 2018, funds returned after 112 days)
Crypto SP z.o.o, Poland – Bank Spółdzielczy w Skierniewicach (seized in February/March 2018, funds not yet returned)
iTran SP z.o.o, Poland – Bank Zachodni WBK (seized in March 2018, funds seized by Polish authorities, not yet returned)
GLOBAL TRADING SOLUTIONS, LLC, USA – US BANK, USA (closed)
GLOBAL TRADE SOLUTIONS A.G. Switzerland – CAIXA GERAL DE DEPOSITOS, Portugal (closed)
GLOBAL TRADE SOLUTIONS GmbH, Germanny – Deutsche Bank Privat Und Geschaeftskunden AG (still up and running)
Withdrawals seem to be processed by other companies. My only withdrawal in EUR came from a construction company based in Portugal.
So, tl;dr: Right now there's no bank willing to host a cryptocurrency exchange like Bitfinex. They don't have a choice but to use a lot of umbrella companies to process their fiat deposits and withdrawals. The accounts get frozen for suspicious behaviour, but without proof of money laundering funds eventually get released."
Bitfinex's account with a Polish bank was revealed in November 2017. A few months later, Polish authorities seized about half a billion dollars believed to belong to Bitfinex/Tether.
How Bitfinex plans to cover that stupendous amount of money is unclear, just as it is unclear when exactly this account with HSBC was secured.
Some suggest the recent withdrawal delays might be related to HSBC, but confirming any of this information is difficult.
Bitfinex has been struggling to manage its fiat operations since CFTC fined them in 2016 for offering unregulated margins.
That was followed by a banking blockade which Bitfinex is apparently trying to circumvent through utilizing complex vehicles to secure a bank account.
It appears however they have to keep moving their bank account every six months or so, creating periodic withdrawal delays.
That may have contributed to a current bitcoin premium on Bitfinex of about $40. Strangely, this premium is not extending to eth or any of the other major cryptos.
Traders generally avoid the exchange due to its banking problems and due to solvency concerns regarding the seized funds and their continued difficulties.
Yet the exchange has managed to gain some of the biggest trading volumes in crypto, continuing to operate despite the many problems in a cat and mouse game.
Copyrights Trustnodes.com