"Bot went wild. Trading was halted," Nejc Kodrič, Bitstamp's co-founder stated earlier today, clarifying it was a client's bot.
A bot that caused some chaos on euro pairs during a period of about 23 minutes starting at about 1:12 AM London time for bitcoin.
Some €6 million worth of bitcoin was sold within 15 minutes, bringing price down to just under €5,000 ($5,760) or about $1,000 below the market price on other exchanges.
Then, about €6 million was bought within 6 minutes, sending price to €6,600 ($7,600) or about $1,000 above market price.
The finale ends with about €1.3 million sold within one minute, bringing price to the market rate of €5,685 (~$6,500) where it has stayed in a very straight line.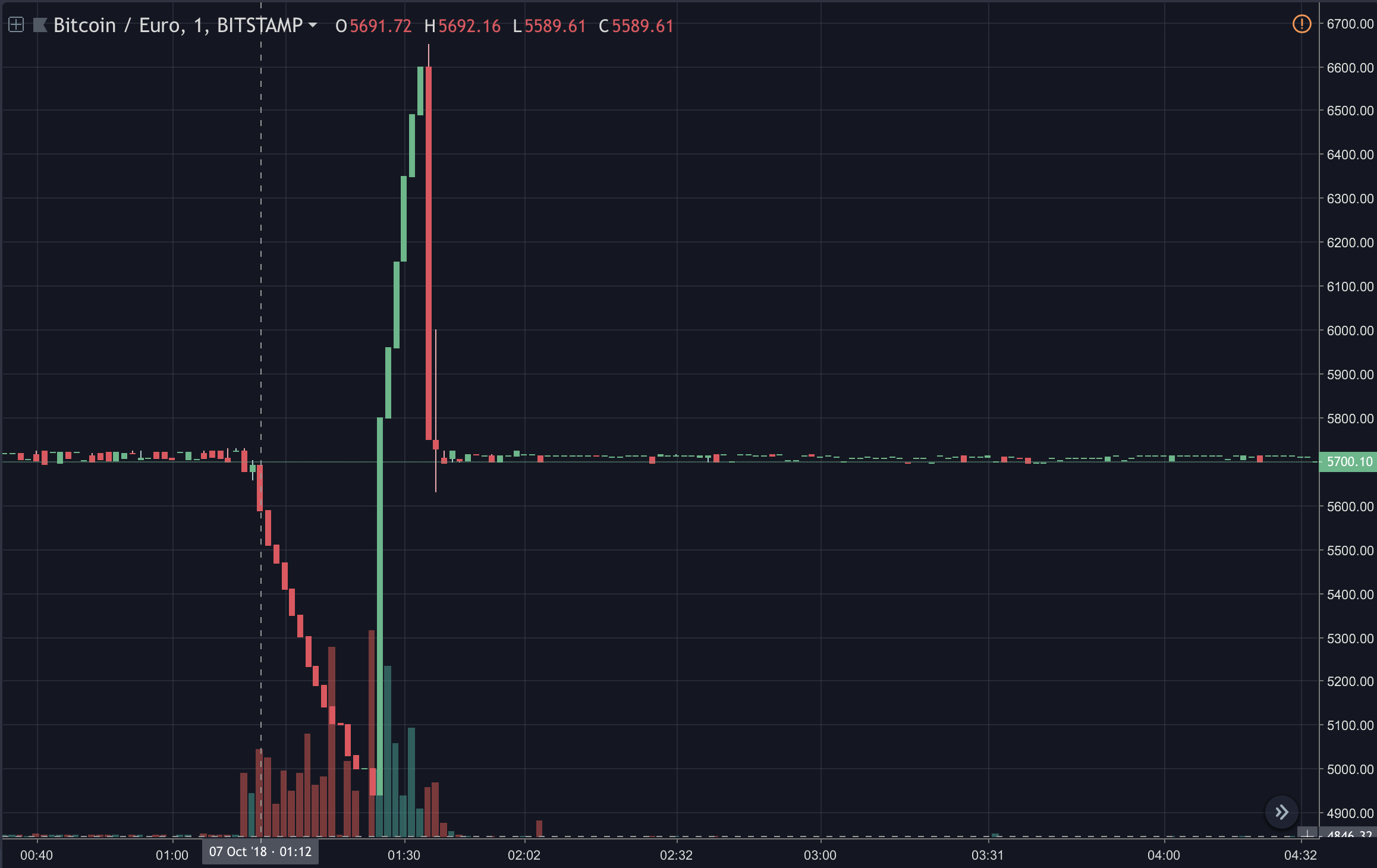 This repeats on other cryptos, but for ethereum it is slightly different because the bot starts off by buying eth, sending its price first to about €235 ($270) or circa $50 above market price.
Huge amounts of eth are then sold off to send its price down to €125 ($144), with it then turning upwards to €250 ($288).
The bot, however, is not yet satisfied. After bringing the price down to market level, it has another attempt at €230.
This begun in eth at 1:12 AM, although the two candles preceding it seem to be not quite in line so it might be 1:10AM. It ends in eth within about 25 minutes.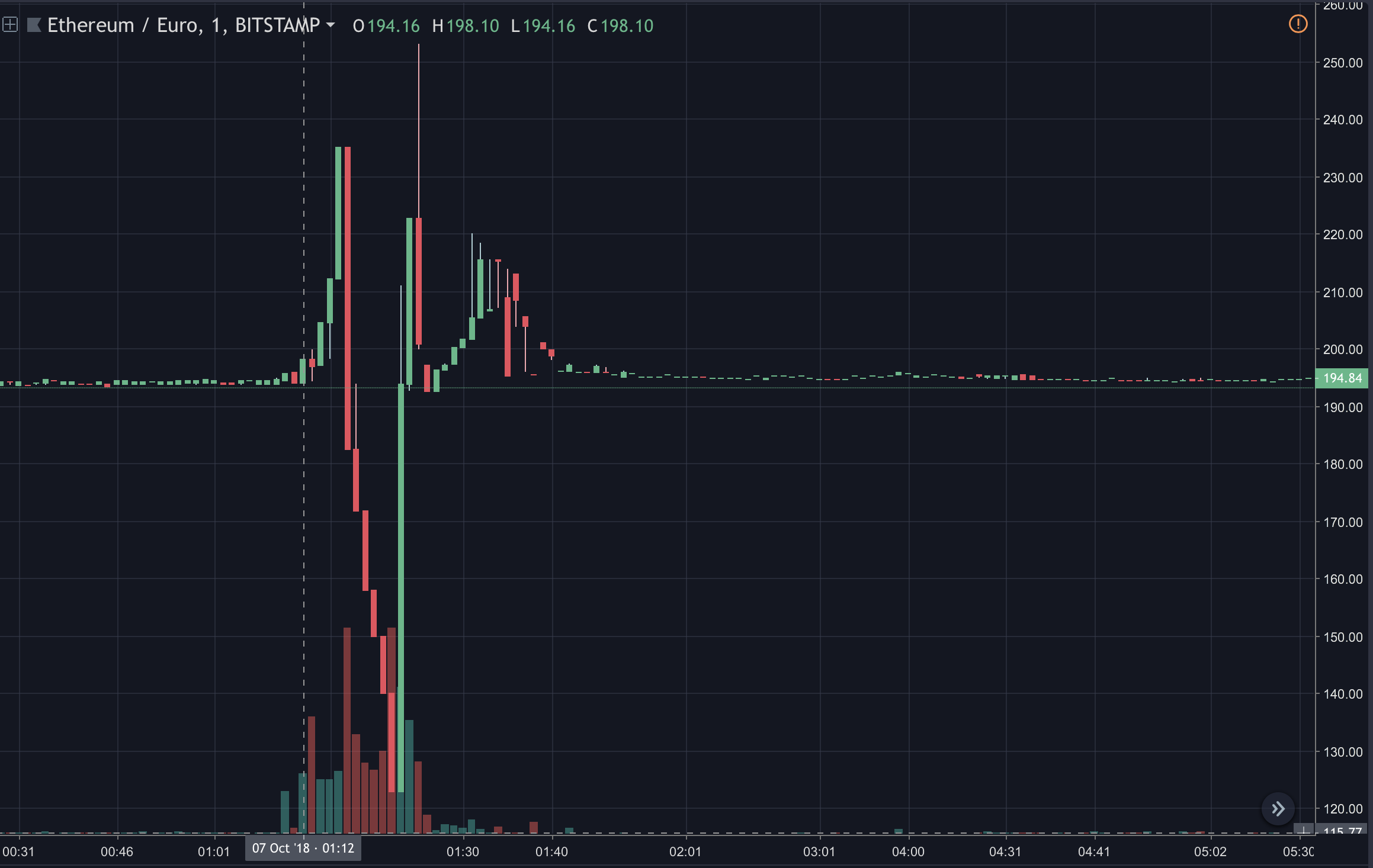 Ripple's chart looks more like bitcoin's, but with its own characteristics. The action here visibly starts at 1:10 AM, with the sell-off not as steep as BTC, sending Ripple down to €0.325 ($0.37).
The bot then turns upwards to €0.67 ($0.77), or some $0.30 above market price. With it then returning back to market price, ending the action within about 29 minutes.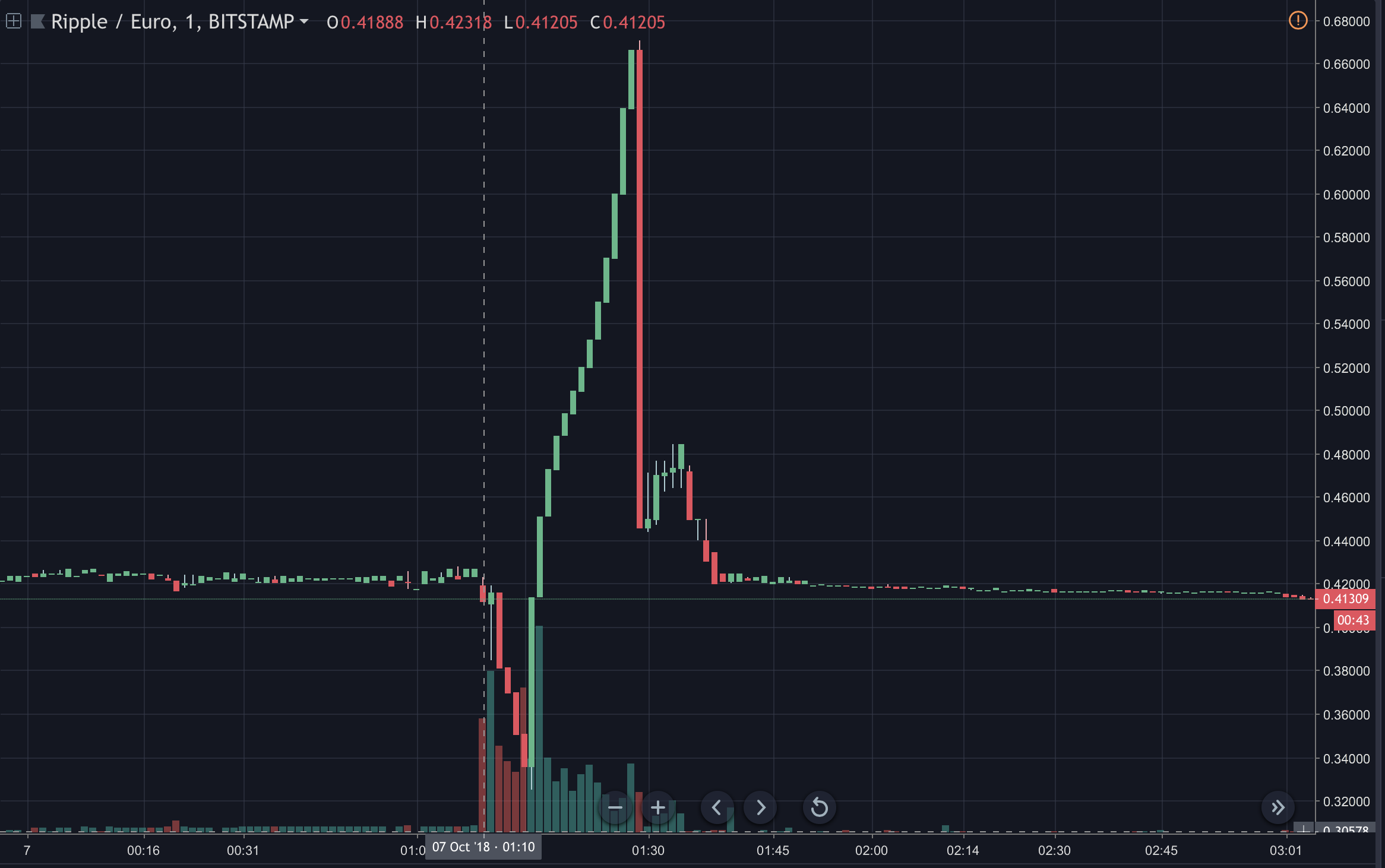 All of these charts have a different story to some extent, but for LTC it is of a different sort of different. The bot never buys LTC above market price. Crashing it down instead to €1 ($1.15), then sending it back to €49 ($56).
The action on LTC also somewhat visibly starts at 1:10, but then it is over within five minutes, the bot so spending far less time here than on the rest.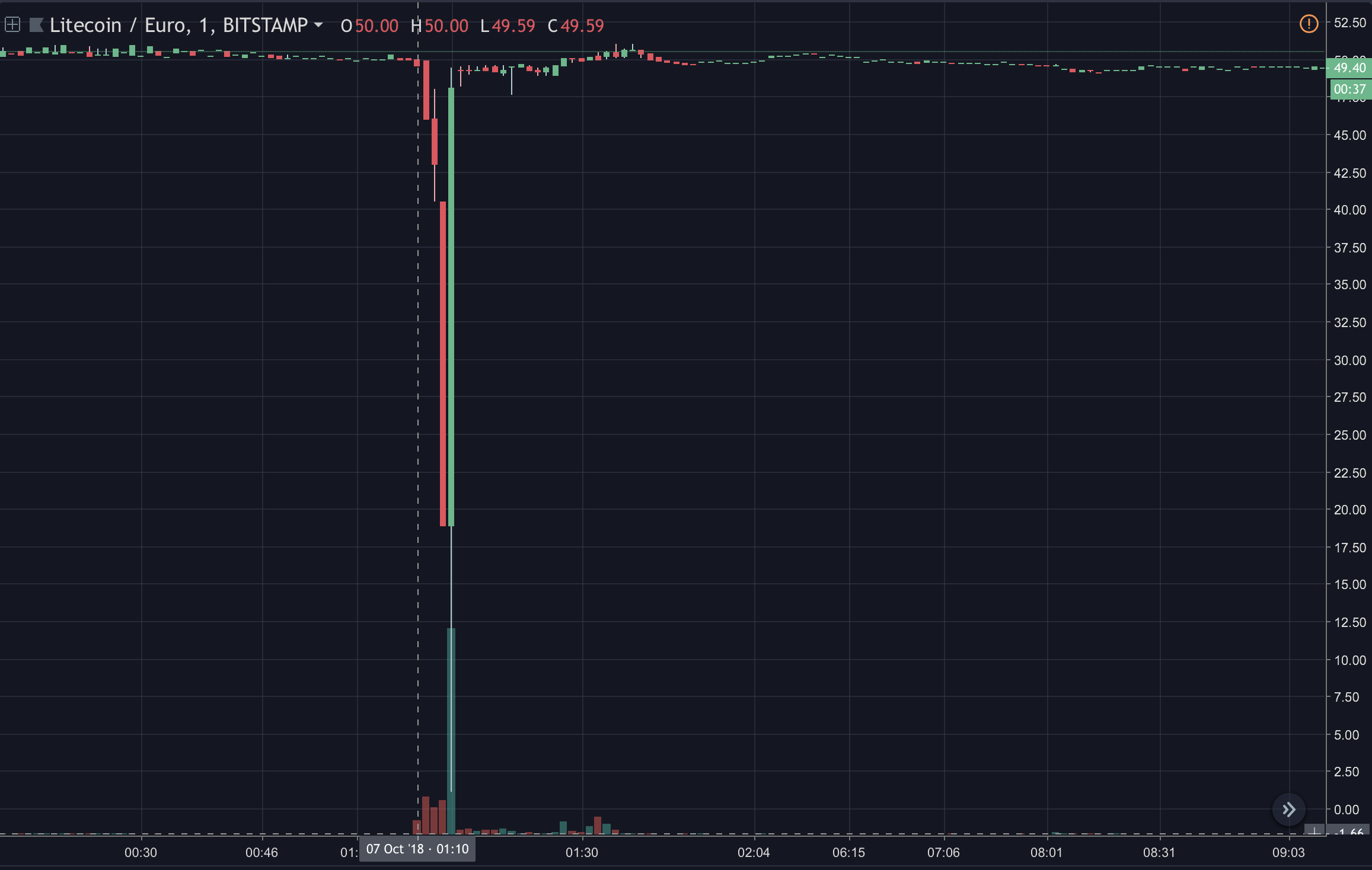 Whether these patterns tell us anything beyond the bot rebellion, is not very clear. If there is any narration, it may be the bot is bullish on eth, a bit bullish on XRP, doesn't like LTC at all and isn't very sure about bitcoin.
In regards to a potential nefarious background below the innocent wild bot, all the actions appear to be at the same time so it isn't easy to say the bot sold x for x to clean dirty coins.
It may thus just be that the bot has rebelled. That's within an atmosphere of some tension in crypto markets as traders are a bit on edge because a massive triangle is about to break.
There was a fakeout of sorts yesterday far before the above action. That might have rippled to some jitters among whales, with this bot then clearing up the order books on Bitstamp both up and down.
The other exchanges did not react as far as we can see, so the arbitrage bots must be a very clever species indeed because they did not follow this rebellious little robot.
Yet the tension remains and may have now increased slightly. Tension which will eventually be released, but which way, well even this bot doesn't know.
Copyrights Trustnodes.com