Bytecoin (BNC) crashed some 20% after Binance made a surprise announcement they will be removing this currently top 30 coin from their exchange.
Binance provides no specific reason for this decision, only stating they undertake "comprehensive and periodic reviews of each digital asset listed on our platform to ensure projects maintain a high standard of quality."
They provide a number of criteria, such as commitment of team to project and/or quality and level of development activity, among others.
With the suggestion being BNC does not meet one or more of their criteria and will cease trading on all trading pairs on the 12th of October at 10:00 AM (UTC), in just three days.
Binance said they will delist Bytecoin (BCN), ChatCoin (CHAT), Iconomi (ICN) and Triggers (TRIG), with withdrawals of the above coins no longer available after 12th of November 2018.
Asked why Binance listed Bytecoin to begin with, Changpeng Zhao, Binance's CEO, said: "we are not perfect, our review don't unveil everything sometimes. We learn and improve."
An apparent Bytecoin spokesperson said: "We are in the process of active communication with the Binance representatives about the delisting situation."
The spokesperson in question goes by the name of Jenny Goldberg, which some allege is a fictional persona with Bytecoin seemingly only having Goldberg as a public facing figure.
While Bytecoin itself has been facing controversy for long with some alleging it's an 82% pre-mine coin which appears to lack any development activity.
Yet it nonetheless reached a market cap of just under $3 billion and jumped to some $2 billion after Binance announced they were to list them in May 2018.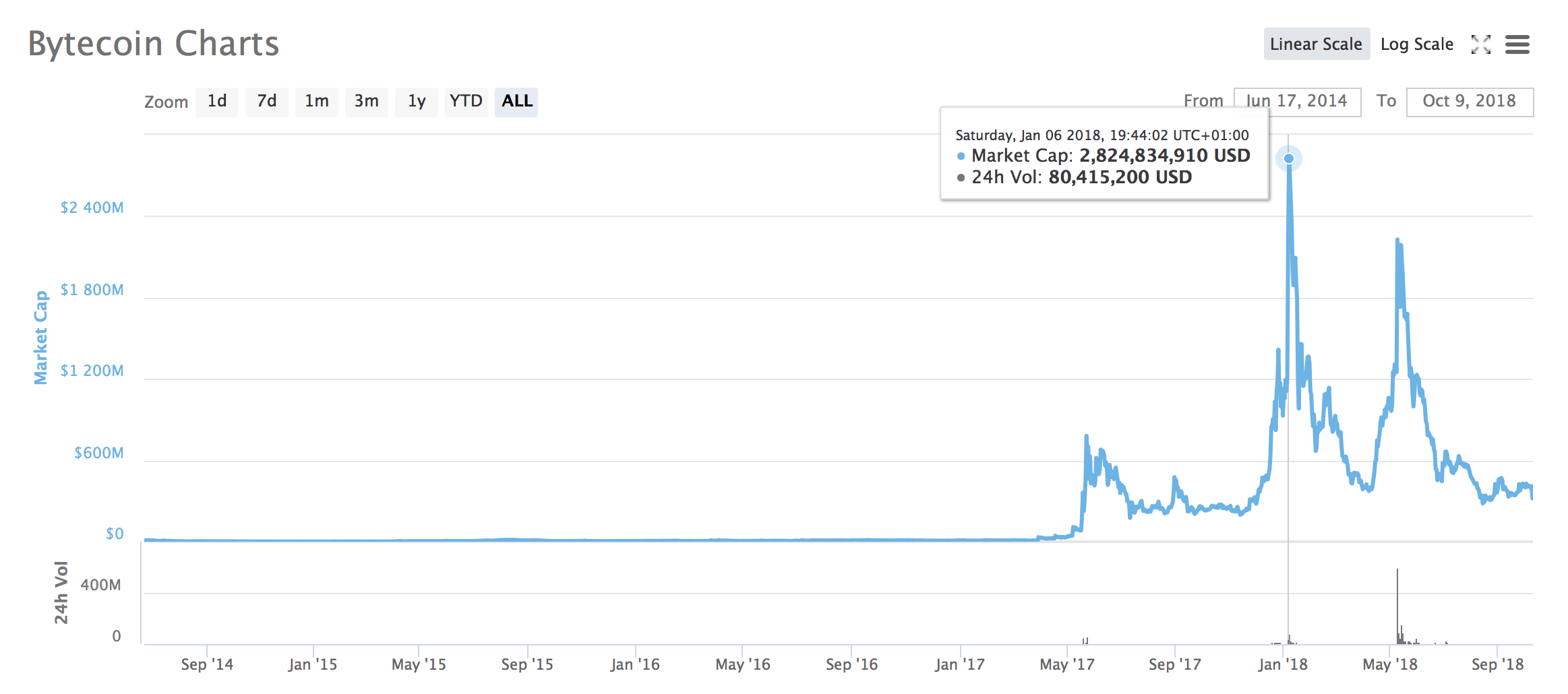 Now they've fallen to $300 million on trading volumes of some $13 million with the coin continuing to trade on other exchanges, like Circle's Poloniex.
Yet Binance leads their trading volumes by far, handling $7 million in the past 24 hours while Poloniex follows with $2 million.
This delisting decision however may now raise questions as to just how exchanges like Binance decide to list a coin and on what basis do they then decide to not list them because we can't see any recent Bytecoin related event that might have spurred them to action.
Just as it raises questions regarding what happens to the coins that are not withdrawn after 12th of November, and what exactly should the market expect now moving forward regarding the potential delisting of other fairly big cryptos.
Copyrights Trustnodes.com