13 crypto entrepreneurs have made it to China's richest list, with Micree Zhan Ketuan, Bitmain's co-founder, making it to top 100 at a net worth of 29.5 billion yuan or circa $4.28 billion.
Jihan Wu, the other Bitmain co-founder, ranks as the 204th richest man in China at a net worth of 16.4 billion yuan ($2.39 billion).
He's followed by Zhao Changpeng, the 41 year old Binance CEO, whose net worth of 15 billion yuan ($2.18 billion) makes him the 230th richest person in the world's second biggest economy.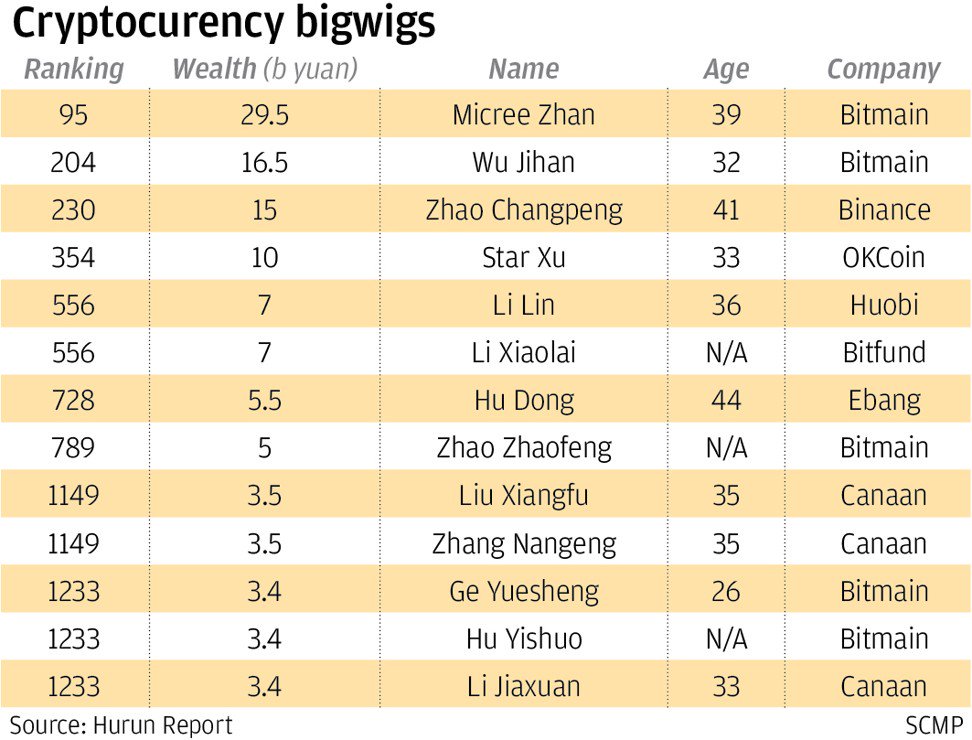 Star Xu of OKCoin ($1.45 billion) and Li Lin of Huobi ($1 billion) tops the five top richest crypto entrepreneurs in China and perhaps the rest of the world according to Hurun Report.
The rest are from Bitmain or the other crypto mining manufactures like Canaan and Ebang, with Li Xiaolai of venture capital firm Bitfund being the sixth richest crypto entrepreneur.
Xiaolai recently said he will no longer be investing in crypto businesses after there was a fall-out of sorts in China, but the crypto billionaire numbers are clearly increasing.
In combination, the 13 listed are worth $16.4 billion, or just about the same as ethereum's market cap which currently stands at $20 billion.
Quite a few of the miners are now in the process of going public with Bitmain and Canaan both selecting Hong Kong for an Initial Public Offering (IPO).
Making industrial mining one of the most profitable business in crypto as both bitcoin and eth currently provide miners with a yearly reward in billions of dollars.
Ethereum, however, plans to move to Proof of Stake which will no longer need hardware for "mining," but that won't be out until at least probably fall 2019.
Exchanges too are rising as a billion dollar producing business, dominating the richest crypto list after miners.
With only venture capital making it in addition as other crypto start-up industries have not yet sufficiently grown to make billionaires.
Copyrights Trustnodes.com