Dow Jones has seen its biggest fall since February with stocks across the globe down between 3%-5% in a move some are now calling a correction.
"The market has been on a 10-year bull run and we have seldom seen a 10 percent correction during that time. Every time we get around that number, markets come rallying back," Trip Miller, managing partner at Gullane Capital Partners in Memphis, told reuters before adding:
"What's different now is that the 10-year bond yield is much higher. I think we're getting an overdue correction in the market."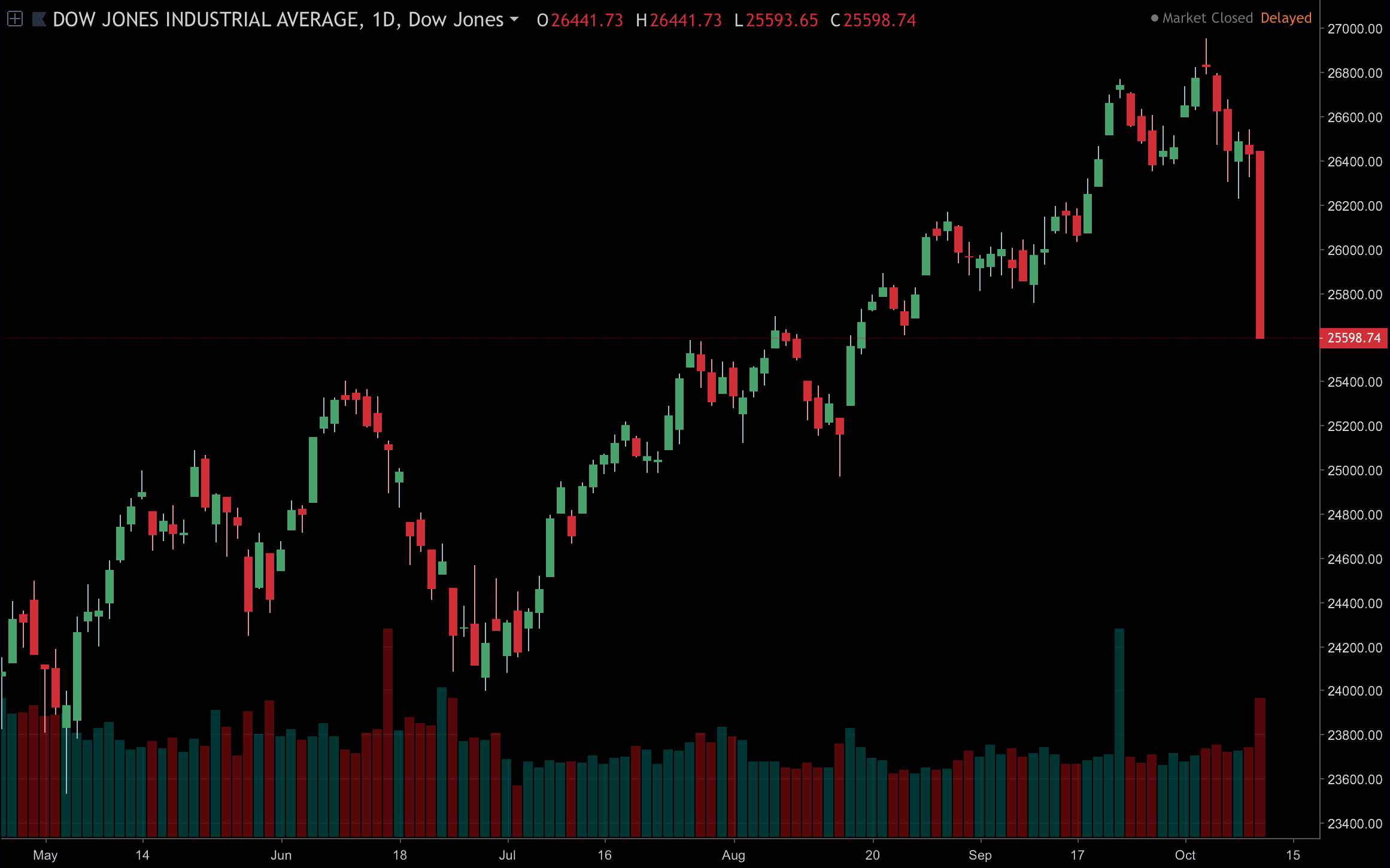 What specifically changed is not clear, but one theory might be jitters from China where a stocks sell-off was on-going on Tuesday with liquidity injection by the central bank there seemingly having little effect due to what one analyst called a "liquidity trap," i.e. lack of demand for borrowing.
In addition, the effects of Fed's increasing interest rates are now beginning to be felt. They have ratcheted them up eight times in two years, sending credit card interest rates to record highs. A report says:
"The average credit card interest rate smashed another record this week, climbing to 17.07 percent – an all-time high.
According to the CreditCards.com Weekly Credit Card Rate Report, the average card APR is now almost a full percentage point higher than it was last year – and it's almost certain to keep climbing."
Credit card debt in US stands at about one trillion dollars. 2% in interest has been added to it since 2016, or an additional $20 billion that now has to be paid by the working man in credit card debt.
This will repeat across the board. Mortgage rates, loans, business borrowing, everything will get more expensive thanks to mighty Fed. Investors thus are pricing in potentially lower demand.
"The market is digesting the potential that rates moving upwards eventually seep into the real economy in the form of mortgage rates, auto rates, student lending rates," said Mona Mahajan, U.S. investment strategist at Allianz Global Investors in New York. "What we're seeing here is the market positioning for potential lower growth going forward."
Fed has suggested they will keep raising interest rates, once this year and three times next year, sending them to 3%-3.25%.
Copyrights Trustnodes.com