Ethereum shorts are getting called following some chaotic trading frenzy, with about 100,000 eth quickly closed as price spiked to a high of $250 on Bitfinex at a $30 premium over Coinbase's then $220.
Price then fell slightly to $220 on Bitfinex, or circa $200 on Coinbase, with trading volumes spiking for eth to $2.4 billion in the past 24 hours.
Boring sideways action gave way to chaotic trading frenzy this morning as bitcoin, eth, and most other cryptos begun moving up while tether started falling down.
Beginning at around 5AM London time, bitcoin begun increasing in price. At first slowly, then with some speed reached a high of $7,800 on Bitfinex at a $1,000 premium over Coinbase's circa $6,800.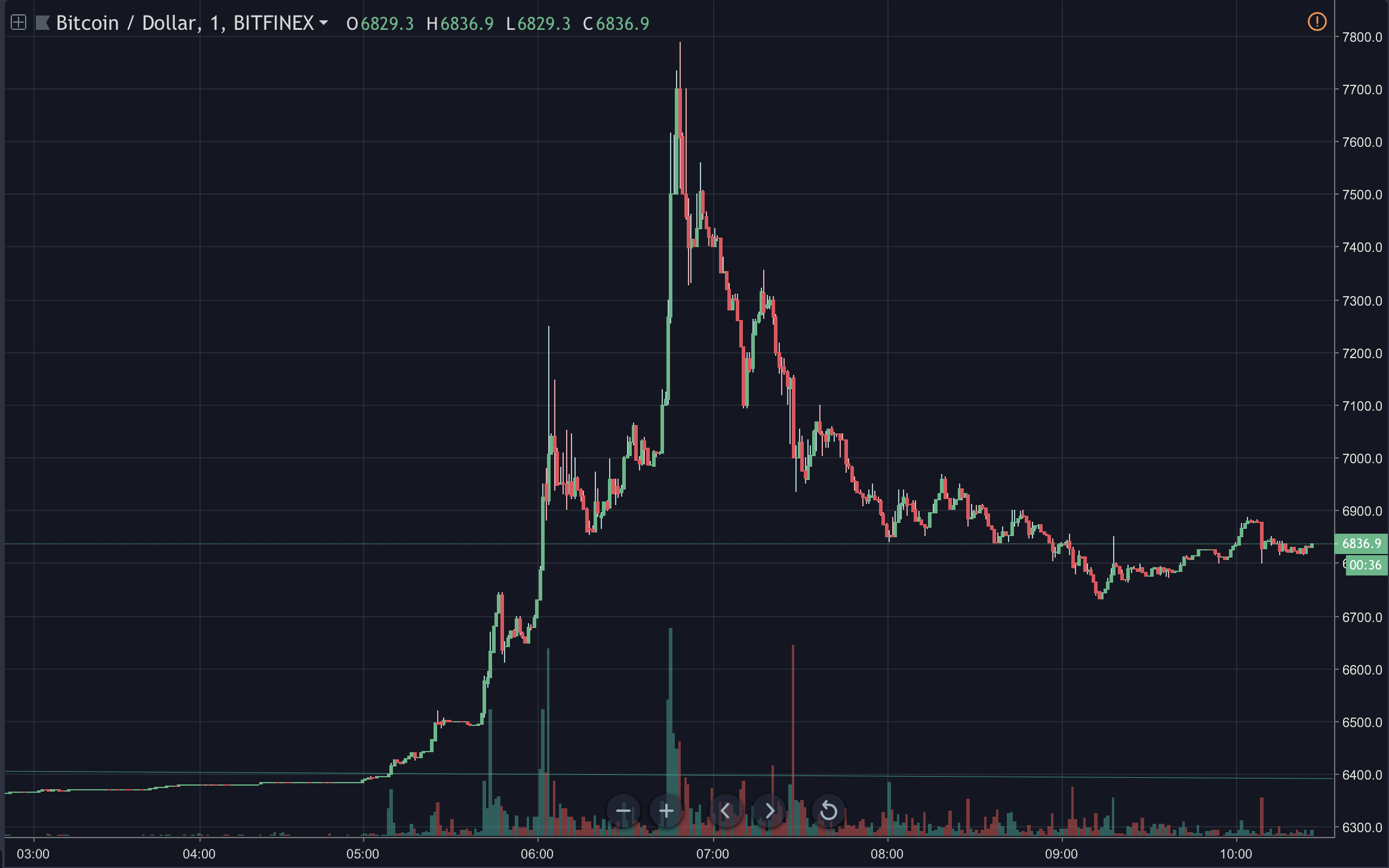 The biggest action was at around 7AM London time when tether crashed down to $0.51 on Poloniex, before recovering to around $0.9.
TUSD is a new stable coin of sorts that claims to be fully backed by dollars with one TUSD equalling one dollar.
That peg, however, hasn't been kept very well today with TUSD reaching $1.12 as many seemingly scramble to get out of tether:
That flight out of USDT has sent pretty much all cryptos up on increased global trading volumes of nearly $20 billion.
This twist appears to have perplexed many traders who now have no clue just what to do as Monday opens with a bang.
A tether implosion you'd expect would send cryptos crashing with all fearful of a potential blackswan, but the opposite has happened.
It looks like a tether implosion is a whiteswan, with the reason for it fairly logical. If tether is indeed imploding then all those who have USDT have to buy cryptos. That naturally adds buying pressure, with the simple equation of supply and demand then performing its function.
In addition, the many eth shorts, which reached all-time high yesterday, may themselves face pressure as price rises. They thus might close, meaning they have to buy eth, so adding further buying pressure.
All creating an atmosphere of "too much FUD," as Changpeng Zhao of Binance said. Which too might give bulls hope of charging amidst fear, but how this game now unfolds remains to be seen.
Copyrights Trustnodes.com