ZRX has mooned, doubling from around $0.67 to a high of $1.30 before settling at just under $1 at the time of writing. Giving them a market cap of $514 million on trading volumes of $140 million.
The eth based token for the 0x Protocol has now become the most valuable out of all ethereum tokens, overtaking MakerDAO, which itself recently overtook OmiseGo.
The above trading frenzy is due to Coinbase listing the token a few hours ago. The biggest crypto-broker said:
"Coinbase customers can now buy, sell, send, receive, or store ZRX, along with Bitcoin, Bitcoin Cash, Ethereum, Ethereum Classic and Litecoin."
You can only buy ZRX with bitcoin, dollars or euros. To the annoyance of some, they have not listed a ZRX/ETH trading pair, presumably because they'd rather their customers exchange fiat or bitcoin for the token and keep their eth.
Making this the very first eth token to be listed on Coinbase as the crypto exchange now begins a process of listing almost all digital assets.
So making BAT go frothy on anticipation they are next. Jumping today to $0.22 from $0.19 on trading volumes of $16 million. Giving them a market cap of $214 million.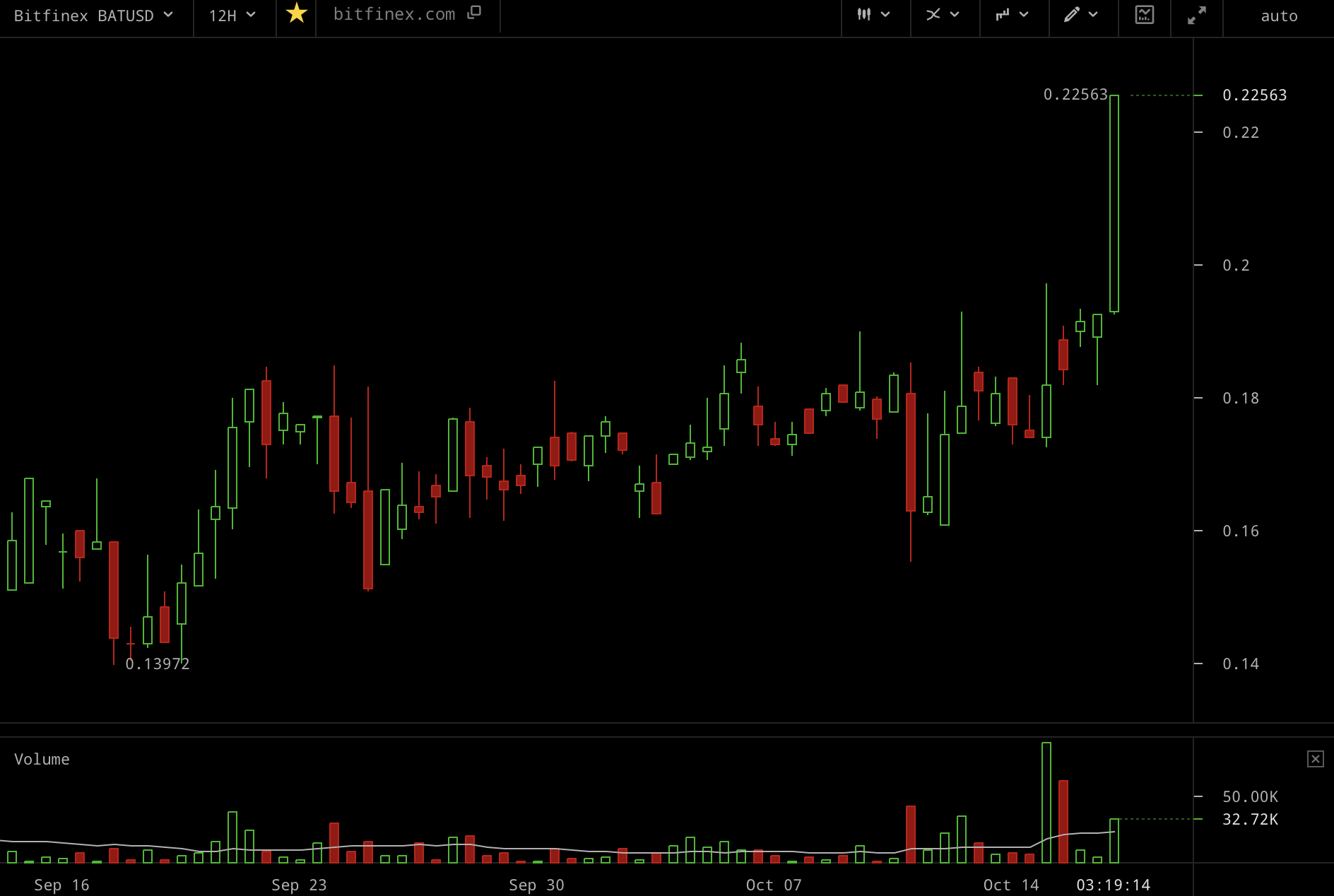 Making the race for the top ethereum token pretty heated, with the leaderboard changing recently after OmiseGo dominated for long.
0x, as you may know, is a protocol for exchanging digital assets. It is mainly used to create decentralized exchanges (dex), but it can also be used in other dapps where crypto conversion may be wanted.
BAT is sort of tokenized adsense. It is meant to be used to reward publishers through individuals who opt-in to see ads on Brave Browser, with those ads paid in BATs.
They've recently reached 5 million active users, growing considerably prior to the advertising model being launched, which is still in pilot testing.
While ox recently launched a new version of their protocol, with the decentralized exchanges space now becoming competitive as dex-es finally become a reality.
Copyrights Trustnodes.com