Billionaire Tesla and SpaceX owner was briefly banned from Twitter after saying: "Wanna buy some Bitcoin?"
"Twitter thought I got hacked & locked my account haha," he then said.
Canadian singer Grimes, who is kind of dating Musk, replied to his bitcoin offer:
"I'd prefer that free ethereum u promised." Making crypto twitter, anime twitter, Tesla fans and Grimes fans go lit.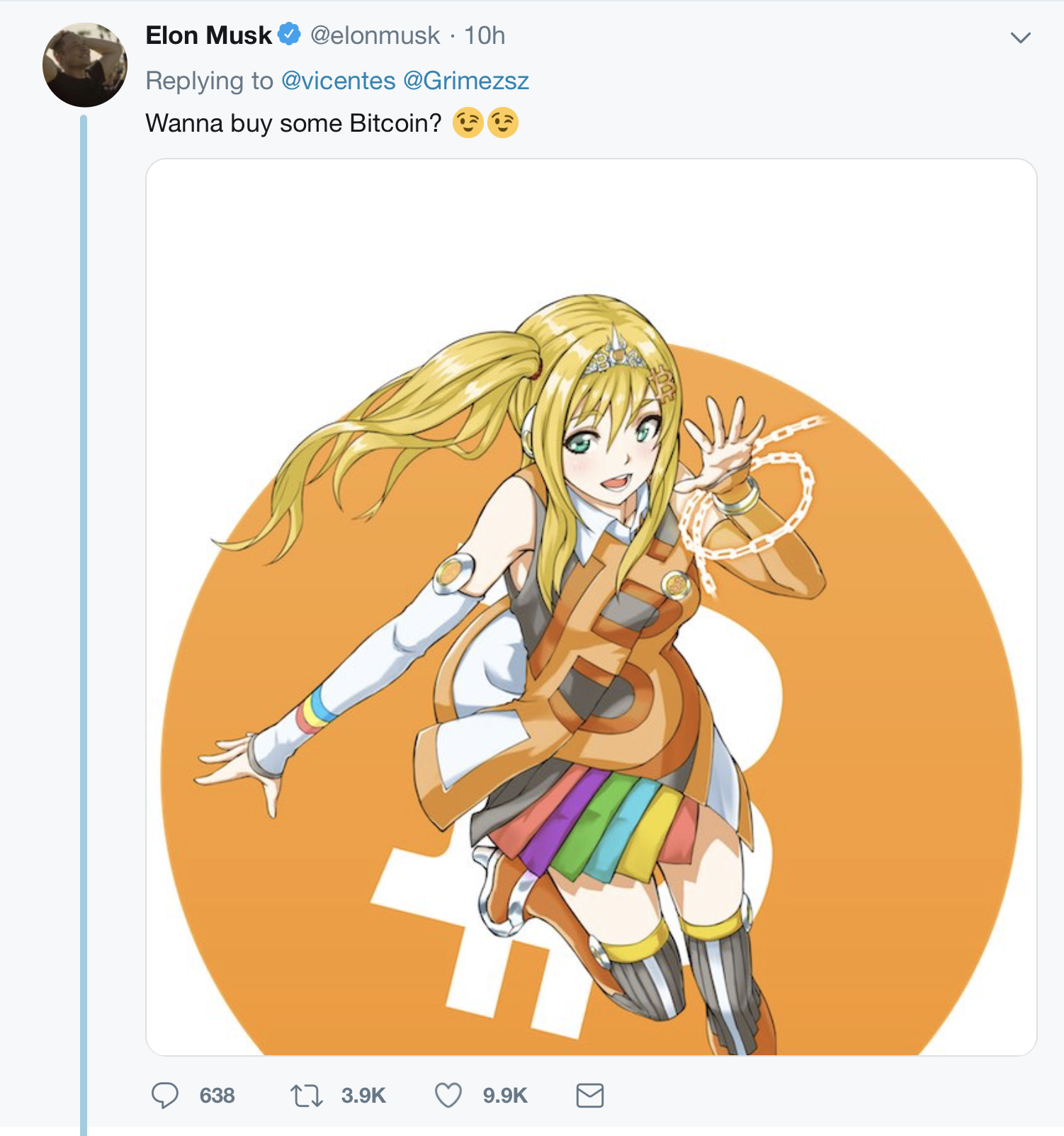 Tabloidnodes can't make much sense of this, but we'll try. Musk's bitcoin tweet was in reply to: "Hey what's happening w 2 factor auth for Tesla account?"
You'll remember at the height of the bitcoin bubble someone said where to buy 2fa coin (2 factor authenticator) in reply to someone saying they need 2fa to secure their account.
That made the rounds on twitter as a sign that many newcomers had no clue just what coin they were buying. So the most reasonable interpretation is that Musk is making a joke about that.
Grimes of course is joking about the now completely reduced scam-bots that used to plague Musk's twitter by saying something like send me one eth and I'll send you ten back.
So it's all fun and games, mixed with an  easy way for Musk to appear cool while coupled with some easy publicity.
Yet there might be a bit more to it. One can see Musk and Grimes, for example, as a reflection of the mainstream. They both have heard of bitcoin and eth and probably know that they're decentralized coins you can send all over the world, but probably have no further knowledge.
That's especially for eth, which Musk kept misspelling as recently as this summer. So cryptos for the two are more a cultural thing, something to appeal to the young.
When it comes to something substantial, well Musk has no idea what eth is so there is no way he is going to incorporate it in Tesla anytime soon, and obviously he is too busy with anime to accept it for payments.
Which is a reflection of where cryptos are. Widespread in awareness, especially in US and especially bitcoin, but just at the tipping point in usage.
For eth, it has probably just about passed tipping point in awareness, but no where near a household name yet. For usage, it may have just about passed tipping point there too, doing so more quickly by benefiting from the infrastructure bitcoin had laid in the many years since it was invented.
We may now see two things. First, incorporation of cryptos into retail bank accounts to appeal to millennials who are more attracted to cryptos than stocks. And where ethereum is concerned, we may see in addition all the things being built get ready for mainstream usage by perhaps 2020.
At that point, the cultural element of cryptos might be complemented with actual usage to the point even busy men like Musk think the incorporation of eth in some way is a plus to something like Tesla.
So get a better book than a beginners introduction to crypto Musk, or read a comparison of bitcoin and ethereum, and join the movement. Starting with adding crypto payments.
Copyrights Trustnodes.com