Red greets Dow Jones this October in one of the worst month since the banking collapse with the index of America's biggest companies now down nearly 10%.
The word panic has entered the lexicon for the first time after Dow and other US indexes may have seen a double top.
"Panic-like selling," MarketWatch says. "This is more of a panic attack 'rather than the beginning of a bear market,'" says CNBC while ostensibly quoting someone.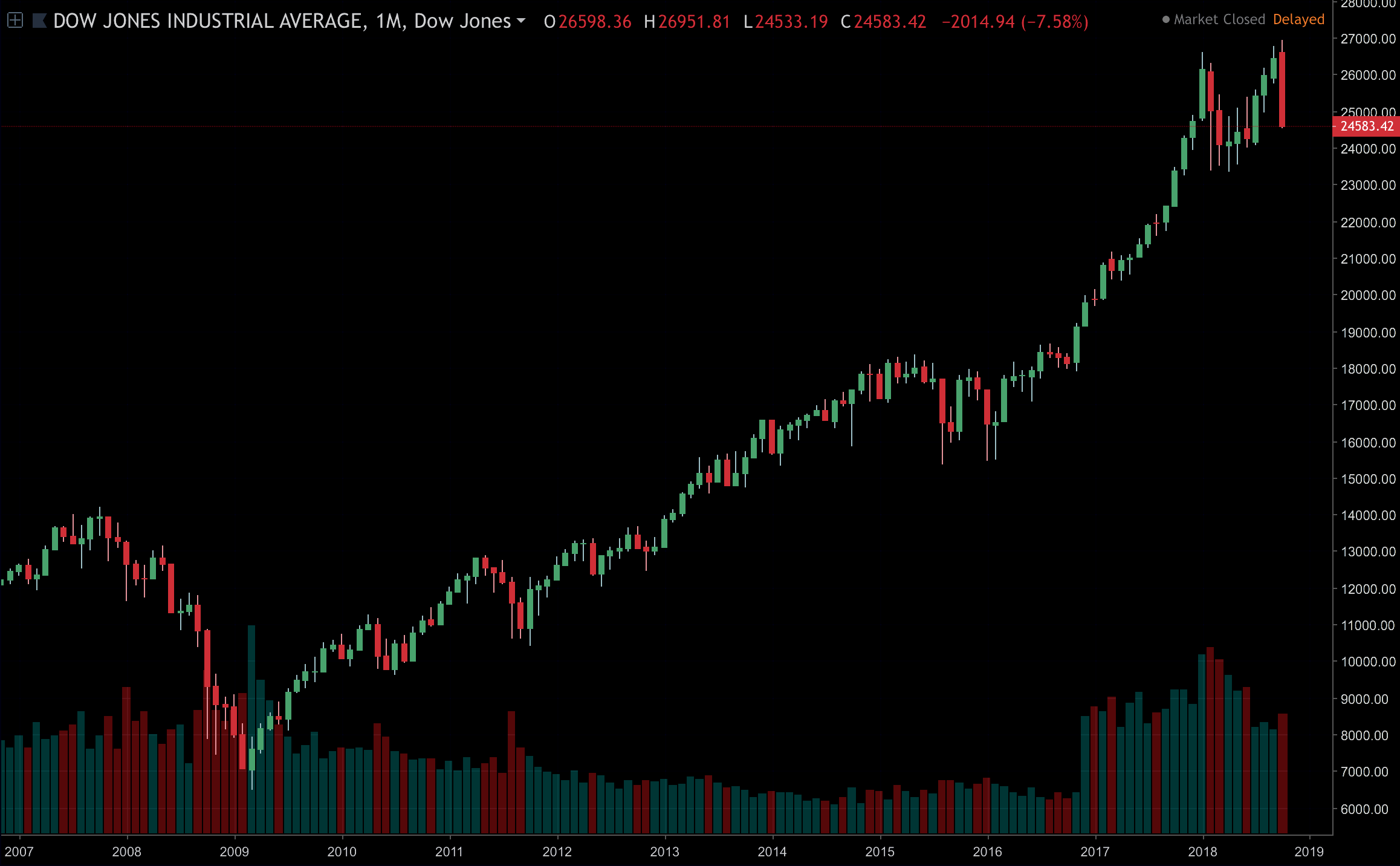 Dow has more than tripled in the past decade in one of the greatest bull run, perhaps in history.
It looks like it has been unable, however, to overtake 27,000. It tried at the beginning of the year, but a correction followed. It then tried again running into October, but bears are now once again appearing on higher volumes than bulls.
Zooming in, the chart for S&P500 shows more clearly the recent sell-off, with the index of 500 companies also seeing a circa 10% drop this month.
If we go to China, the story is a bit different. There, the stock market has crashed and has entered bear territory with the monthly candles chart for Shanghai looking more volatile than penny-cryptos:
The astonishing rise in 2007 gave way to just as an astonishing fall that ended in 2009. It then kind of moves sideways  in a long-term view, until 2015 when it doubled in just months.
That bubble then burst in 2016, with the incompetent Chinese authorities devaluing the Yuan and then turning their attention to bitcoin.
They closed crypto-exchanges in around September 2017 to enforce draconian capital controls. The then recovering stocks turn into a crash, down 30% for the year, and halved since 2016.
They were kind of keeping what seemed like a bottom until recently, but the re-arrangement around tariffs seems to have broken the bull support.
Cryptos have a different story. After much chaos throughout 2018, they've become nice and stable since mid-September. Have they bottomed? – is the biggest question.
To make some sense of what's going on, we have to go back perhaps to 2016, a very eventful year in many ways, with geopolitics in full swing.
Then president Obama, humiliated by ISIS and humiliated by Putin, may have come up with a plan, which may have involved Saudis crashing the oil price.
This is high politics, where secret maps at times are drawn and then revealed decades on, so little can be known for sure. Maybe the intentional crashing of the oil price by Saudis, who pumped it out in overdrive, had nothing to do with the then geopolitical situation and was just aimed at undercutting the new US oil fracking producers.
Whatever the cause, the effect was indisputable. Nigeria plunged into a currency crisis. The value of Russian money went down and down. Venezuela collapsed. All three are big oil/gas producers.
This turbulence in the value of some countries' money, aided by China's Yuan devaluation and India's chaotic but successful tackling of inflation, appears to have had a very slow ripple effect.
Venezuela's hyper inflation was hiding its neighbors' high inflation. Chaos in some foreign exchange markets was taking attention from an every rising dollar. A crypto boom in 2017 was giving all a feel good thing.
Then enters 2018, the most turbulent year in global markets since the banking collapse. Cryptos crashed. The US stock market stopped its bull run with it to be seen whether the bull run continues or the 10% down becomes more down. China's stocks only see red, while a crash in many fiat currencies becomes a bit too common place.
Something happened in April this year when, according to a report: "About a month ago, the Federal Reserve reported a sharp drop of [US Treasury securities] in custody on behalf of foreign agents…. that was something like a collateral call. It happened the week of April 18."
That might suggest the dollar had become too strong, but thanks to Fed's continued rise in interest rates, it went on to become even stronger.
Fed has gone crazy, Trump said. He's probably right. Rather than raising interest rates, which have an effect on the value of the dollar, they can increase capital requirements for banks, which would more directly address inflation.
The dollar was at its strongest in August this year, yet in September Fed still raised interest rates and told the markets to expect a Greenspan with the now Powell maestro planning to raise interest rates effectively every quarter.
That's while many currencies are so weak, the European central bank is still printing money, and while the real economy is hardly seeing wages grow above inflation.
So the US stock markets have turned nervous, with the biggest question being whether the dollar is due a correction.
A bigger question might be whether cryptos can welcome all these refugees from the stock market. They don't have many  choices. Housing is probably in a bubble, the dollar too might be in a bubble after rising and rising, bonds from a government borrowing a trillion a year may now be risky, while gold is gold, but is it currently better than cryptos?
Only the market knows and the market alone can tell us, but studies have established that cryptos do not correlate with any other asset.
That does not mean their movements might not coincide as stocks and cryptos move at far different speeds. It may thus be that in an unrelated manner stocks have reached top while cryptos have reached the bottom.
Or it may not. No one can predict the decision of millions of people, or indeed billions. The stocks sell-off may indeed be just a correction. Talk of panic may be overrated. The US economy has been growing fairly strongly and may continue to do so.
Just as it may be the case that perhaps cryptos have now become less risky than most other assets as far as probabilities are concerned, with their unique qualities making them different and thus uncorrelated, while allowing them to feed on and feed into surrounding events. How this all plays now, however, only time can tell.
Copyrights Trustnodes.com