Stocks have again turned downwards today after a brief respite as red October turns into one of the worst month since the banking collapse.
Amazon saw an 8.7%  drop today as it fell just about short of revenue estimates with its cloud computing business, Amazon Web Services, also showing sales of just under the $6.7 billion estimated by analysts.
Google also fell about 4% ostensibly because it just about missed analysts estimates, but it may well be because the whole stock market seems to have turned red.
Snapchat's Snap is another big loser, down 15%, while AMD continues its downwards trajectory with its stock effectively crashing this month. In their recent earnings report, they said:
"Revenue was $1.65 billion, up 4 percent year-over-year and down 6 percent quarter-over-quarter. The year-over-year increase was driven by higher client revenue in the Computing and Graphics business segment. The sequential decrease was driven by lower graphics revenue in the Computing and Graphics business segment."
So there has been decent growth, but not as decent as it was in the previous quarter, suggesting some slowdown, partly perhaps due to lower demand from eth GPU miners. They  say:
"Blockchain-related GPU sales in the third quarter were negligible. In the third quarter of 2017, blockchain-related GPU sales were approximately high single digit percentage of total AMD revenue."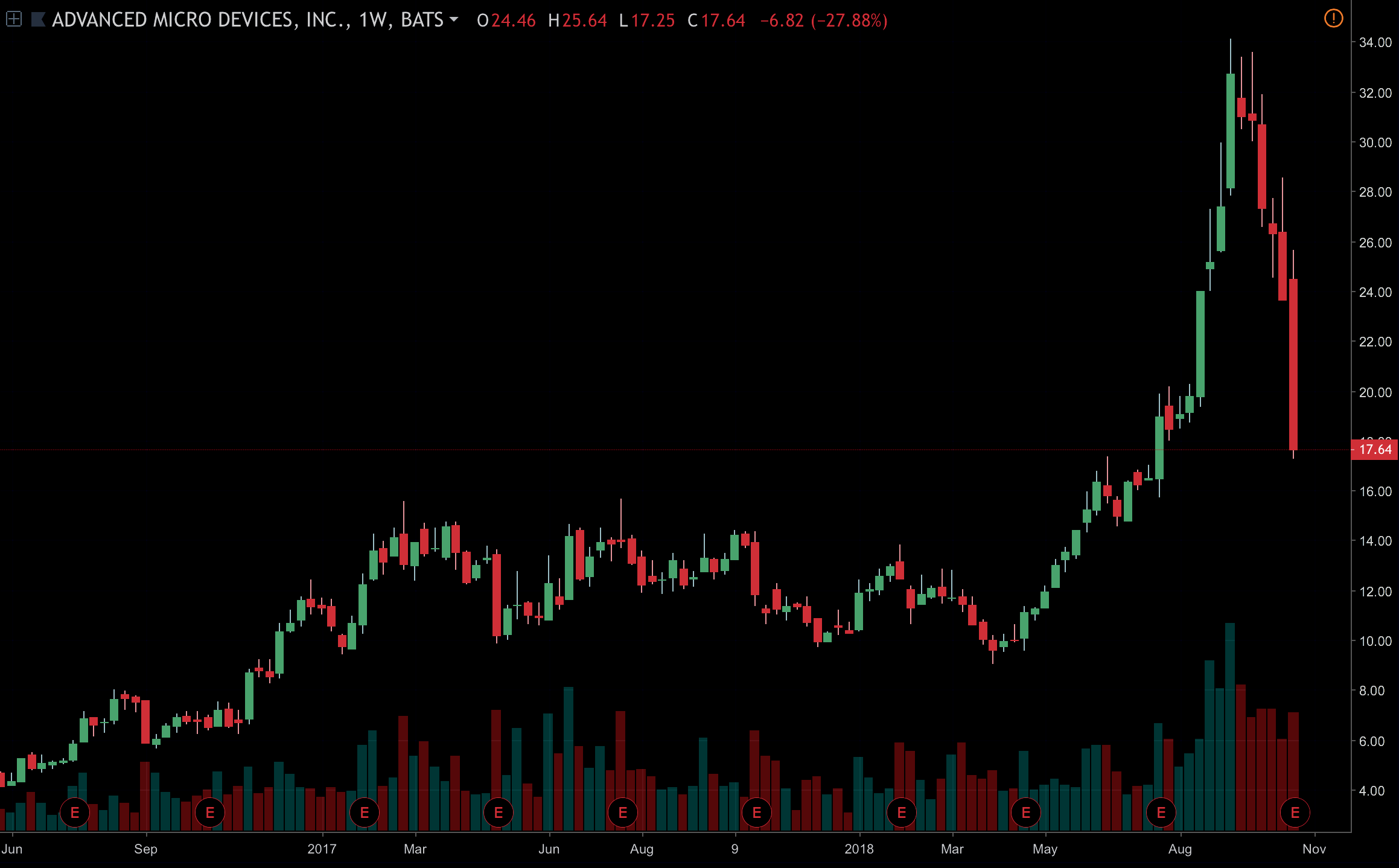 Amid all this chaos, cryptos have become a peaceful serene oasis. Crypto traders are even bored, a feeling many of them have not had in years.
Bitcoin and ethereum in particular are seeing a tighter and tighter range. They're basically not moving.
We can't recall any other time when stocks were so volatile and cryptos were so stable. It's like they've switched places. Raising what may well be the biggest question of the year.
If they're taking all this money off stocks, about $7 trillion just this month, where are they putting them? With rising interest rates, heavily indebted bonds can be risky. A shortage in housing, which led to a bubble of sorts, spurred up governments to build more and more homes, so prices are now falling.
Art, whisky, rare coins, are far too small a market. Gold is up another $20 today to near $1,250, but while some might go there, where will all the rest go?
Fiat is always an option, but that's no different than sitting daily to burn part of your money thanks to inflation.
There's many hungry entrepreneurs looking for investment, and the token economy can directly connect them to markets, but SEC has come down heavy in US and decentralized or otherwise ETF or index fund like products for tokens are not there yet.
So just park it in eth, or bitcoin? Well, we'll see. Their range is now getting so tight, it will break one way or the other. For now though, they're looking at the stocks spectacle, wondering which way the refugees will go.
Copyrights Trustnodes.com