Cloudy skies have given way to sunshine in Prague as day zero of Devcon begins, with some 2,700 mainly coders as well as many projects going through registration and orientation.
There will be no main stage today, that's for Halloween. There are presentations and events going on, on the side stage and other sessions.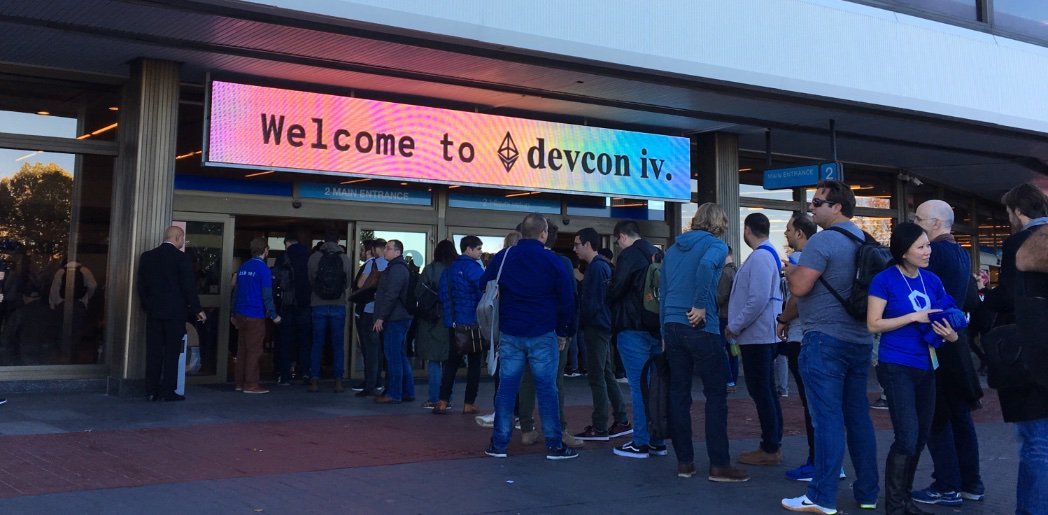 It's not clear whether there will be a livestream today, but there should be a livestream tomorrow.
They're livestreaming only the main stage, while recording three other halls. The recordings will then later be published, but as there is no main stage today, there probably won't be a livestream.
It looks like an unofficial livestream has however come up, with some taking it upon themselves to bring much of Devcon to our homes.
But today may be more the day of swags, going around all the booths. There's even a bus. Plenty of workshop sessions, and some talks like the Swarm update.
Zeppelin, of smart contract templates and frameworks, is having a puzzle game to celebrate Devcon. They giving $1,200 in total, $100 to the finder of each puzzle. Tiny sums in fiat, but that's now more than 0.5 eth.
Truffle, a smart contracts developers tool, has surpassed one million lifetime downloads. Some devs of course would have downloaded it twice or more, but if we slash it by 4, then 250,000 eth devs is perhaps a reasonable estimate.
We don't know who this guy is or what homeless shelter he frequenting, but it's a nice example of outdated practices with those paper boards.
Nowadays, of course, we write equations on fancy glass. They used to be so poor, however, at the beginning of the blockchain era. Even memes were scarce, limited to just the unicorn watch.
You don't need a Devcon ticket to enjoy this beautiful city. Status has organized an OFFDevcon. They having a group livestream sort of thing where you might get to hang out with the meme guy.
There's a nice list of other events as well. Like EY Blockchain night. Consensys alumni getting drunk Happy Hour. "Scalability drinks" and lots of serious stuff. There's a Ravecon0 at a secret place. Now livestream that or riots!
Lots of stuff going on. A massive big party. The big day, however, is tomorrow, on the tenth anniversary of the publication of the bitcoin whitepaper. The even bigger day might be November 1st. Today is the warming up in sunny Prague.
Article updated with an unofficial livestream link.
Copyrights  Trustnodes.com