AMD has seen a pretty terrible last quarter as far as its stock price is concerned. Halved from $34 in October to a recent low of $16. Since then it has gone green, up 11.44% yesterday.
The reason may well be because Powell showed clearly just how much influence one individual has over the world's biggest economy.
If things change, we'll change our view, he basically said. We're not set in a course of action. That was enough to make Dow jump 3.5%. Apple recovered a bit, +4%. AMD being kind of an outlier, +11%. Was that because of their newly announced partnership with ConsenSys?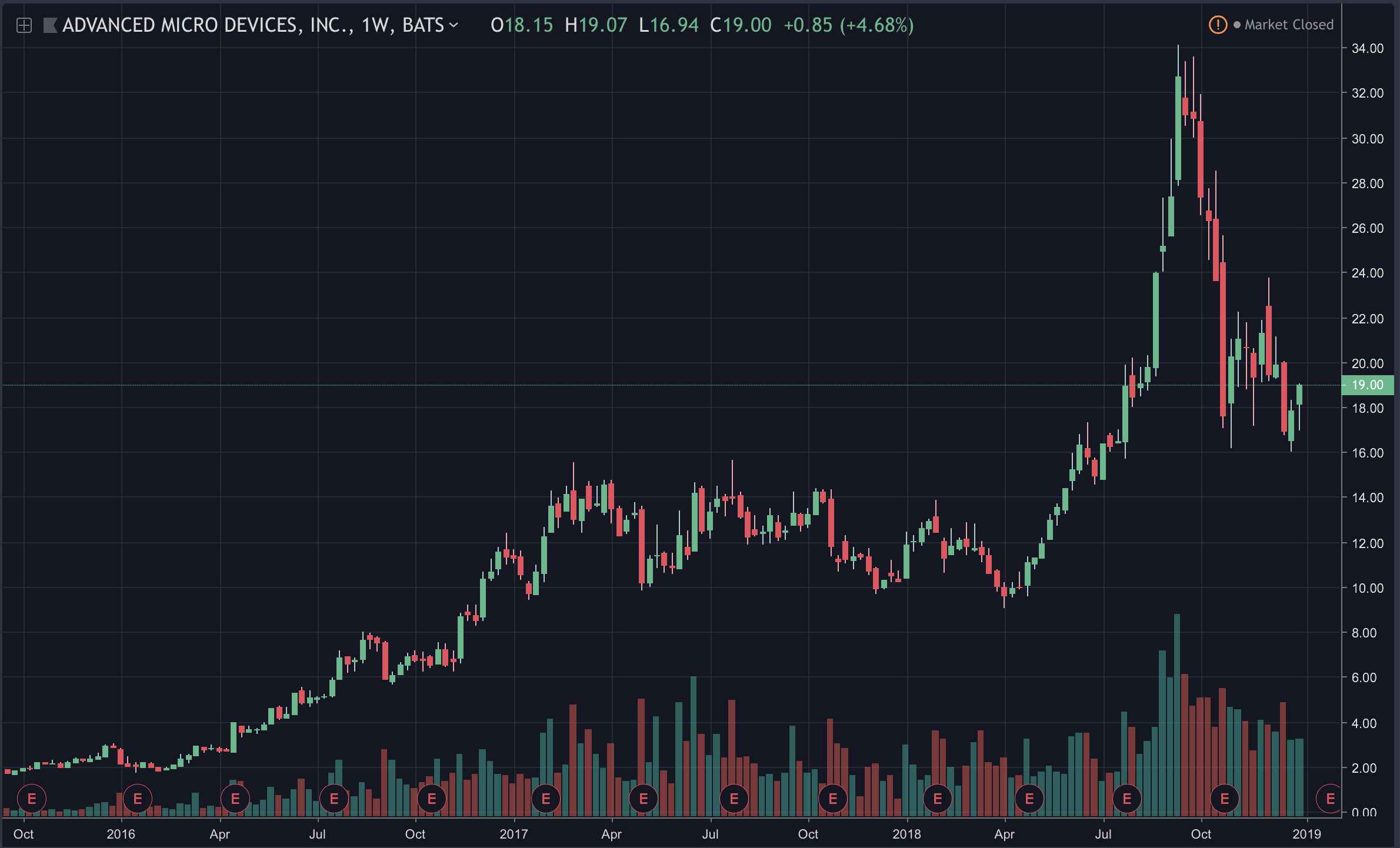 "Bolstering the compute power of blockchain networks with AMD's leading-edge technology will be of great benefit to the scalable adoption of emerging decentralized systems around the globe," said Joe Lubin, founder of ConsenSys and co-creator of Ethereum, adding:
"The combination of hardware and software will power a new infrastructure layer and enable an accelerated proliferation of blockchain technologies."
What all those dry words mean, isn't very clear. Nor does Joerg Roskowetz, director of product management at AMD, shed much light in stating:
"We are excited to work with Consensys and provide them with access to high-performance hardware technologies capable of better scaling and proliferating decentralized networks and services to meet the growing interest from large corporations and governments looking to tackle challenges ranging from smart identity, enterprise data centers and health ID tracking, to licensing and supply chain management."
Just words you might say put together by some marketing intern, but for AMD investors, this sentence may have been exciting:
"W3BCLOUD​ is focused on providing the first independent cloud computing blockchain infrastructure, combining increased transaction throughput with state-of-the-art security."
Cloud and blockchain with AMD hardware in a partnership with ConsenSys. Should Bezos watch out? Is Nvidia jealous? They were only up 6.4% at the same time.
"AMD Launches Ethereum Mining Gear," was our November headline. "AMD has begun courting the crypto mining market with a new page dedicated to GPU based mining gear and rigs," the summary said.
They were shy previously to even acknowledge cryptos exist. Downplaying any growth due to mining demand. AMD's stock however jumped in April, coinciding perhaps with an eth jump. AMD then went higher because obviously its business does not rely on one segment, while eth fell, but it does appear they've realized that perhaps there's a useful market for them in cryptos.
Especially in ethereum. GPUs and ASICs there are kind of boring for a company like AMD because eth will go Proof of Stake (PoS) so it would only be temporary. There are however other hardware demands, and customized hardware demands, that might make the profit aspect perhaps secondary to the prestige and skill gains from developing them. An eth dev says:
"My bet is that this is to support scaling (not mining), in particular hardware optimised nodes & hopefully dedicated ZKSNARK logic.
ZKSNARKs would offer a ~24x for ETH transactions and ~50x for ERC20 transfers performance benefit on top of any other scaling solutions. E.G if we get 100 shards then could get 5000x the current speeds with both.
ZKSNARKs are currently too slow to use for complex transactions but dedicated hardware could make them viable."
This is a somewhat new scaling method described by Vitalik Buterin, Chief Scientist at the Ethereum Foundation, in September.
In a very simplified form, you bundle many transactions together, and kind of compress them with ZKSNARKs, allowing for potentially 500 transactions a second on the current "dumb" ethereum blockchain. Then you have sharding which bundles nodes, then Raiden or Plasma which bundles transactions but with significant usability tradeoffs.
It's not clear how dedicated hardware would make ZKSNARKs more viable, we might hear more of it. In addition, there's two other hardware demands for eth.
One is the design of a customs asics at a cost of potentially $30 million to increase the Beacon chain's security from pretty secure to extremely secure.
Then there's the Trusted Execution Environment (TEE), which is the Lightning Network but hardware based, so potentially addressing some of the usability problems.
It is perhaps TEE that made AMD stand up and notice – as well as court – this space because Intel announced they're working on it with Microsoft. Not wanting to be left behind, AMD then announced the crypto gear just a week later.
All of it suggesting the crypto space is perhaps keeping competitors on their toes as the race to world level scalability, and mainstream integration, continues.
Copyrights Trustnodes.com