Tron jumped 10% today and about 30% since January the 5th following an announcement by Justin Sun, its founder, that all tron holders will receive BitTorrent tokens (BTT) in an airdrop.
The TRC-10 token will be usable in BitTorrent to speed up downloads from providers (seeders) who downloaders can pay in BTT.
As illustrated in the fine art work above by a tron fan and a primary school teacher, each provider receives some tokens to give priority for part of the file download, with it payed in BTT by the downloader. The whitepaper says:
"We will create a total supply of 990,000,000,000 BTT. The total supply with be divided as follows: the allocation to BitTorrent, Inc. torrent client users as part of client install and onboarding, the allocation to existing TRX holders, the initial supporters and investors, the BitTorrent Foundation and team, the TRON Foundation.
Users of BitTorrent, Inc.'s torrent clients (and possibly other torrent clients which choose to implement the required set of protocol extensions) will be able to submit a CAPTCHA or proof of work which will allow them access to an initial balance of BTT."
Justin Sun said in a livestream that tron holders will receive little in the airdrop. The primary focus seems to be instead on the ICO or crowdfunding part.
Binance has launched a platform which effectively allows projects to raise funds from Binance users. BTT will be one of the first project to do so through the Binance Launchpad. They say:
"BitTorrent's new BTT token will allow BitTorrent peers to incentivize activities that lead to better file sharing, like using faster networks and enabling longer seeding periods."
It is unclear how much they hope to raise after Tron acquired BitTorrent last summer for circa $140 million.
In October they then said Tron would be used for incentivization, but they seemingly changed their mind for unknown reason save for the obvious suggestion that they presumably thought why not try and raise some more funds from the public.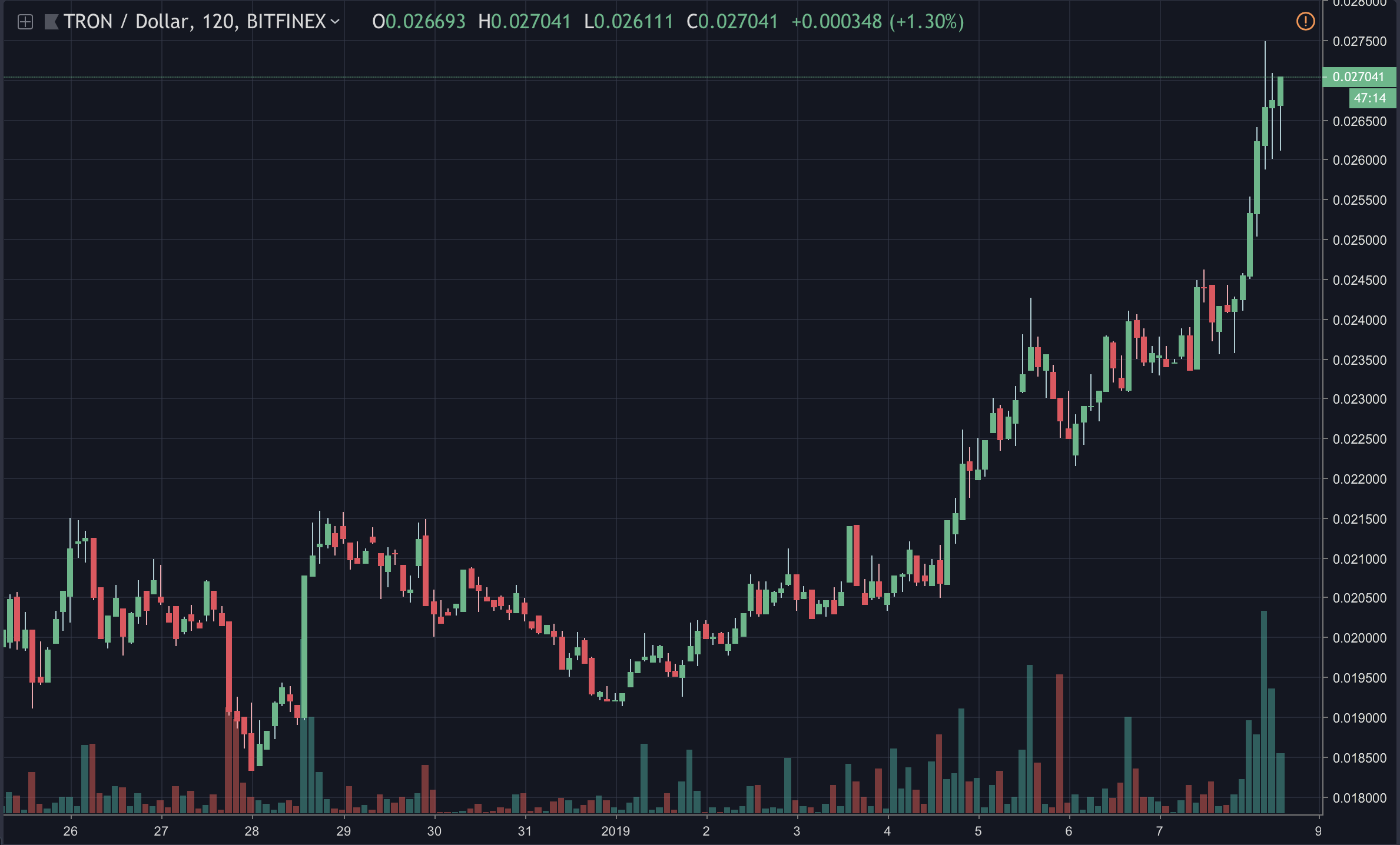 The coin has turned bullish recently, nearing a market cap of $2 billion on trading volumes of $320 million.
It remains 90% down from its all-time high, with the tron network somewhat similar to eos in design, except that they've incorporated Solidity rather than coming up with their own programming language.
They're to hold a tron conference next week which Sun and Binance's Changpeng Zhao are to attend.
The two appear to be close, with Binance confirming Tron had donated $3 million, $100,000 of which was publicly shown on the Binance Charity Foundation donation page.
The fairly new network has now gained 117 dapps, compared to eos' 230 and ethereum's 1,500 according to a dapps stats site.
BitTorrent may well be the biggest one however, perhaps in the entire dapps space for now, as that has some 100 million users.
Whether any of those users will want to pay to download what often are virus infested movies or software, remains to be seen.
Just as it remains to be seen whether Tron can handle significant usage due to its complicated staking for resources requirements.
Yet what appears to be somewhat clear is that things are beginning to happen in many different coins with what might be the most fascinating race of this decade now very much on.
Copyrights Truustnodes.com