Tron has been rising for much of this year, nearly doubling at one point to then reach once again 3 cent from 2 cent.
The coin is up again today by about 7% while much else is down a bit by circa 1%-2% in yet another lull Sunday.
Why Tron is in green isn't very clear but their recent chart looks somewhat interesting on 4 hourly candles (H4).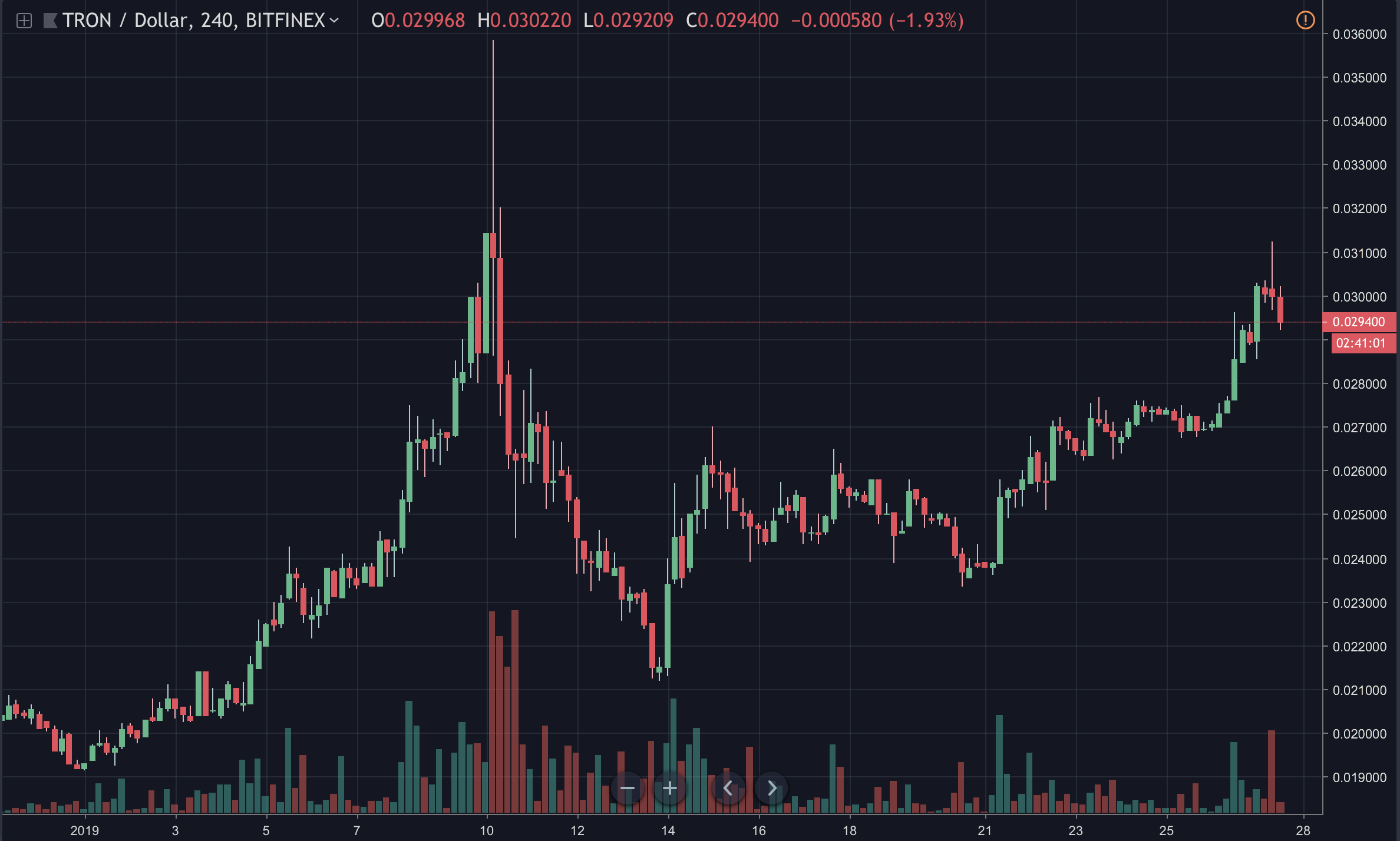 Whether there will be a double top remains to be seen with some of this bullishness caused by a "free muneh" airdrop of a BitTorrent TRC-10 token.
The airdrop, however, wasn't very impressive for some with one trx-er stating: "on Binance it says we're getting the airdrop at a rate of .11 BTT per 1 TRX. And BTT is going on sale for .00012 USD.
So that means if you hold 100,000TRX ($2,900 USD), that you're going to get a whopping $1.32 worth of BTT every month, or a .5% annual return."
Better than nothing, perhaps, with the semi-centralized network run by 27 supernodes seemingly attracting some usage.
Last time we checked, Tron's circa 150 dapps are apparently being used by 30,000 daily active users transacting some $15 million worth of trx.
How much of that is real we don't know, but from an end-users perspective, tron is somewhat similar to ethereum while having some differences.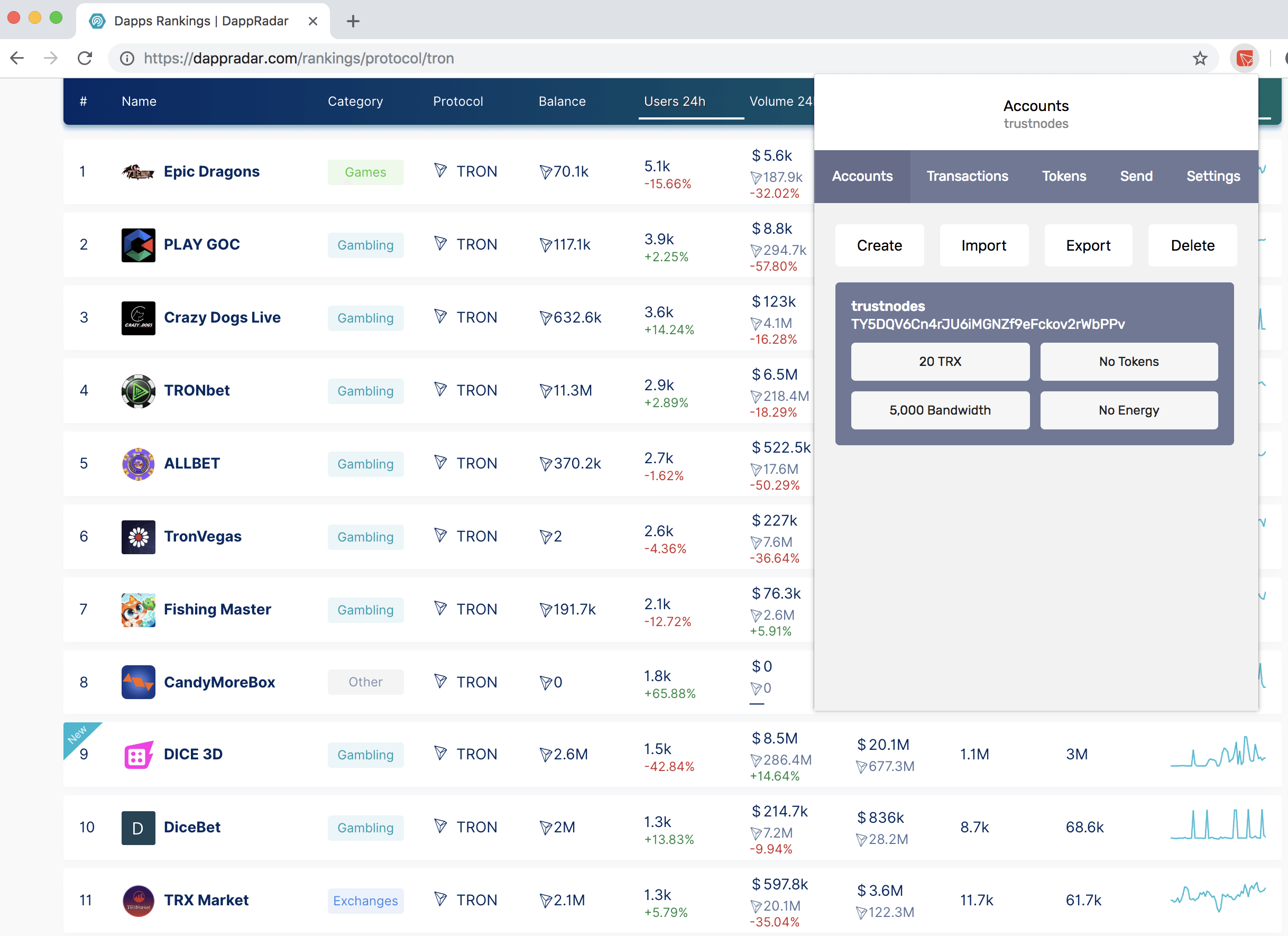 You can see above, for example, we have TronLink which is their version of MetaMask, but we also have some unfamiliar things like bandwidth and energy. Jason Neely, who describes himself as a Tron specialist, says:
"Bandwidth is for TRC10 token transfers. TRC20 token transfers require the same bandwidth plus energy (perhaps energy, depends on how the dapp dev configured the smart contract).
When you freeze the TRX for TronPower – which lets you cast votes for SR – you can choose to receive bandwidth or energy for it.
It's a little like gas. If you have no bandwidth the fee is 0.0024 TRX (appx. it's different every time)."
So we thought to give this a try with a random dapp to see how it all works, with the front-end part being quite similar to eth dapps as in we confirm a transaction: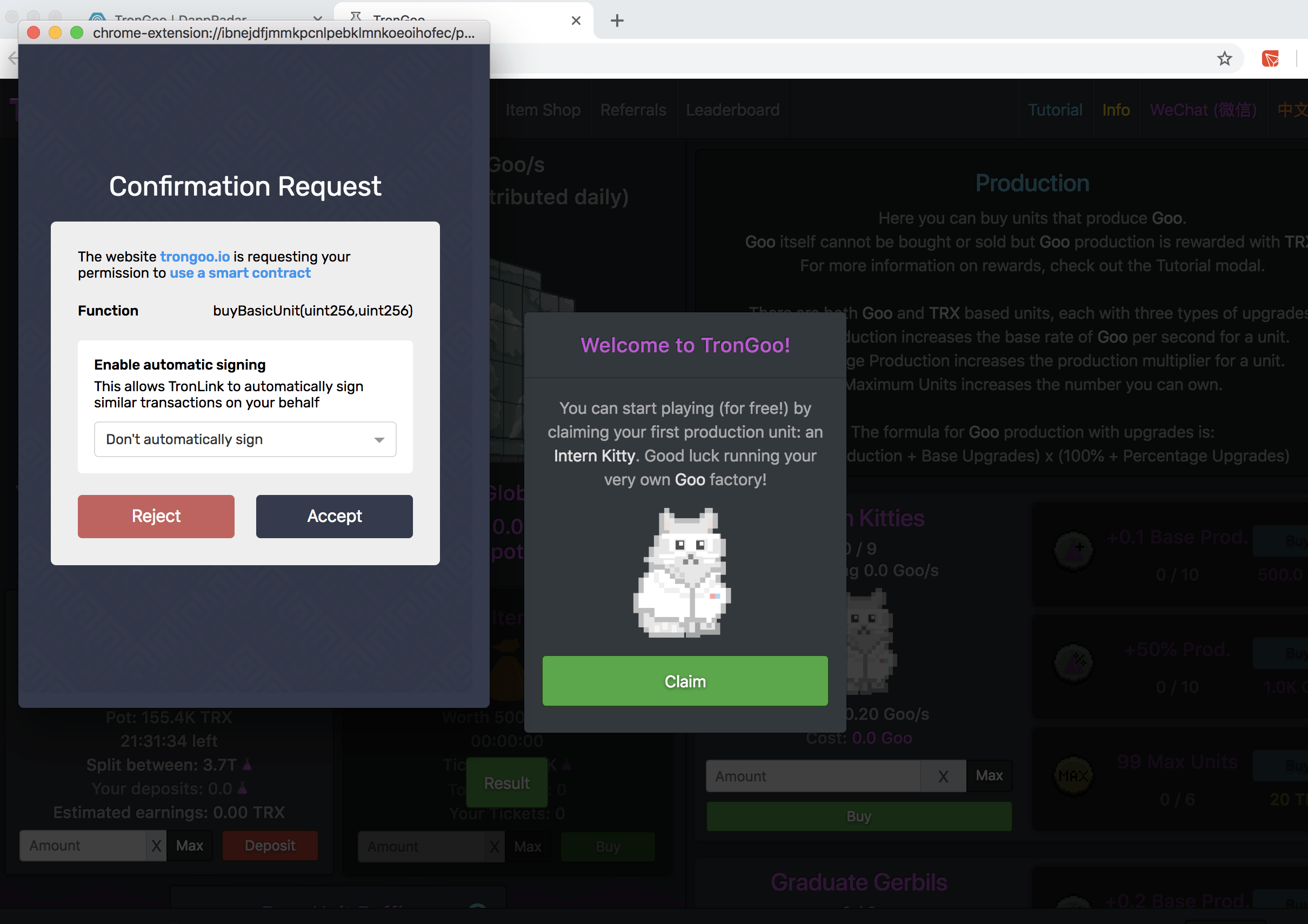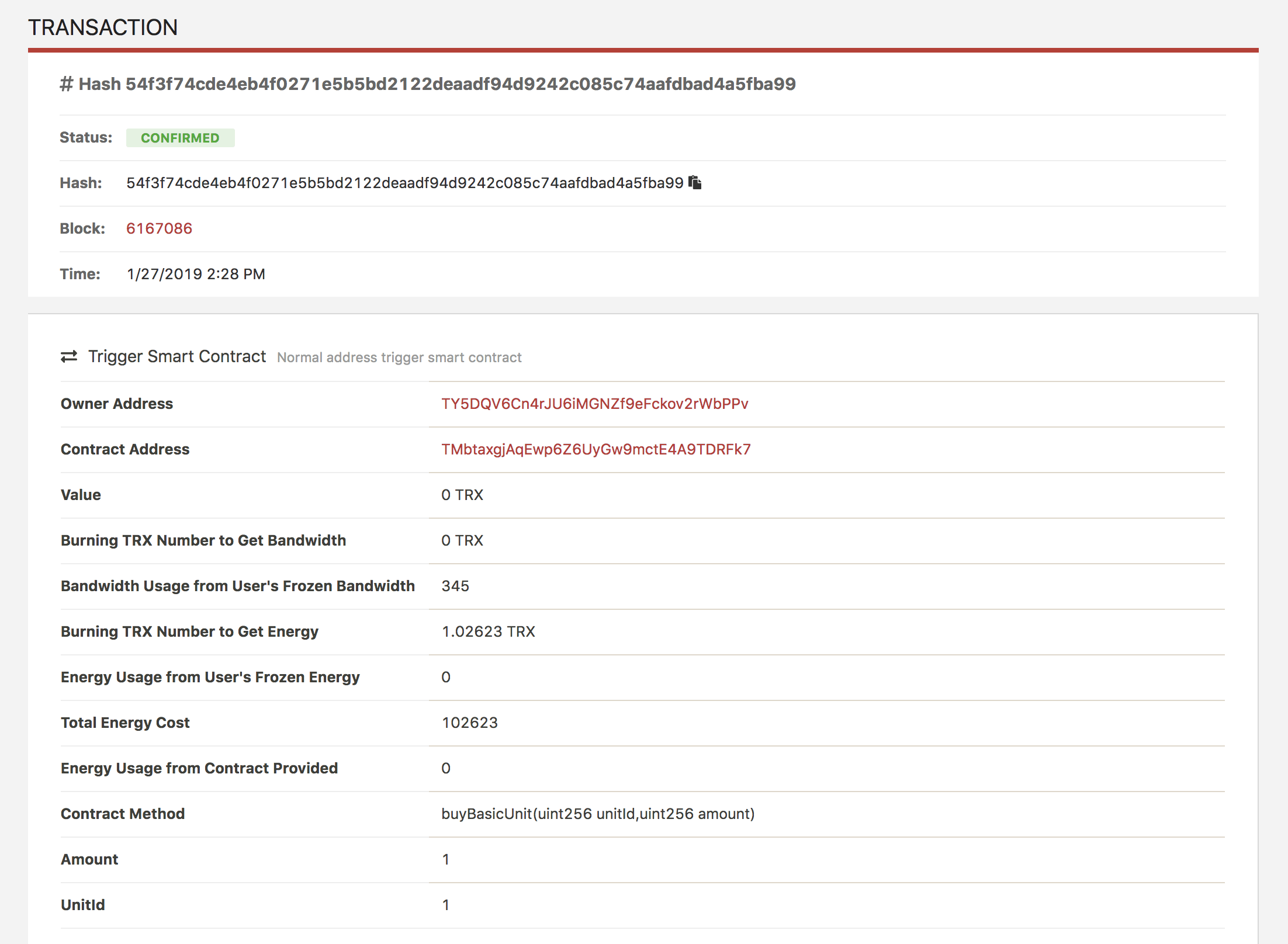 As you can see above, we had to pay 102,000 energy, which is sort of like eth's gas. We weren't given any free energy, so the contract took about 2 trx which is burned.
We also paid circa 350 in bandwidth which was taken out from the 5,000 we were given for free. Each account with some trx holdings apparently gets 5,000 of bandwidth a day.
"There is a total daily allocation dispensed by the % of frozen TRX" for bandwidth, says Neely. While the network wide total energy limit is set by Super Representatives (SRs). That being the 27 supernodes.
There's an obvious tension here between SRs, who arguably want as low a limit as possible so as to increase burn rates, and users who'd rather pay as little as possible. A representatives from an SR candidate, Kondax, says:
"Energy/bandwidth is free, given by the network. Raising the cost will still remain free, but people will have to wait longer to accumulate the energy and bandwidth to actually use it. Increasing the energy limit / decreasing the cost fixes this since users will accumulate it quicker."
Meaning in practice Tron may turn out to not be very scalable because SRs probably will want to limit capacity so as to increase their reward through a higher burn rate.
Tron's dapps in general appear to be copy clones of eth dapps without much innovation here, amounting to mainly gambling dapps.
The BitTorrent experiment may however be interesting as they have a lot of users and there may be some edge use cases where BTT could be useful to incentivize the sharing of say a rare file, whether rare in general or rare to someone in particular.
How it will actually go down in practice does however remain to be seen with the dapps space starting to get a bit competitive even before some other smart contract based blockchains have launched.
Copyrights Trustnodes.com