BitTorrent has just completed its TRC-10 token sale on Binance Launchpad, raising about $7 million worth of Tron and BNB (Binance token) in 18 minutes.
"Took about 18 minutes, due to a system issue, would have taken 18 seconds otherwise. Demand was astronomical," Changpeng Zhao, Binance's founder, said.
Some 159,403,820.4 TRX was raised, worth about $4.1 million at current prices, with another 433,382.4 BNB adding $2.7 million. Making it a total of $7 million at current prices.
That adds to a previous circa $20 million raised in a private sale. Giving it an initial circulating supply of 89 billion BTT tokens. Just about 10% of the total supply of close to a trillion.
Meaning the project is valued at about $300 million, but no share rights are given to token holders as far as we can see. Instead:
"The token will initially be used in BitTorrent clients as payment in exchange for requesting upstream bandwidth. Usage will be extended to additional capabilities including purchasing content, tipping live streaming performers, and crowdfunding the creation of new works."
The circulating supply will gradually increase all the way into 2022 through a number of methods as detailed below: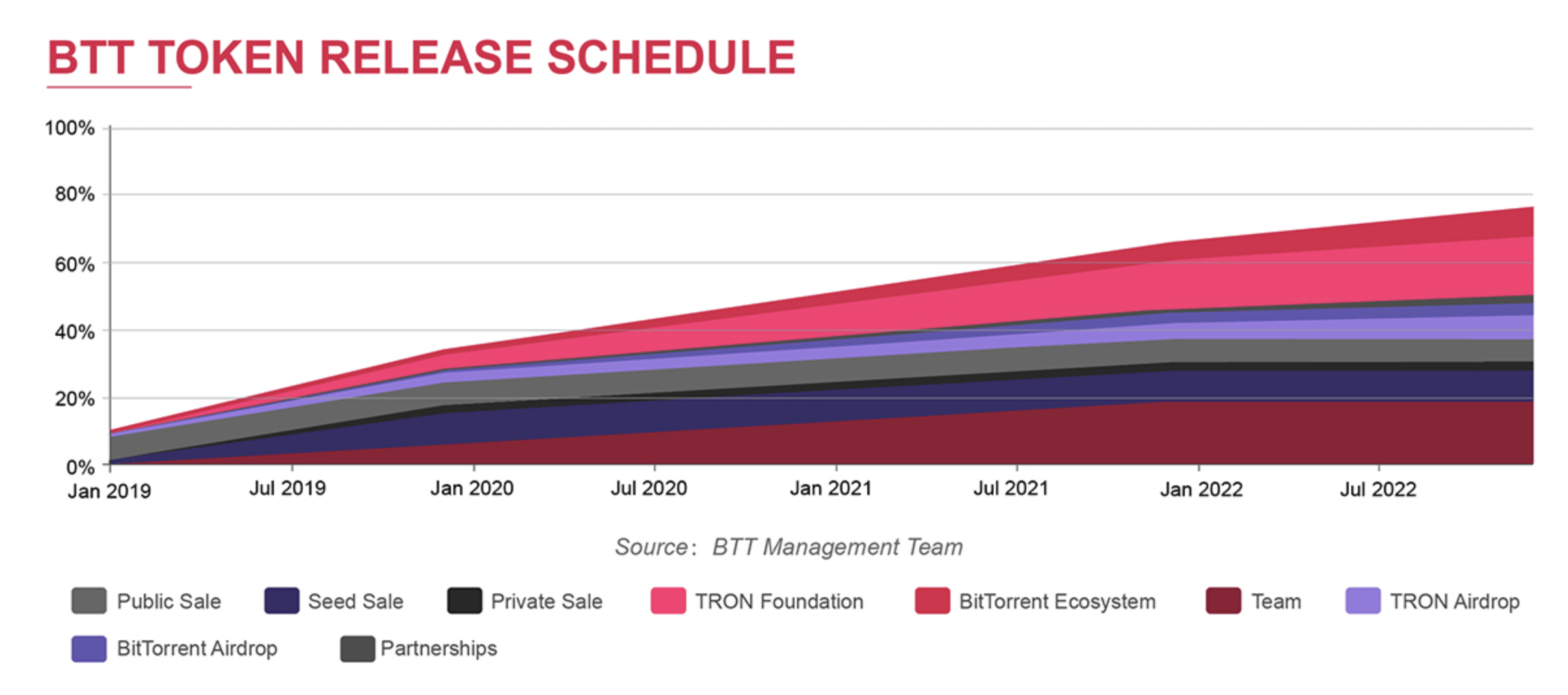 Citizens of a number of countries could not participate with Binance Launchpad requiring AML/KYC prior to token purchase. We'll name in full below what should be the hall of shame considering less than $10 million was on offer:
"Afghanistan, Albania, Belarus, Bosnia & Herzegovina, Burundi, Central African Republic, Coted Ivoire, Cuba, Democratic Republic of the Congo, Ethiopia, Guinea, Guinea Bissau, Iran, Iraq, Lebanon, Liberia, Libya, Mainland China, Myanmar (Burma), North Korea, Republic of Macedonia (FYROM), Serbia, Somalia, South Sudan, Sri Lanka, Sudan, Syria, Thailand, Trinidad & Tobago, Tunisia, Uganda, Ukraine, United States of America (USA), Venezuela, Yemen, Zimbabwe."
So basically everyone except for most of Europe, Hong Kong, Singapore, Japan, some of Arabia, Russia, and much of Latin America.
The inclusion of Singapore is interesting because they recently took action against an ICO. ICOs below $5 million, however, do not require licensing in Singapore, so due to crypto price volatility it can be argued it is excluded.
Within Europe, there is no requirement for sums below $10 million with discussions on-going to raise this to $20 million.
For the United States, only ICOs aiming to raise $1 million or less are excluded. Hence BitTorrent's token sale has excluded the United States.
The Binance Launchpad is a fairly new project that provides a crypto fundraising platform for ICO like token sales with Zhao so taking the initiative to break the investment prohibition barriers and so once more waving that crypto flag.
Copyrights Trustnodes.com