About $125 million of bitcoin derivatives exchanged hands on CME this January 22nd and 23rd ahead of futures closing on Friday the 25th.
Price saw no reaction, but as the new contract opened on Monday, bitcoin and most other cryptos turned red.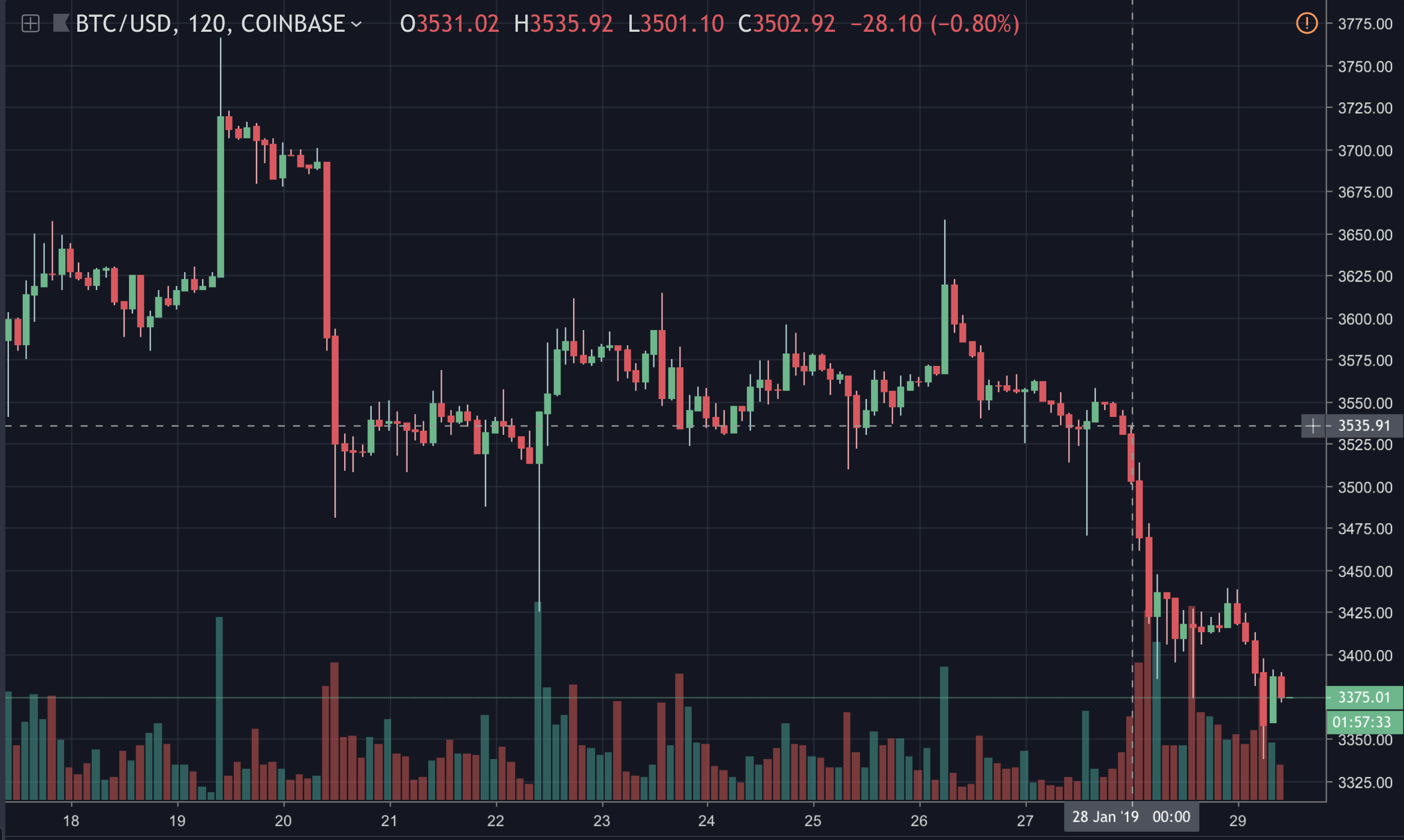 Bitcoin fell by about 10%, with CME futures remaining bearish, trading by about $50 lower than spot for February and slightly lower for March.
About $85 million was traded on CME yesterday, more than twice than on Coinbase, while on the 23rd it was even higher than Binance.
The opening of the new contract, therefore, may have had an affect on bitcoin's price which in turn may have affected other cryptos.
There have previously been suggestions bitcoin futures are manipulating the price with Tom Lee, a research analyst at Fundstrat Global, stating last summer:
"Bitcoin sees dramatic price changes around CBOE futures expirations. This was something flagged by Justin Saslaw at Raptor Group.
We compiled some of the data and this indeed seems to be true. Overall, bitcoin has fallen 18 percent in the 10 days prior to CBOE contract expiration."
Some traders probably keep an eye on futures, with the effect potentially only psychological as CME and CBOE futures don't have anything to do with actual bitcoin, it all is settled only in dollars.
Wall Street bankers however may buy and sell actual bitcoin so as to influence the price of futures or vice versa.
There are suggestions they like Gemini due to its low volumes. Arbitrage bots may then influence other exchanges, with Gemini's price – which is just a bit lower than Coinbase by about $7 – itself used in CBOE and CME bitcoin price indexes.
The other aspect is the artificial nature of these futures, which aren't really futures at all. Actual futures require a locking in of the price and a delivery of the asset once the contract expires. Here there is no locking in and no bitcoin is ever delivered, so creating an artificial market that might not have much to do with supply and demand.
In addition, regulators have effectively prohibited institutional investors, like pension funds, from buying actual bitcoin as a hedge save for a tiny amount.
That's because the Securities and Exchanges Commission (SEC) has failed to give a green light to a bitcoin ETF, claiming regulated entities do not account for the majority of trading volumes thus they are unable to know whether there has been price manipulation due to the lack of surveillance.
This argument no longer applies to the same extent as futures are now handling considerable volumes, yet SEC still refuses to provide a proper market for institutional trading.
Bakkt may act as a substitute of sorts to an ETF because it will offer bitcoin settled regulated futures, but in light of some evidence of CME price manipulation, you'd think CFTC and perhaps even SEC would be opening investigations since they like to claim they want to protect the public.
In a too big to fail banking system, however, the likelihood of any real action being taken is probably close to zero where it concerns bankers as one law for them, another for the rest, is now the new normal.
Copyrights Trustnodes.com