An analyst at RBC Capital Markets claims Nvidia made "$1.95 billion in total revenue related to crypto/blockchain," significantly more than Nvidia's reported $602 million.
Mitch Stevens of RBC says from April 2017 to July 2018 Nvidia should have generated around $2.75 billion in revenue according to hashrate data for ethereum and other gpu mineable cryptos.
Steves moreover says Nvidia accounts for 75% of the gpu mining market while AMD accounts for the remaining 25%.
These are estimates based on his analysis of the company's earnings reports according the Business Insider which says:
"AMD's guidance implied it had crypto exposure of $234 million in the first quarter of 2018, which roughly matches the 25% of the total crypto revenue, Steves noted."
As estimates, some inaccuracies are probable as ethereum's hashrate, for example, has asics which may have been counted for gpus.
It is not known what proportion of ethereum's hashrate is asics, with some suggesting it is as low as 10% while some say it is as high as 60%.
There is however a potential correlation between ethereum's hashrate and Nvidia's stock price, although it is perhaps too early to determine the extent of it.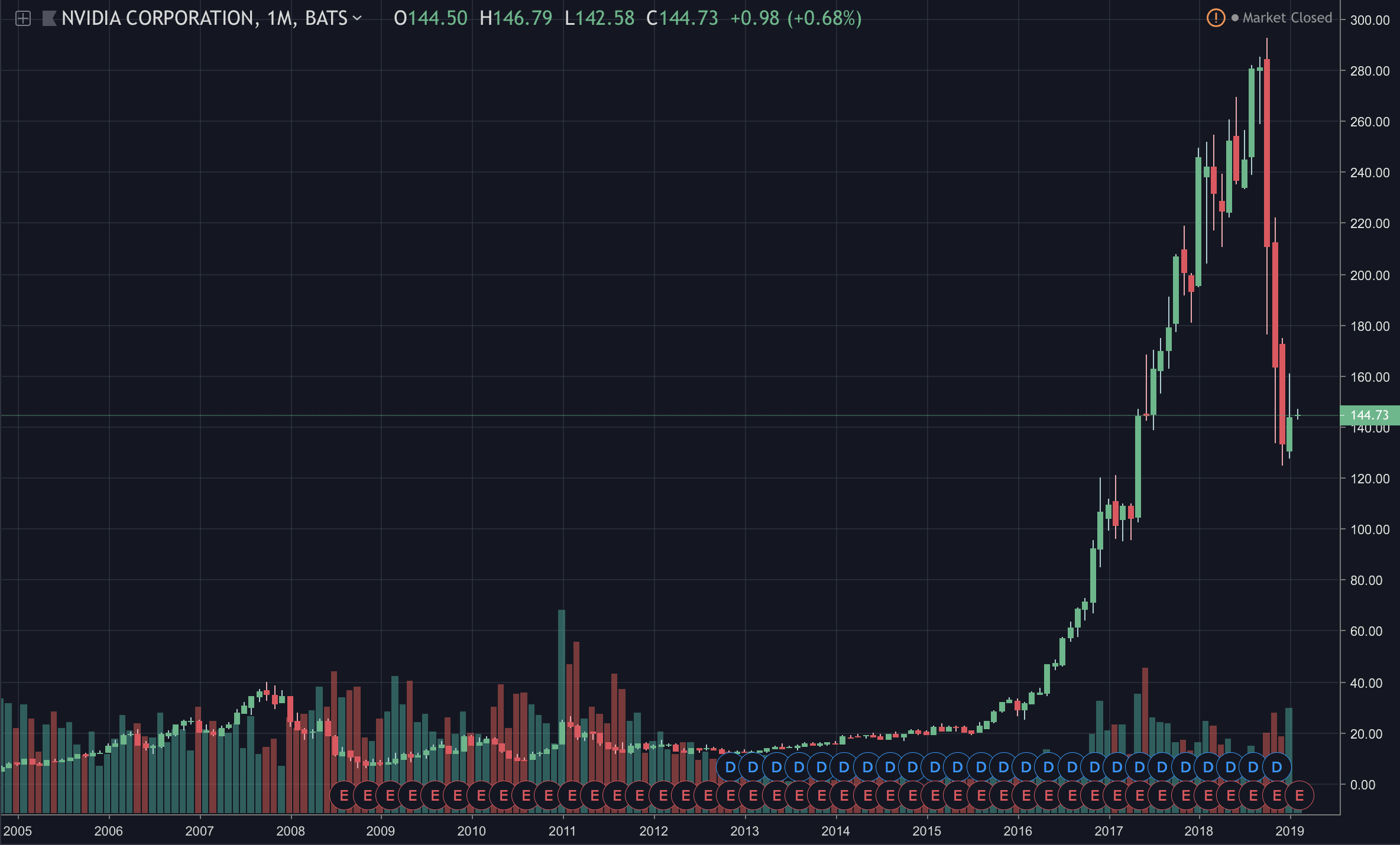 We can see Nvidia's price was up and up starting in 2016 with that little bump there in the 20s being somewhat similar to the little bump of eth's hashrate (and price) in the same year.
Ethereum and Nvidia then roar, with eth's price starting to collapse in early 2018, but not the hashrate. That kept going up and up until about August.
Nvidia investors would have perhaps not found out until the quarterly report in autumn, so its price dives, halving beginning in October.
Now of course there were a lot of things happening in October in the stock market. There was a mini-bear run throughout stock indices, so correlation doesn't imply causation.
Yet the correlation is quite fine for it to be a mere coincidence, so there may have been some causation.
In 2017, the explosion of ethereum's price sent gpus out of stock as people rushed to mine eth to mint new coins. Stock investors may have then allocated some of their funds to the manufacturers of gpus: Nvidia and AMD. Some correlation, therefore, is to be expected.
The extent of it, however, isn't very clear because ethereum gpu mining is still very new and because Nvidia has many other product lines which may cancel any negative effects from eth mining.
Yet if gpu sales to miners is indeed close to $3 billion, then they may have quite a significant exposure to crypto prices and to industrial crypto mining.
Copyrights Trustnodes.com