"Why is there not more outrage over this? If this isn't criminal, it should be. Plaintiff's lawyers ought to be sanctioned."
So said Jesse Powell, Kraken's CEO, after revelations of a $16 billion claim in the on-going MT Gox saga in the Japanese courts. Powell added:
"Unbelievable balls on this guy to hold up payouts to thousands of victims for years with an entirely frivolous claim over a botched partnership attempt. How could you think that your $16B claim should be senior to the actual account holders'? How do you show your face?"
That's addressed at Peter Vessenes who once sat at the Bitcoin Foundation and used to run a company called Coinlab back in 2012.
Coinlab and MT Gox entered into an agreement in 2012 whereby Coinlab would be MtGox's exclusive agent for North America on the premise that Coinlab had all the necessary licenses to operate in the United States.
MT Gox got in a bit of trouble with American authorities back in 2013, leading to a banking blockade over Fincen violations. That's presumably when they found out Coinlab didn't actually have the required licenses. MT Gox thus broke the agreement in May 2013.
Coinlab then sued for breach of the agreement and demanded $75 million based on a liquidated damages clause, with MT Gox then countersuing, but all this temporarily becomes irrelevant months later as MT Gox enters bankruptcy in 2014.
MT Gox initially claimed they lost all one million bitcoin deposited into the exchange through hacking. Blockchain analysts found out they still had 202,000 BTC which was handed over to the bankruptcy trustee, Nobuaki Kobayashi, by the then MT Gox CEO, Mark Karpeles.
The hacking claim was initially found to be suspicious, so there was much speculation as to what really happened at MT Gox with the general theory settling for a shortfall in MT Gox's bitcoin holdings at the time of purchase by Karpeles from the then owner Jed McCaleb, Ripple's and Stellar's founder.
Karpeles probably tried to recoup this shortfall from profits, but bitcoin's price went up and up, creating a bigger and bigger hole. In addition, to keep this secret Karpeles probably created a pastiche of databases that probably made it difficult to keep accounts. So any additional hackings may have not been noticed.
With a plausible explanation so found, everyone moved on and forgot about the goxxing which became ancient history amidst the bull of 2017.
The bear, however, brought out the gox again after it was revealed the trustee had sold half a billion worth of bitcoin and bch in March 2018. That is the amount sufficient to cover all claims of exchange customers per the bitcoin price of 2014.
Then the trustee sold another $250 million in September. This presumably would have been sufficient to cover any claim from non-exchange customers, like contractors or Coinlab.
So five years on, it seemed all was set for this 200,000 btc to be returned to the goxers with the trustee so requiring a re-filing of claims and entering talks with Kraken for a potential distribution of the btc and bch through the exchange.
Now, however, Daniel Kelman, a lawyer who has been working on MT Gox since 2014, says Coinlab has filed a claim for 1.7 trillion yen, worth circa $16 billion. The trustee has approved only about $3,000 of it. Karpeles says:
"Currently CoinLab and the trustee are in a process known as "assessment procedure" (査定手続き) where CoinLab and the trustee fight in front of the bankruptcy court until both reach a settlement. If this fails, it can escalate into a lawsuit, which can then be appealed, which means there is potentially years of procedure before a conclusion is reached.
One option for the civil rehabilitation plan would be to put aside the requested amount of money, plus enough to cover future potential legal fees and interests. Alternatively, reaching a settlement with CoinLab could benefit all creditors and might be a course of action allowing a conclusion to be reached sooner."
Coinlab initially claimed $75 million, then this increased to $150 million and now its $16 billion with some of the amount claimed being due to delays.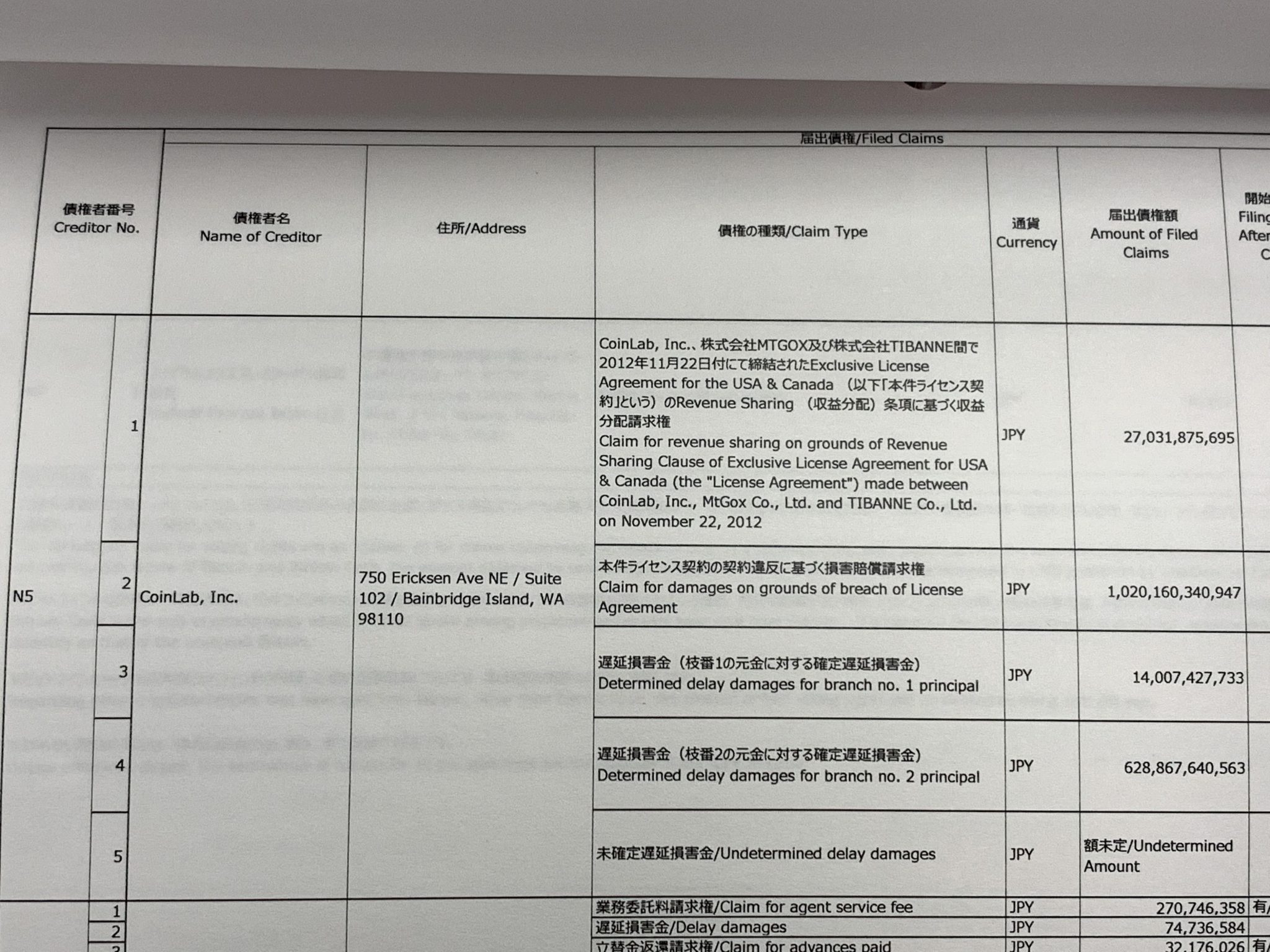 Vessenes and Coinlab have not made any public statement as far as we can see despite considerable outrage among MT Gox creditors following the revelations of this claim.
Some speculate they aim to force a settlement by potentially gaining 50% of voting rights in the on-going civil rehabilitation of MT Gox. As they might have controlling rights, they may send it back to bankruptcy, which no one wants.
The gamble here therefore might be that creditors would rather just give him the $75 million, instead of facing more delays now half a decade on.
For more context that $75 million was seen as an outrageous amount even in 2013, with the trustee so setting it aside in the $250 million sale of bitcoins in September 2018.
By doing so presumably the trustee intended to proceed with this $75 million or $150 million claim to litigation while freeing the other circa $1.5 billion in fiat and cryptos which could have been returned to exchange creditors.
Coinlab, however, probably doesn't want to litigate so they've now filed a claim far above any gox assets. Freezing, in effect, the distribution of funds which would have closed this matter as far as almost anyone is concerned.
What happens now is unclear. Under english law, and presumably most legal systems, there's a quick process to dismiss a frivolous claim with punitive costs for the frivolous party.
At prima facie (on the face of it) any judge that looks at an initial claim of $75 million, which suddenly becomes $16 billion when no facts have changed, would probably take about five minutes to close the matter. These are bankruptcy proceedings however, and it is Japanese law, so who knows.
Yet there are lawyers for creditors in Japan and they are closely following matters, so they might be able to quickly open frivolous proceedings and further argue abuse of process, but it may also well be the case that the goxing, perhaps, truly never ends.
Copyrights Trustnodes.com