$23 million worth of nearly 200,000 eth have rejected a proposal in favor of an algorithmic change of ethereum's Proof of Work (PoW). Only 2,000 eth has voted in favor, worth just $210,000.
The vote has been on-going for two days with it pinged until recently on Hudson Jameson's twitter, the man in charge of the Ethereum Foundation developers relations.
Vote on the potential ProgPoW mining algorithm change with your ether! https://t.co/BXio5ONE5M

— Hudson Jameson (@hudsonjameson) February 12, 2019
The vote asks "whether or not you support ProgPoW," with it unclear at this stage how long this vote is meant to last. It says:
"Ether token holders are among the people who are going to be financially and economically impacted the most by this decision.
We have decided to give them a chance to make their voices heard on whether or not they think changing the proof of work to ProgPoW is a good idea."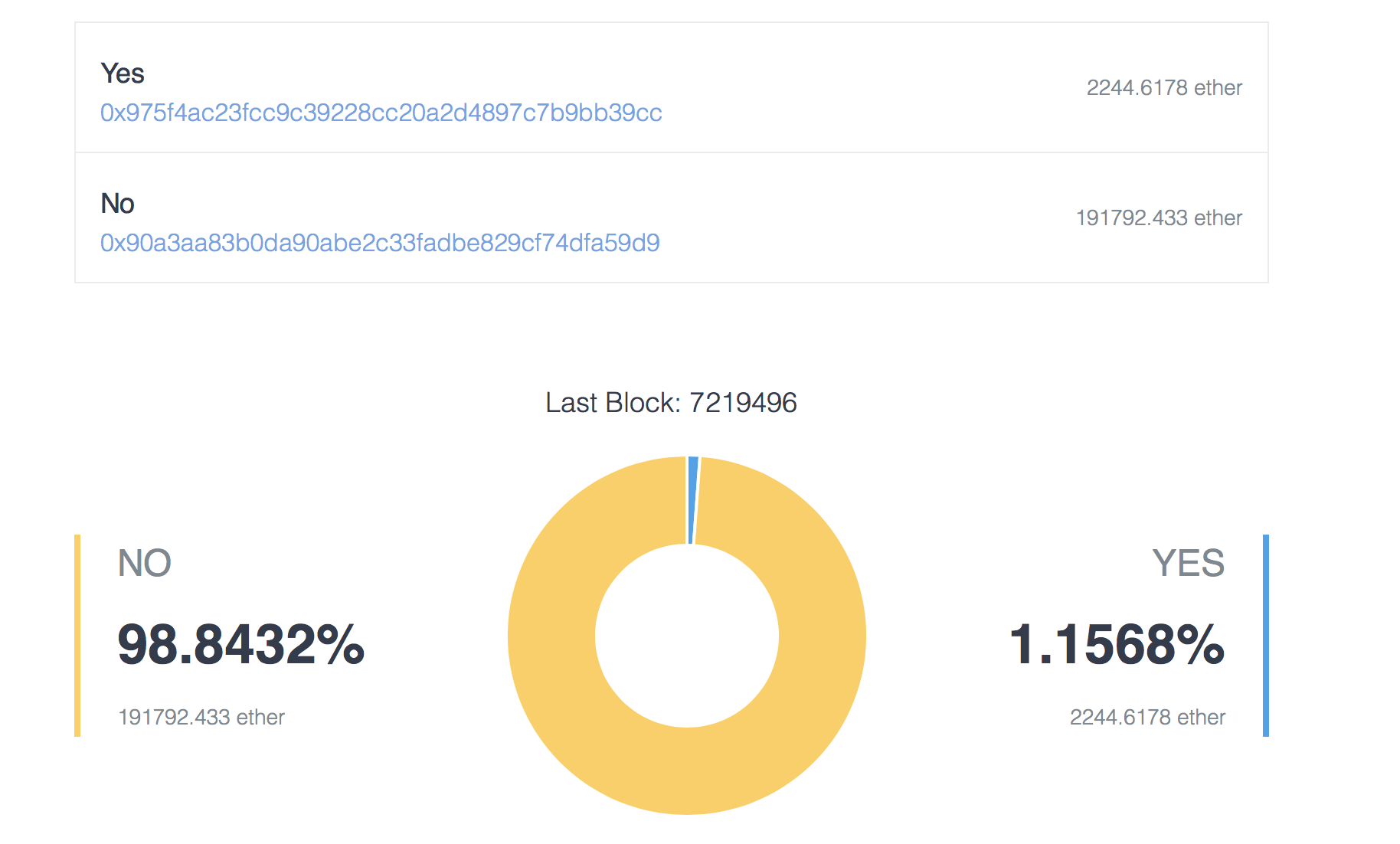 The incredibly high percentage against is somewhat surprising as there appeared to be some support for this proposal.
It has, however, been a very controversial proposals, with the team behind ProgPoW officially admitting that the code as designed favors Nvidia GPUs over AMD.
Vitalik Buterin, Chief Scientist at the Ethereum Foundation, has called it a distraction. Alexey Akhunov, who is working on ethereum 1x, has previously expressed concerns over whether ProgPoW might delay his work, recently stating: "being neutral might not be an option as it makes me very uncomfortable."
Eth1x is a somewhat complex proposal that needs much discussion and potentially some community decisions. Akhunov said that Eth1x is a multi-stage process "currently planned over about 3 hard fork, which can take anything between 18 and 30 months."
They are hoping to start the process at the first hardfork in October this year. Potential miners infighting in the meantime, however, might distract and could delay this work.
Yet there appeared to be some support for this proposal, but the harder to sybil data is suggesting otherwise. Even mining pools have voted Yes with only 35%. That's just two pools, Ethermine and F2Pool. The rest haven't voted.
Ethermine is ethereum's biggest pool with 29% of the hash. There appears to be some relationship between them and the ProgPoW team. F2Pool has 11%. How the actual miners within these pools voted is not clear.
However, as mining is a zero-sum game, removing some of the hash through a PoW change might benefit the remaining miners. You'd thus expect a bigger percentage than 35% to favor ProgPoW, but its tilt in favor of Nvidia, which they have said they will fix, and other potential considerations might perhaps make the miners' vote less predictable.
It has only been two days, so it remains to be seen where the holders' vote settles in about a week or two. So far, ethereans appear to be almost unanimous in rejecting ProgPoW, but whether that will change remains to be seen.
Update: 600,000 ETH Withdrawn From Bitfinex Vote For ProgPoW
Copyrights Trustnodes.com