Bitcoin volumes in Indonesia have jumped considerably in the peer to peer Localbitcoins exchange, up now to about $1 million from a previous circa $30,000.
While previously such volumes were negligible and they still remain relatively small, there might be a trend that begun in the past two weeks following regulatory clarity in one of Asia's biggest economy.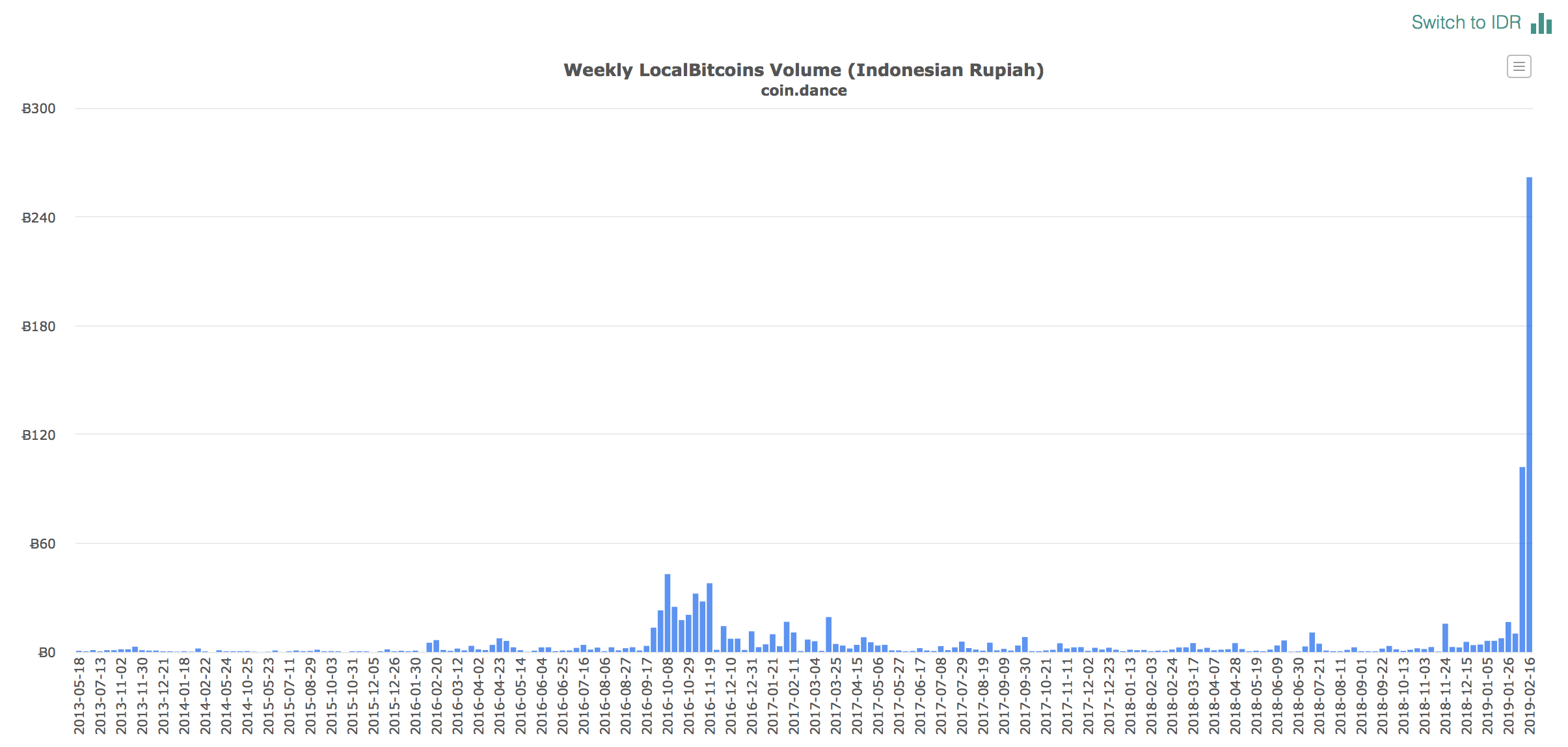 The Trade Ministry's Futures Exchange Supervisory Board, known as Bappebti, has come out with new regulations that classify cryptos as commodities after much debate in 2018.
"Those regulations will become the legal basis for the trading of crypto assets as commodities that could become the subjects of futures contracts and other derivative contracts traded in the stock market," Indrasari Wisnu Wardhana, Bappebti's chairman, said this Monday.
The authorities there want to facilitate the development of crypto innovation within a regulated environment according to local media.
Some Indonesian cryptonians, however, are not happy with the new extensive requirements that includes a capital bond of some $70 million to set-up a legal crypto exchange.
Sumardi Fung, co-founder and CEO of an Indonesian crypto exchange, Rekeningku, said he wished to discuss the new regulations with Bappebti, especially the minimum capital requirements which are higher than for setting up a bank in the country.
He hopes they can be revised to take into account cryptonians' complaints, but their decision to regulate it rather than outright ban it ends a more than year long period of uncertainty in Indonesia.
"We hope that the issuance of the regulations will improve confidence and integrity among the traders in futures commodities for carrying out transactions in both crypto assets and digital gold," Wardhana said.
The central bank there banned crypto payments for goods and services at the end of 2017, leading to a period of uncertainty on whether Indonesia would follow China or Singapore.
"Regarding payments, bitcoin is prohibited," Onny Widjanarko, head of Indonesia's Central Bank (BI), said in January 2018, warning "against a threat to financial stability" which he said cryptos might endanger. So the bank demanded Indonesians don't transact in bitcoin for payments.
That still remains the case. "BI still prohibits bitcoin or crypto as a means of payment. Commodities regulation is not an area of concern for the BI, but we raised concerns about it," Widjanarko said last Friday.
Where trading and other aspects are concerned, however, Indonesia has now provided legal certainty in allowing the buying and selling of bitcoin and other crypto assets.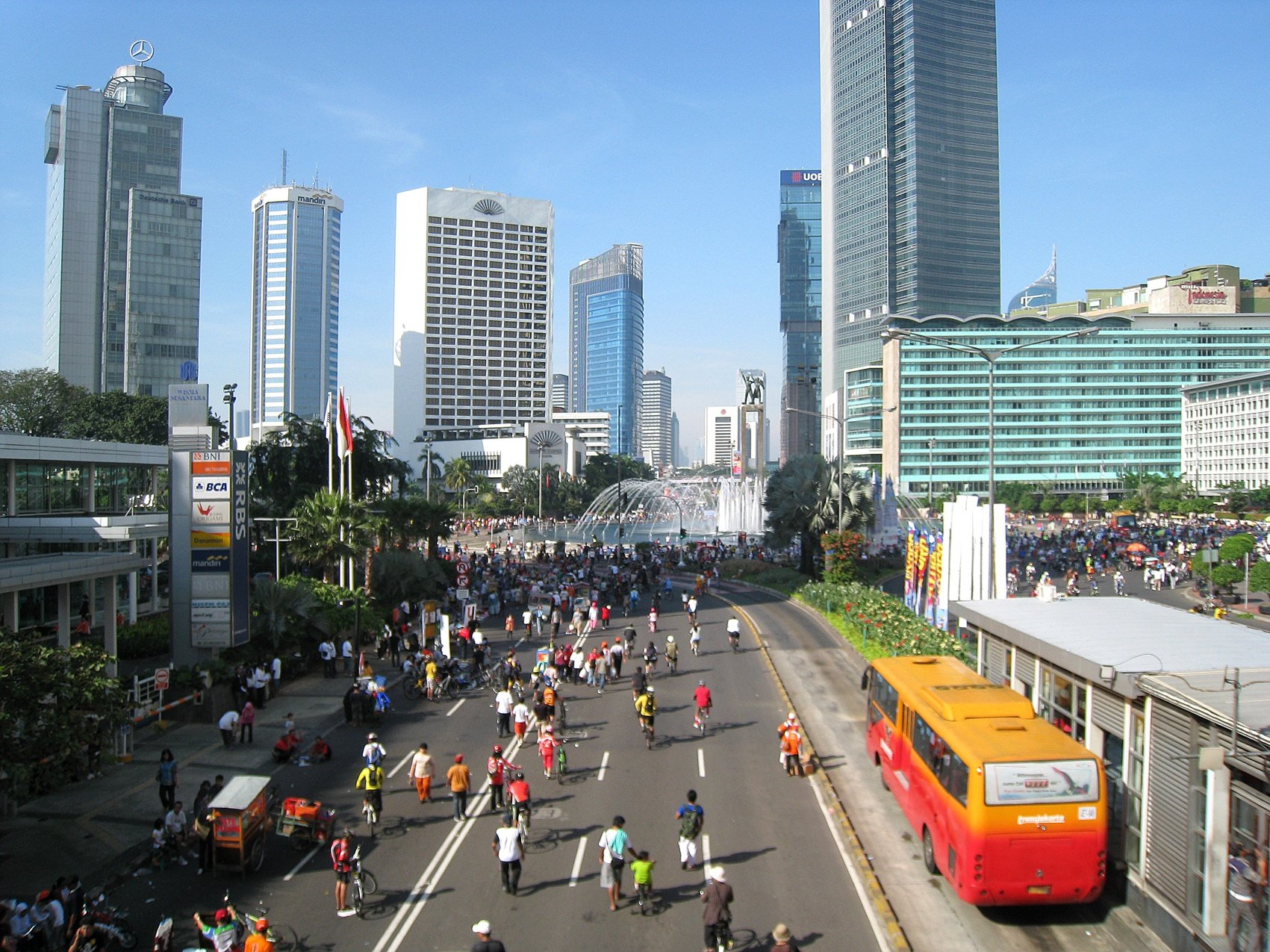 We don't often hear about Indonesia, but it's a fairly big country with a population of more than 260 million producing a GDP of circa $3.5 trillion.
They're the biggest economy in South East Asia and are a member of G20 classified as a newly industrialized country.
They're the biggest muslim country on earth with an Indonesian company settling a debate on whether bitcoin and cryptos in general are sharia compliant by stating last summer:
"Blockchain gives you mathematical proof of ownership and that's overall much more in line with the spirit of Islamic finance than any digital fiat money."
China is their biggest trading partner, USA closely following, then Japan, Singapore and India with Indonesia enjoying a long history of being a trading nation due to their very strategic location.
Their internet speed could however be far better, ranked circa 80th in the world. Their inflation seems to be within western standards, but their interest rates are at 6%.
Overall the country holds promise, as may crypto usage there, especially in international trade. The central bank, of course, has banned that, but cryptos are peer to peer.
It's regulation now as a commodity, even though bitcoin is not consumable as commodities are, might perhaps bring this nation into the global map as far as tech is concerned.
There's a lot of work that needs to be done in that aspect as can be told by their internet speed, but Jakarta could potentially rise as a tech hub if the government there is sufficiently smart to see the opportunities this new technology now provides.
Copyrights Trustnodes.com