Bitcoin has suddenly dived from $4,100 to a brief low of $3,600 before some recovery to $3,800 all within about 15 minutes.
Other cryptos have likewise fallen. Eth dropped some 12% from $160 to $140 while XRP dived to 30 cent from 33 cent.
What happened is unclear at this stage with no obvious news trigger as far as we can currently see.
It may thus simply be some profit taking after considerable recent gains, with crypto shorts and longs not really moving much although perhaps shorts in eth were a bit volatile during this period while longs in XRP were decimated.
Likewise in bitcoin it looks like 3,000 BTC in longs, worth circa $11 million, closed. Meaning that much was sold today. Shorts, however, have fallen too by 2,000 BTC, meaning that much was bought.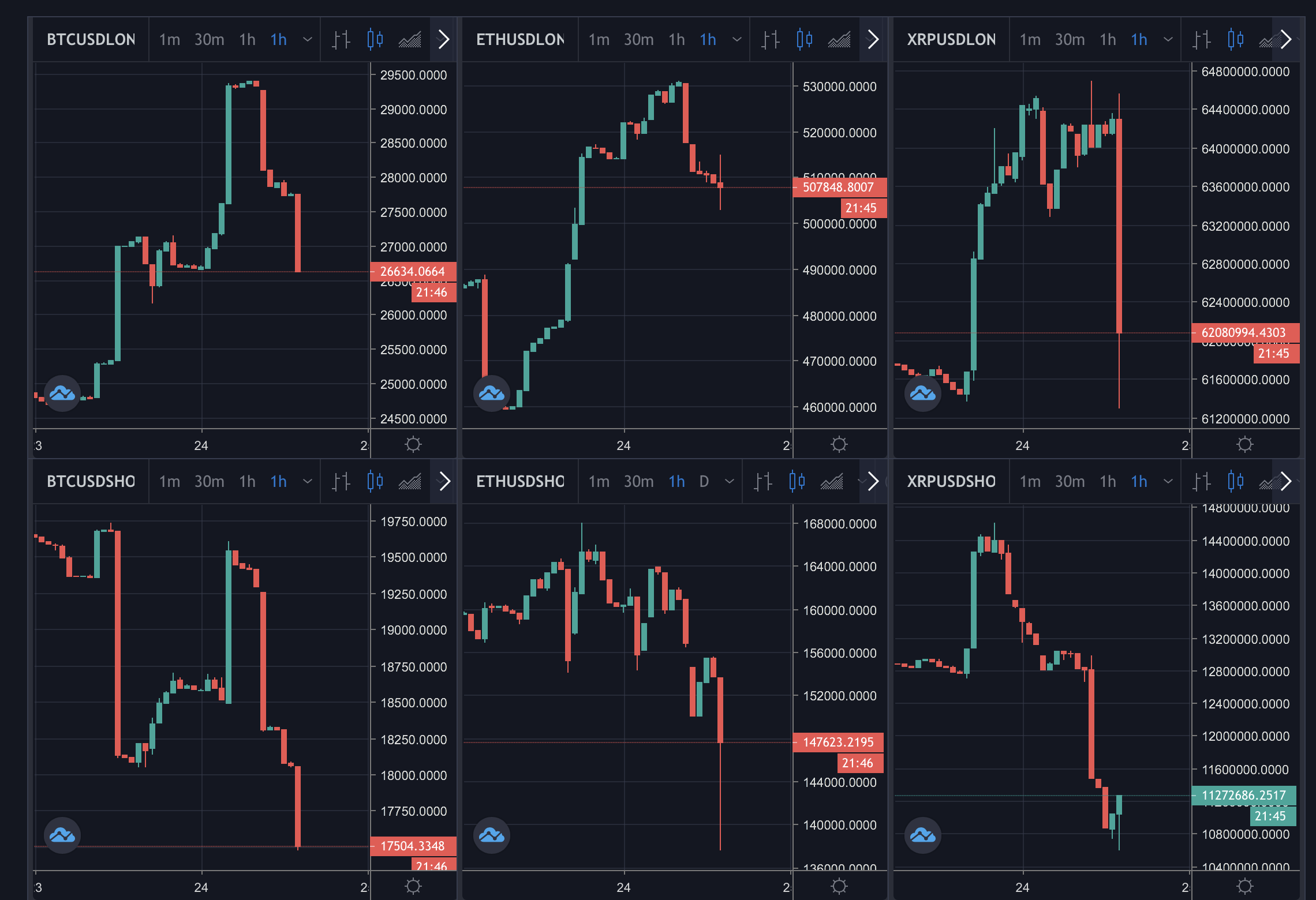 Bitmex bitcoin futures appear to be about $100 lower than bitcoin's spot price at the time of writing.
It is not clear whether Bitmex was first to move down and whether the selling volume came from there, but it may well be some fat finger as whales perhaps are getting a bit nervous or excited.
CME's bitcoin futures are currently at a premium of about $100 at $3,900, so it looks unlikely this is Wall Street shenanigans, but trading there hasn't opened for today.
CME's contract usually closes on the last Friday of the month, which was this Friday. So this price crash may well be due that contract closing, with a new one now to open later today.
Crypto prices usually fall for some reason around the time CME's futures close. Whether this is just a repeat of that ritual is not clear, but we'll update if anything relevant comes in.
Update: There remains no news, so it may have been just whale hunting.
Copyrights Trustnodes.com