Ethereum has turned green, rising another 10% today above $160, while bitcoin has crossed $4,000, now standing at $4,137.
Cryptos are up across the board. EOS has jumped 14%. BCH is up close to 9%. Maker has risen 13%. While OmiseGo has gained close to 20%.
Combined trading volumes have spiked to near all time highs at $33 billion, a figure not seen since the bulls heydays of 2017.
Ethereum, in particular, has done something rare for months, handling $5 billion in the past 24 hours. USDT dominates, so we can't see where these volumes are coming from, but we suspect China as it appears Chinese exchanges are making a comeback.
Following the Chinese Central Bank's ban of crypto exchanges in September 2017, there have been efforts to circumvent it.
A solution may have been found as numerous exchanges suddenly popped up in late 2018, with their target market seemingly being China.
The way this might be happening is that western or non-Chinese citizens sell USDT for cryptos. The dollar so enters the country in a tokenized form and thus trade is liberated.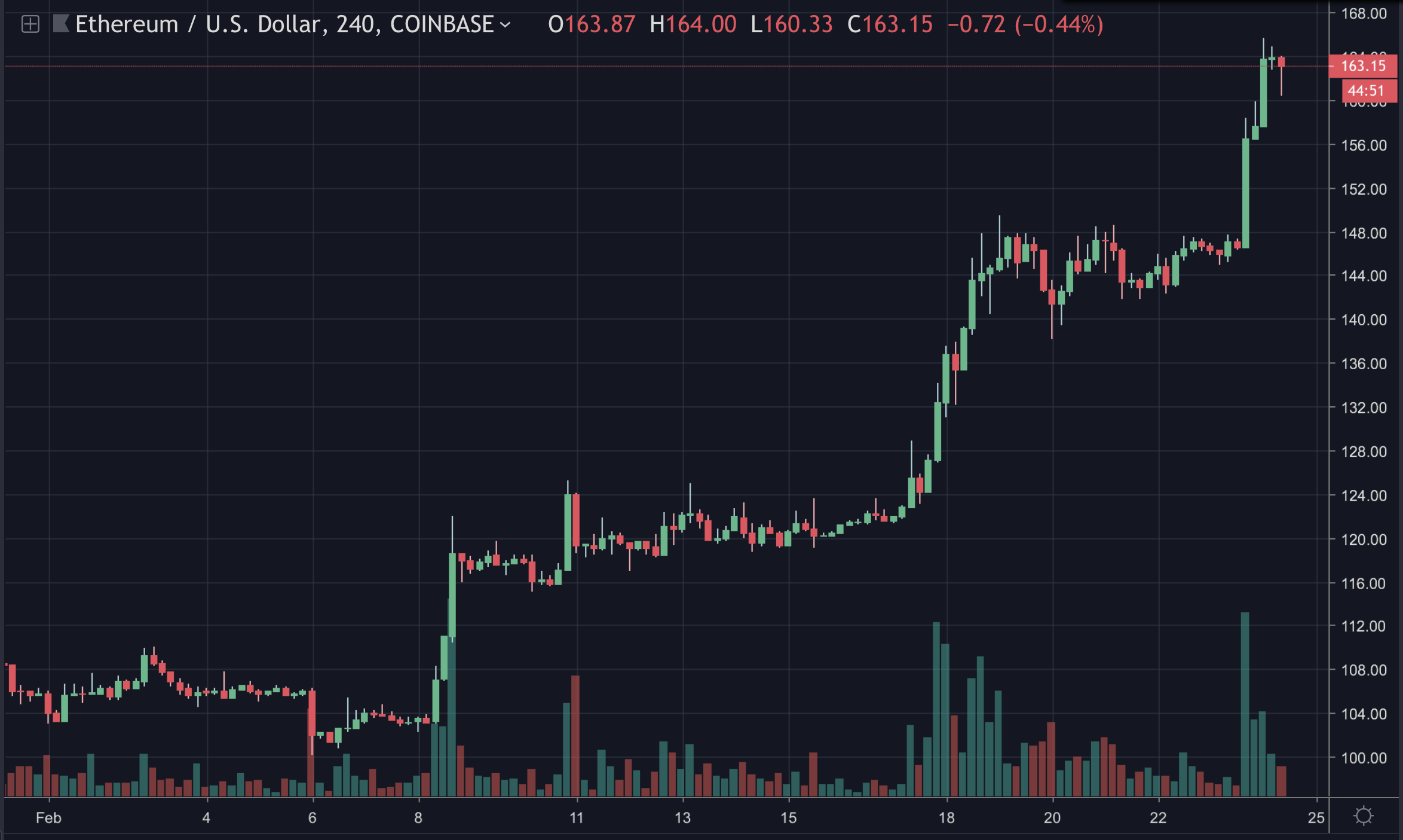 Battered bulls have been beaten so hard, there's hardly any left about. After a 93% fall of some coins, including eth, some unironically said crypto is ded.
A mixture of newly found wealth by those that bought at $100, and deep pessimism by those that bought at $1,400, now greets the ethereum space.
Is this it? – no one dares ask. The bottom has been called so many times, trepidation rules any bull that might be around.
Climb a wall of worry, if the bull can climb, with assistance this time by new issuance in eth dropping 35%.
We may well make it to Constantinople after much effort and trouble. At a technical level, the Turk's business might not provide much, but from an investment perspective, the effects of the issuance reduction remain to be seen.
The beacon testnet is then out next month, hopefully. ProgPoW looks like will go out too perhaps by summer. Eth1x then begins rolling out in Autumn. Bitcoiners then won't stop talking about the halvening. Polkadot is to launch. Eth devs may try and race.
The Lightning is taking shape. Adoption is growing for bitcoin in many places, but particularly in Africa. Regulatory certainty has now been gained in many aspects and across much of the world. Infrastructure continues to grow.
A spring of hope can perhaps be seen as the march continues to upgrade finance and to usher in a new alternative monetary system with some green showing up as clear blue skies greet London's hottest February in centuries.
Copyrights Trustnodes.com