Warren Buffett, one of the richest man in the world worth $85 billion, has taken yet another shot at gold and implicitly bitcoin in a letter to investors published this Saturday. He says:
"Those who regularly preach doom because of government budget deficits (as I regularly did myself for many years) might note that our country's national debt has increased roughly 400-fold during the last of my 77-year periods.
That's 40,000%! Suppose you had foreseen this increase and panicked at the prospect of runaway deficits and a worthless currency. To 'protect' yourself, you might have eschewed stocks and opted instead to buy 3 1/4 ounces of gold with your $114.75.
And what would that supposed protection have delivered? You would now have an asset worth about $4,200, less than 1% of what would have been realized from a simple unmanaged investment in American business. The magical metal was no match for the American mettle."
That precise 3 1/4 ounces of gold is presumably chosen to get roughly at bitcoin's price, with old grandpa maybe worried pension funds – which usually fuel stock prices – might try a bite of crypto cherry.
Buffett has dissed bitcoin before by calling it all sorts of names, as has his friend and even richer billionaire Bill Gates. Data however now is showing Buffett may have lost his magic.
The 88 year old has seen his company underperform S&P 500 for the past decade. The then slightly younger Buffett used to boast of beating the market, telling all how long term value investing does wonders.
Now however he may have lost touch with what exactly is value investing in this very different world because a decade is quite long term.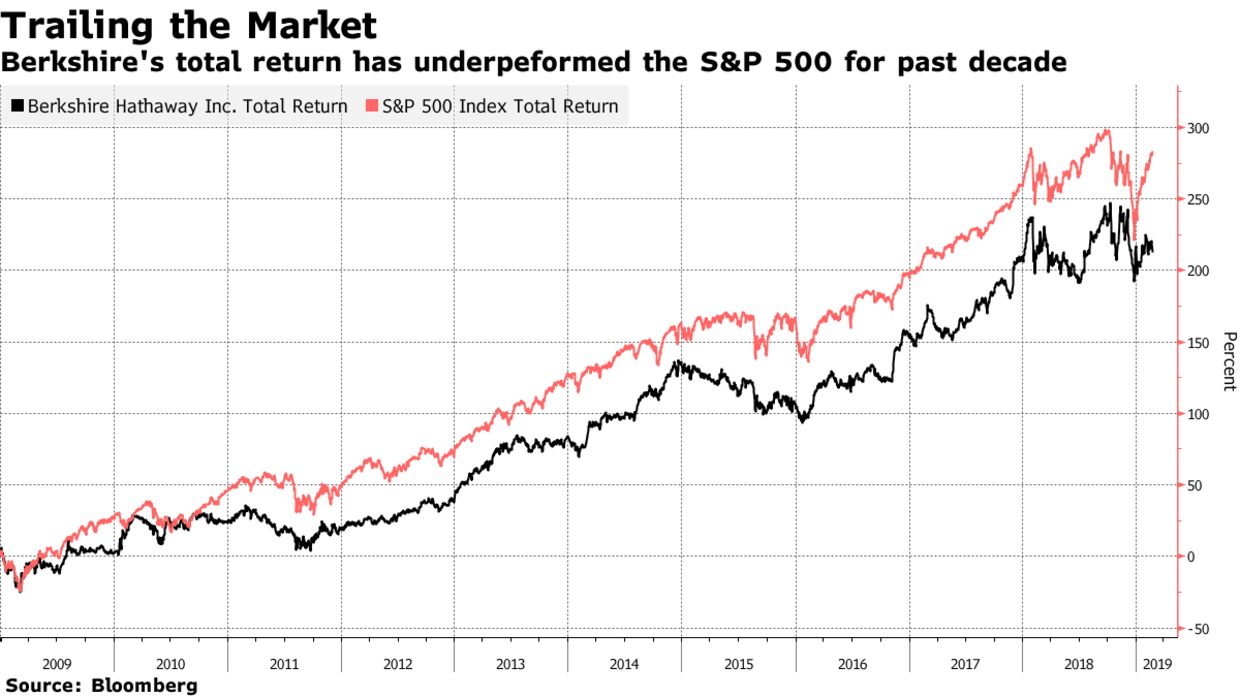 Berkshire Hathaway has seen an eye-popping $25 billion net loss in the quarter driven by $27.6 billion in unrealized losses from the investment portfolio according to Bloomberg.
The very old man complains of sky high prices for acquisitions, with his company sitting on more than $112 billion in cash.
Had he bought bitcoin with not just a fraction of that, but even with whatever he considers pocket money, let alone $112 billion, then he would have way over-performed S&P 500.
Instead he wants to spend all that money on a "giant acquisition." Yup, young Buffett would have put all his eggs in one basket. Or is this the old billionaires' trick, say one thing, do another?
Not that we can really picture Mr Buffett with a cool bitcoin or silly cryptokittie, but if he now has so much money he doesn't know how to spend them, maybe the younger Buffetts will diversify at least a little bit.
Copyrights Trustnodes.com